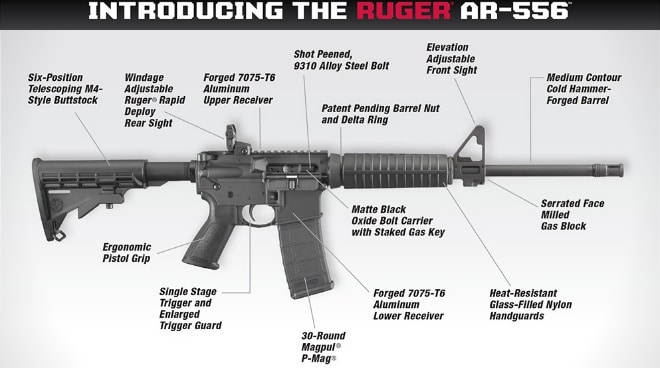 Ruger has just announced their newest AR-15 carbine, the AR-556 and a commemorative 10/22, the Collector's Series. Both are straightforward, affordable and crowd-pleasing rifles with solid features at low prices.
The AR-556 is a fairly standard AR-15 with a few Ruger tweaks that make it stand out from the crowd of countless M4-style carbines and likewise, the Collector's Series is a new take on the 10/22.
Starting with the AR-556 Ruger is offering an AR-15 rifle with a 16.1-inch barrel and a carbine-length gas system. Unlike previous AR-pattern rifles by Ruger this rifle has uses standard direct-impingement gas operation, unlike their more expensive piston-driven ARs.
"The AR-556 is the first firearm designed and built in our Mayodan, North Carolina, facility, and we couldn't be more thrilled with the finished product," said Ruger COO Chris Killoy. "Through extensive design review and product testing, our Mayodan team has delivered a solid rifle that our customers will be proud to own – and we are proud to call a Ruger," he concluded.
The cold hammer-forged barrel has a 1-in-8 twist which can accommodate the widest range of popular bullet weights from 35 to 77 grains and will chamber both 5.56 NATO and .223 Remington cartridges. The barrel has a straight profile without an M4 cutout. The barrel is threaded for standard 1/2×28 muzzle devices and has a matte black oxide finish inside and out.
The barrel has standard M4 feed ramps and the bolt and carrier group are chrome-lined on the inside for reliability and have the same black nitride finish on the outside.
The receivers are MIL-SPEC 7075-T6 hard-anodized forged aluminum with a standard flattop upper, shell deflector and forward assist. The lower is built with a military trigger and accepts all standard aftermarket fire control parts.
While most low-cost ARs are sold as "optics ready" packages the AR-556 comes with a fixed front sight and flip-up rear polymer sights. The front sight block is elevation-adjustable and the rear is windage-adjustable.
Although the front sight block isn't your standard A2-style sight it is an F-height sight with a standard front sight and comes with a sight adjustment tool. It also has a bayonet lug and the sight ramp is serrated to reduce glare.
The pistol grip is Ruger's own design with serrations on the front- and backstraps with an organic palmswell and no finger groove while the rest of the furniture is A2-style including the telescoping stock and fixed handguard, except for the trigger guard, which is flared and enlarged.
Almost all of the AR-556 components are made in-house with one notable exception — the carbine ships with a 30-round Magpul PMAG, standard.
Ultimately what makes the AR-556 appealing is its MSRP at $749, which makes it a major contender in the field of entry-level AR-15s and a direct competitor against the Smith & Wesson M&P Sport and other big-name, low-price rifles.
Similarly the Collector's Series 10/22 is an affordable, compelling plinker. Even though it is a limited edition it's priced right with an MSRP of just $329.
That buys a solid rifle with an updated set of sights including a fiber-optic front sight and a lightweight synthetic stock.
"This Collector's Series rifle is a great chance for our customers to get their hands on a limited edition 10/22 – we are only producing 25,000 of them," said Killoy. "The Ruger 10/22 has always been special to Ruger, and to America, and we are excited to incorporate this unique model into the line and celebrate this milestone anniversary."
What makes the Collector's Series appealing is what it comes with, the user's choice of one 10- and one 25-round magazine or three 10-round mags, a commemorative "50th Anniversary" box, a Collector's Series pin, a 10/22 "50th Anniversary" bumper sticker, a replica of the original 1964 10/22 ad and a limited edition Ruger Collector's Series street sign.
For more information about these and other Ruger firearms, visit the Ruger website.
Source Article from http://www.guns.com/2014/09/30/ruger-announcing-ar-556-and-collectors-series-1022/