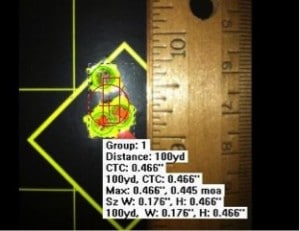 By 248 Shooter
Rubber City Armory based out of Akron Ohio has developed a coating solution called BlackNitridePlus℠. This is an all American based family business that uses American steel, raw materials, and work force to make quality products.
A trademarked process that transforms a metal surface into a material that's harder than the substrate itself. It's enhanced properties reduce friction so well that lubrication is not needed. And BlacknitridePlus℠ processing helps dissipate heat efficiently so operating parts run cleaner and cooler – a great benefit in semi-automatic and automatic weapons.
If you follow us on a regular basis you will know we have been putting claims of low lube no lube products to the test since our inception. We are huge fans of the RF85 treatment out of Anderson Rifles and the new DLC coating provided by Performance Arms. When we got a chance to check out the 5.56 tunable muzzle break as well as a full Bolt Carrier Group coated in BlackNitridePlus℠ and have been very impressed so far.
Specifications
First off visually this coating is exception it is a very dark black with a slight shine to it. Almost like an auto body semi gloss type paint color. It is smooth and beautiful you really can tell it is coated steel unlike salt bath nitride where your feeling the metal.
The muzzle break itself is made from 4310 pre-hardened steel that is then cryogenically treated to create a molecular realignment. This makes the steel stronger and less prone to fracture and other destructive forces. After this is all done the steel is then coated with the BlackNitridePlus℠ and packaged up.
The screws used to adjust the gas system are all 18-8 stainless steel (more on this in a moment)
Initial impressions
I have to say that I am quite impressed with this thing, I was skeptical when I first saw it however I am now a convert. Let the photos speak for themselves!
Most shooter's are already in tune with their deficiencies in grouping so they are going to be able to tune this thing quite well. The mad scientist behind this thing took the time to think about using the gas byproduct and plug some holes and through the magic of thermodynamics, you get to use that gas to push your muzzle in a direction that compensates for your muzzle movement.
So if you shoot right you would move screws to the right side of the break. This would push the bullet to the left and straightening out your point of impact.
While shooting with this brake, I looked at it from a few standpoints. My impression is that it is beings sold towards the run & gun 3 gunners, however there is a huge market segment that can REALLY benefit from this and that is the Bench rest/Precision community. This is a precision piece of equipment with great capabilities.
I installed it on a standard brand X 5.56 AR and shot groups group's of 3 & 5 and it was impressive. But it really flourished when I screwed it onto bolt-action rifle; the groups and data in this article are based on the 5.56 AR mainly because that is the intended end use of this product. However it is something to consider if your looking for more accuracy on your BR rifle! For you predator or varmint hunters this might be something that is really worth the investment if you find yourself pulling in a certain direction on the longer shots.
Pros:
Easy to install
Very tacticalilicious appearance
It is built like a tank
Will tighten your groups
Cons:
To take full advantage of this thing at distance you need to bring a few extra tools to the range. However this is only a one time event and like a scope once sighted in this should not be an issue moving forward.
Their should be a little bit more support material out their for this thing, i.e. sample targets etc. that help to explain if your group looks like this then make this adjustment. I have this issue with many products that are designed for advanced shooters where the company assumes that everyone buying the product knows how to use it right away. While many gun owners may think they know everything it has been my observation that better instruction or support materials would alleviate frustration in the market place. That said for this price it would be hard to include extra materials.
How To Improve:
Replace the screws with thumbscrews that do not require a tool to adjust and tune. I can totally get why it would not be sold like this and more so how many people might scoff at this idea. However if your going to be run and gunning or shooting matches at different distances than this would be very handy. This is not a break I would be putting on my home defense gun so having the thumbscrews stick out on the muzzle would not be an issue for me. This is an easy aftermarket fix at home depot.
They need to come up with one of these for 30cal platforms specifically the 300 Blackout, this thing would SHINE on that platform.
Final Thoughts
It looks cool and awesome on my AR-15 ripe for the tactical upgrade. However this is a precision tool that is more geared to the competition shooter. For those who spend their time plinking or long distance shooting this would be a must have. For the varmint hunters I can see this being a great accessory and it will be going on my 3 gun competition rig that we hope to unveil soon.
I was overall incredibly impressed with how well it worked as well as the feel of the coating. I think Rubber City Armory is on to something here and I look forward to the follow up review we have coming out for the BCG we tested as well.
They are prices at $90 each and you can buy them directly from RCA https://www.rubbercityarmory.com/scripts/prodView.asp?idproduct=47
Via: 248 Shooter
Category: AR-15, Gear, News, Product News, Reviews, Tactical, ar-15, bolt gun, precision, RCA, rubber city armory, tunable muzzle break