Rock River Arms is famous for their iterations of two classic American martial firearms, the AR-15 and the 1911. In the latter case, Rock River's .45 autos made their bones at Camp Perry, where their accuracy and reliability endeared them to bulls-eye shooters. Take one of those excellent pistols, make sure the tolerances will allow it to run reliably under duty conditions, put on some sights suitable for defensive purposes, and add a light rail to the dust cover: Voila! You have Rock River's new Tactical 1911-A1 .45 auto.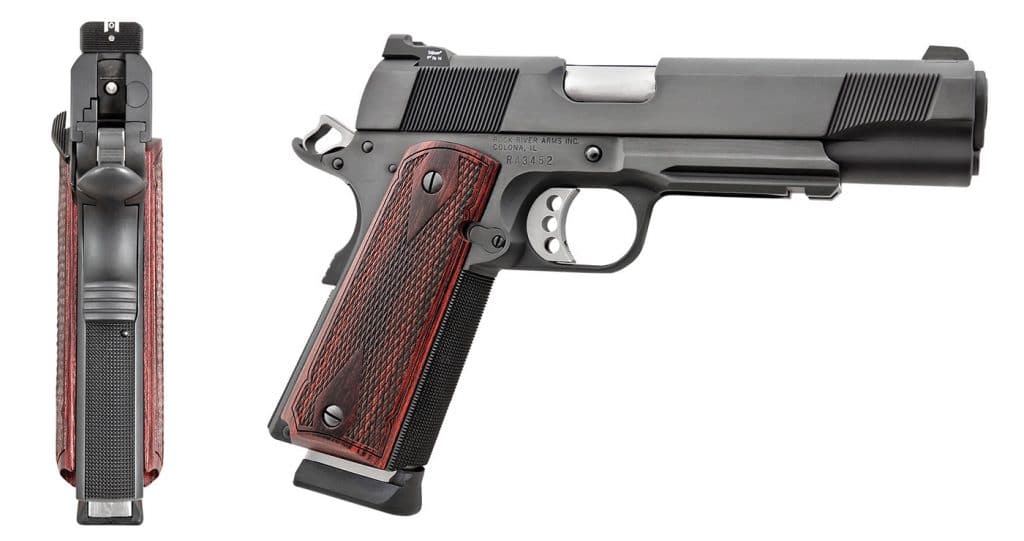 First Impressions
Back in the 1920s, the 1911 was upgraded to the 1911-A1 configuration with a host of revisions. Those included an arched instead of flat mainspring housing, short trigger instead of long, the frame machined out at the rear of the trigger guard for better finger reach, improved configurations of grip safety and hammer spur, and finally, larger sights. Though Rock River calls this pistol a 1911-A1, it actually has only one of those features, the machined out frame behind the trigger guard. It comes with the old flat mainspring housing of the original 1911. The trigger, hammer, grip safety and sights are better than either the original 1911 of the eponymous year, or the pre-WWII 1911-A1. Top-quality checkering on front and back straps gives optimum "feel" in this writer's opinion.
The sights were an excellent choice for a pistol bearing the "Tactical" moniker, to wit, the excellent Heinie Ledge, so called because the shape of the rear sight gives a ledge which allows a user with only one hand left to fight with to rack the slide against belt or holster using this contact point. The front post and the rear each have one Trijicon night sight ampoule, aimed by setting the front above the rear in Richard Heinie's famous "Straight Eight" configuration.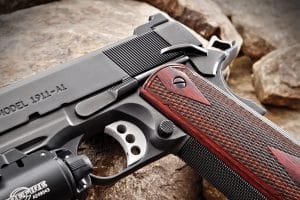 Kart match barrels are famous for their accuracy and quality. That's what you find in the Rock River Tactical, perfectly installed for optimum function.
The recoil spring system is John Moses Browning's time proven original, which gets a big thumbs up from this reviewer. The thumb safety is sized well for fast use, but on the test sample was right hand only. The speed hammer and beavertail grip safety with "speed bump" represent today's most popular configuration among 1911 cognoscenti, worked perfectly even with high thumb grasp, which on many 1911s fails to activate the grip safety. No so on this one.
I would have preferred an ambi thumb safety and could have done without the forward slide grasping grooves. That, of course, is subjective. I found the thumb safety stiff to engage to the "on-safe" position at first, but within the first day of "git 'er up on target an' shoot," it wore in just fine.
On the Lyman digital scale, the trigger pull weight averaged 4 lbs, 10.9 oz., but felt lighter, an indication of a well-made gun with a smooth pull. The RRA website calls for 3.5 pounds on this model. Given that GI spec on the 1911 pistol originally was 5 to 8 pounds, and 4.0 pounds is generally considered red-line minimum for a duty gun as opposed to dedicated target pistol in the 1911 platform, the pull weight on our test sample absolutely lived up to this model's "Tactical" name.

On the Firing Line
The test RRA pistol came in just as I was about to leave for Tom Givens' excellent Rangemaster Tactical Conference (rangemaster.com) in Memphis, where I was scheduled to teach and eager to learn. One live-fire course I wanted to take was Paul Sharp's "Recoil Mitigation" course, which turned out to be excellent (www.sharpdefense.me). Figuring I wasn't going to learn much about recoil control with a 9mm pistol like the Wilson Combat Beretta 92 Compact Carry I was wearing to the class, I brought the RRA along with a few hundred rounds of .45 hardball.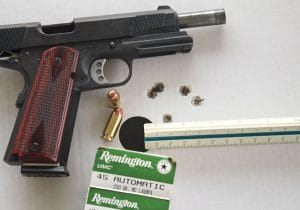 Because recoil is most noticeable in one-handed shooting, we did our first live-fire hour in Paul's class shooting dominant hand only. That was followed by a long session of non-dominant hand only. The Rock Island pistol proved so eminently shootable that none of the bullet holes were outside the relatively small aiming rings. The training was excellent, and so was the pistol: at the end of the four hour training bloc, having put hundreds of empty .45 casings on the ground, the Rock River Tactical had left not the slightest bit of soreness in the tester's arthritic old hands. This is a user-friendly .45, to be sure.
Accuracy
From five to ten yards, the RRA kept everything in one hole when I did my part slow fire (and did so faster at the closer distances). At 25 yards I went with my usual protocol: Caldwell Matrix rest on a concrete bench, and each five shot group measured twice to the nearest 0.05". The first measurement was all five, showing what an experienced gunner could expect from a solid, braced position with no stress involved, and the second was the best three hits. Over the decades I've found that the "best three" under these conditions will about equal what the same gun/ammo combination will do for all five from a Ransom Rest, and bench rest is easier for most of our readers to duplicate than machine rest testing.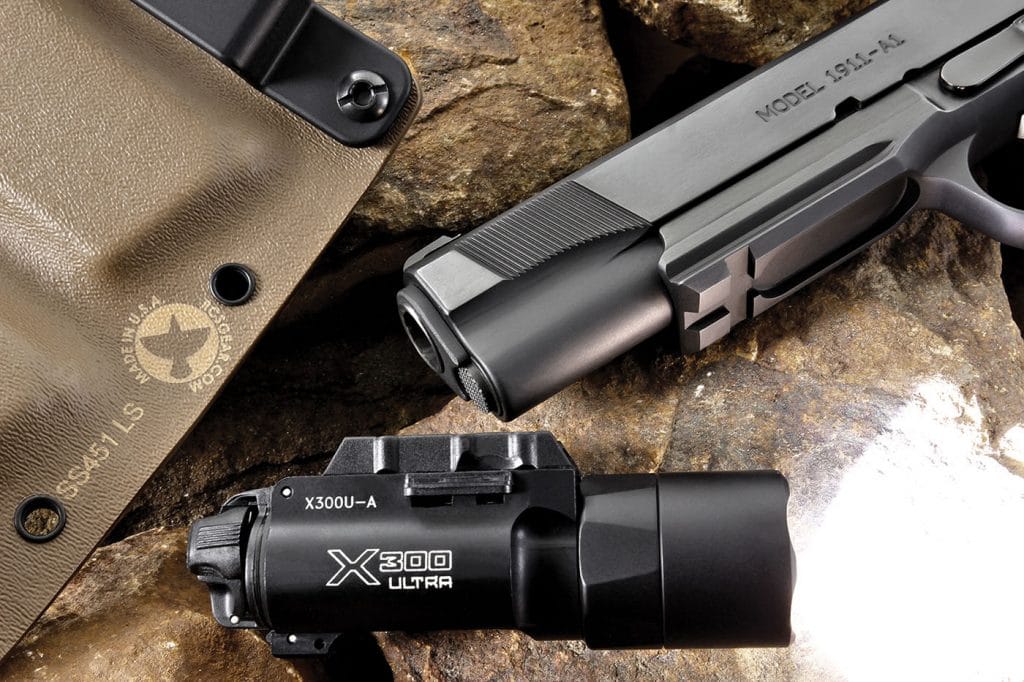 We used three different brands of ammo, representing the three most common bullet weights. The lightest was 185-grain Federal Classic jacketed hollow point, and the numbers measured out so precise they looked made up. All five were exactly 2.50" apart center to center, and the best three measured exactly half of that: 1.25" on the nose. Point of impact centered slightly above and to the right of the Shoot-N-C aiming dot.
The middleweight bullet was V-Crown 200-grain JHP from the relatively new SIG Elite Performance ammo line. Five of these formed a 2.95" group a tad above the aiming dot but centered for windage. The best three measured 1.70".
Traditional "fodder" for the .45 ACP is 230 grain bullets, and since full metal jacket "hardball" is so popular in that caliber, ya just gotta test some in any .45. Inexpensive Remington-UMC was the choice here, and it turned out to be the tightest-shooting of the three loads tested, in both measurements. All five went into 1.60", and the best three formed a 1.15" group.
Reliability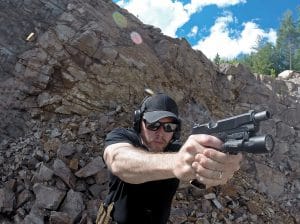 We ran several hundred rounds through this gun. Its first shot of the test out of the box was at Paul Sharp's class, with a stated round count of 300. Having experienced no malfunctions (including "weak hand only" and "strong hand only"), I decided to continue running it without cleaning or lubrication, exactly as it came from the manufacturer.
The only malfunction was a failure of a spent casing to completely clear the chamber. This occurred with the 185-grain Federal, the mildest and lightest-kicking load of the test, while on the bench rest. Getting a proper "rest" generally requires "breaking" both wrists and both elbows, which exaggerates the gun's upward jump. This can divert forces that should be running the slide down through frame and hands and arms, weakening the cycle. After that malf, I loaded up a magazine with a mix of hardball and JHP carry loads, and deliberately "limp-wristed" the RRA weak-hand only. All eight rounds cycled merrily through, leaving the pistol at slide-lock with no malfunctions.
Concealed Carry Comfort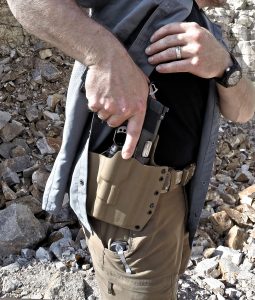 Some pistols, including lots of high-grade 1911s, have sharp edges that make them a challenge to carry concealed without digging into your body or tearing up your clothes. Happily, this one didn't so long as it was properly holstered. I wore the RRA .45 for an afternoon in a Blackhawk CQC composite scabbard in Tennessee, and for a full day in Florida in a Kydex holster by Green Force Tactical (greenforcetactical.com). No snags, no discomfort, no sharp edges, no problems at all. Remember, though, the wearer was an old guy who has carried full size, all steel 1911s since puberty, not a Millennial spoiled by ultra-light polymer pistols.
The only concealed carry discomfort noted was during a very short period wearing it "Mexican style," that is, stuffed into the waistband without a holster. This, remember, is a pistol with a railed dust cover, and the front edges of that part are sharp.
Since carry without a holster is generally considered unwise, the above "is not a bug, it's a feature." It forces us to carry the pistol in a proper holster, as we should be doing anyway!
With an MSRP of $2,200, the Rock River Tactical is a solid, well-made 1911 and not a bad value in its niche. The consumer's choice of high-quality 1911 pistols continues to expand, which of course is a good thing from the shooter's perspective. I for one was very happy with the performance of the Rock River Tactical .45. See it at your firearms retailer, or contact Rock River Arms, Dept. OT; Tel.: (866) 890-ROCK; Web: www.rockriverarms.com
Source Article from http://ontargetmagazine.com/2016/09/rock-river-arms-tactical-1911a1-45/