Daniel Defense is arguably one of the most successful turn of the century firearms manufacturers. Since their founding in 2000 they've become a leader in the vast AR15 community with top tier rifles and components, doubling their year over year output three separate times in less than two decades.
It was one of their components, the RIS, that originally put them on the national and international radar. Both USSOCOM and the UK Ministry of Defense picked up the RIS, making Daniel Defense one of the lead integrating designers pushing military small arms component upgrades. While the M4's might still be Colt's and FN's, the RIS and RIS II's free-floating the barrels on them are all DD.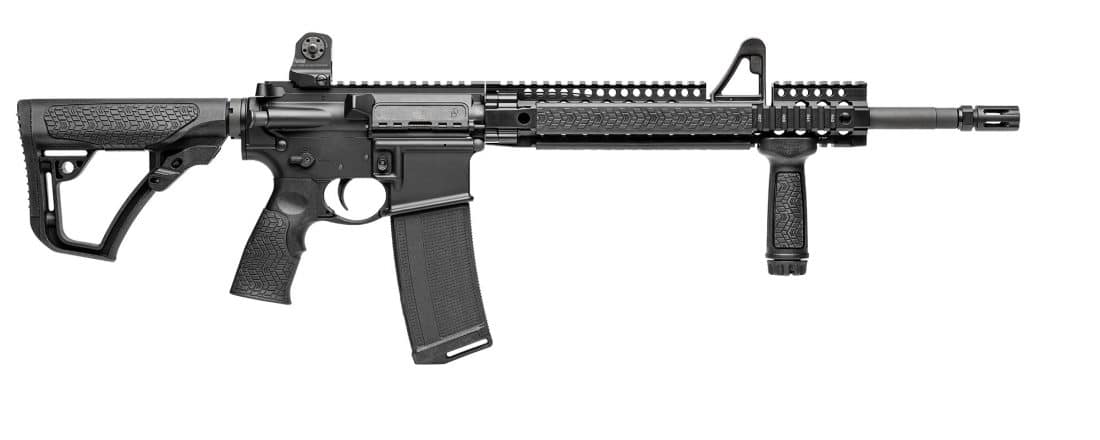 It was DD's ability to design a solid rail system capable of keeping existing inventoried components (barrel assemblies) that paved that successful road. They didn't go to the DoD and SOCOM with a necessity to modify any existing system, just plug their RIS components into place. Daniel did the same for the UK, working with Germany's H&K to put the RIS on the SA80/L85A2's to keep them current with the evolving rail systems.
What does this mean for civilian consumers?
Quite simply Daniel Defense was not about chasing DoD contracts. They built up their DDM4 line, and now the DD5 line, with the consumer market in mind. Civilians, Law Enforcement, and the Military would all benefit from their efforts towards superior components and firearms these last 17 years.
I've had the privilege to use a wide variety of the Daniel Defense product line and it would be quite the essay to post the full reviews on each, so here is a synopsis of each for brevity.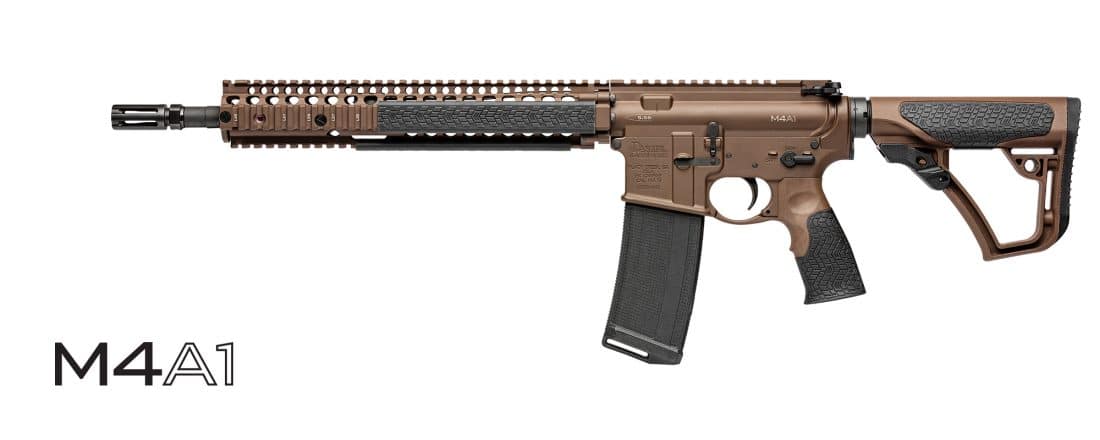 The M4A1 series of military rifles are a combined system of components, the M4A1 from DD is their house blend of the same (minus full-auto, for we are buying civilian side).
The RIS II covers the proper M4 length and profile 14.5″ 1:7 barrel and 7″ carbine gas system. For legality, the anodized stainless steel DD Flash Suppressor is permanently affixed to the barrel making the operating length over 16″ to comply with NFA regulations. The barrel features cold hammer forged (CHF) rifling and chrome lining over the chrome moly vanadium steel. This process and material choice, while expensive, produces barrels with exceptional durability and service life, keeping accuracy high and maintenance low.
This flagship carbine is finished out with mil-spec phosphate for the barrel and gas system, and their mil-spec+ cerakote for the RIS and receivers. The 6 position butt stock is on a mil-spec extension and both the stock and pistol grip are of Daniel Defense design, color matched to the rifle.
Internally, the bolt and carrier are all proper steels with chrome lining, the trigger is a forged mil-spec, and the buffer is the preferred H weight. Carrier is properly staked and sealed.
Add your choice of sighting systems and the rifle is completely mission ready. Prairie dogs, 3 Gun silhouettes, and bad guys beware.
Firing the DD M4A1 feels like what I wanted my M4 to be: it's light. The longer railed RIS trumps the KAC Carbine RAS as more mobile and maneuverable. I've come to greatly appreciate longer handguard systems on rifles because of that control increase. I can tailor fit any of my force multiplicative or rifle mounted mission essential equipment to the gun with far more flexibility than a standard M4 carbine.
Daniel Defense rifles have an almost ethereal quality too. They're generally so well balanced they feel much lighter than they are and lighter than competing systems. You can counter this spooky feature by bolting many many accessories to the rails at all possible locations.. or take advantage of the sleek svelte characteristics for a faster rifle.
You feel just how well that weight and balance you've put together help or hinder you the minute you start shooting target transitions.
The DD M4A1 delivers everything a flagship carbine should.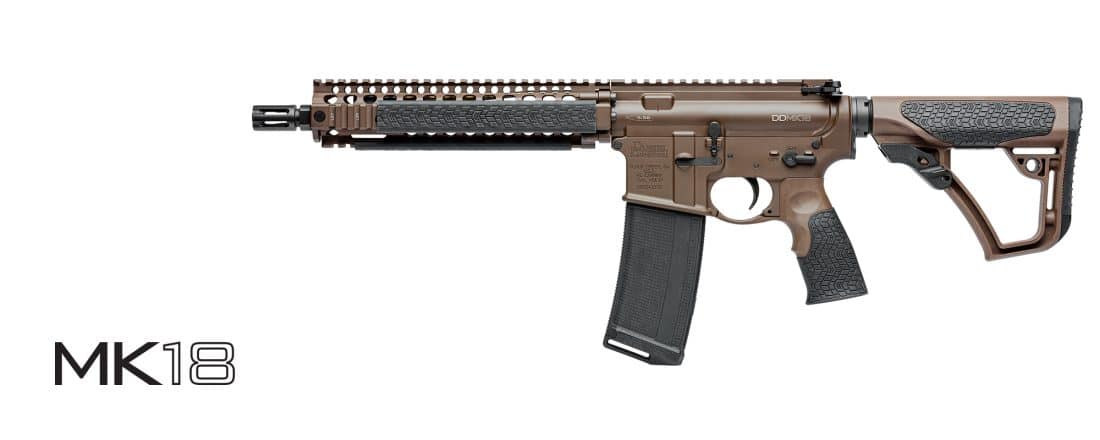 Taking everything we like about the M4A1, Daniel Defense has also produced their version of the military MK18. This is a 10.3″ barreled version of the M4A1 in USSOCOM inventory and the DD produced version mirrors their M4 in a similar manner. The compact little carbine/SBR can be deployed inside close confines and vehicles with much greater ease, retaining mobility in tight spaces better than longer rifles.
The MK18's RIS still gives it more mounting space than the military M4A1, and like the military MK18 models, DD has properly spec'd the barrel and gas system inside that handguard to pressure and cycle the action around the altered dwell time.
I've used two seperate MK18's, one a factory complete SBR and the other an SBR I built using a complete factory upper. The increased ease of mobility, especially around and inside a vehicle, is something that absolutely has to be experienced and the MK18 delivers while losing next to nothing on accuracy or effectiveness (slight increase muzzle blast, which is entertaining). Lower velocity out of SBR's can result in quicker than typical bullet drop but simple awareness can correct for that on longer distance shots. Inside 300 meters (to say nothing of the more likely fighting distances of 50 meters or less) the MK18 is every bit the effective carbine its larger siblings are.
It's NFA though so plan your purchase accordingly.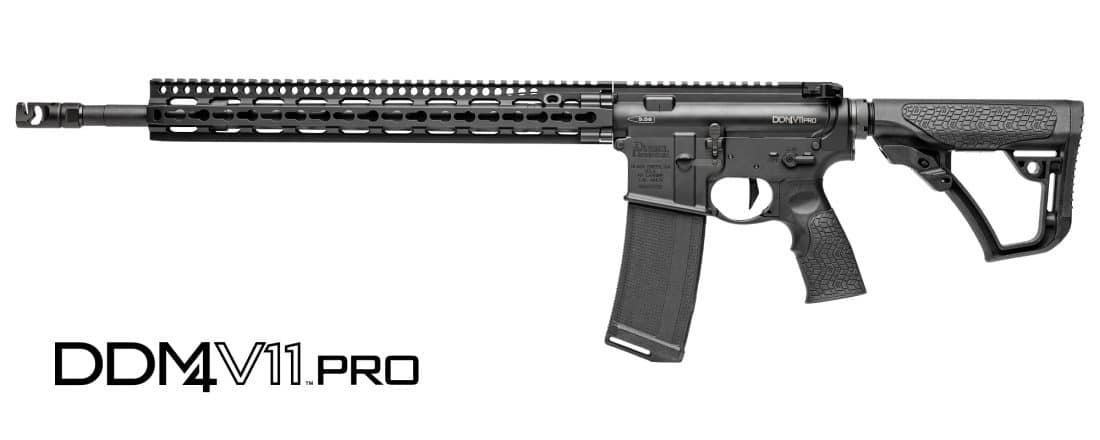 The V11 series is the Daniel Defense model I've shot the most variations of. Pulling the trigger extensively on the V11, the V11 LW, and the Pro has given me a well formed perspective on the Keymod clad line-up (for M-LOK see the V7)
The V11's sport a 15″ freefloat keymod handguards over 16″ CHF barrels on mid-length gas systems (keeping that optimal pressure and dwell time) but otherwise keep the M4A1 and MK18 internals.
Oh and there's Kryptek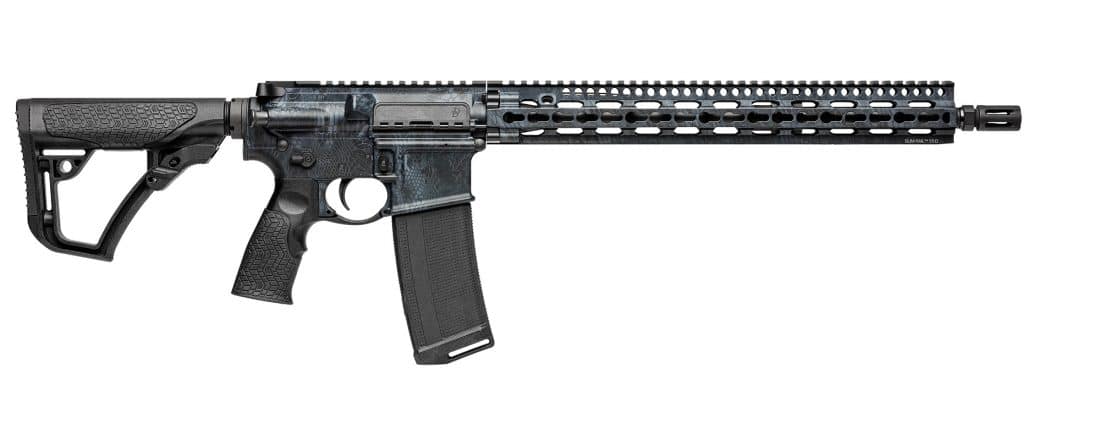 The keymod streamlines the already quick rifle a step further over the RIS systems without losing any of the modular attachment capability. The V11 is light. The V11 LW is lighter, the SLW with its 14.5″ barrel is lightest…
and then there's the Pro Series.
Built with the 3 gun field in mind, the Pro Series V11 received an 18″ S2W profile barrel, a DD muzzle climb mitigator (compensator), a Vltor/BCM Mod 4 Gunfighter charging handle, and a Geissele Automatics Super Dynamic 3 Gun flat faced trigger on top of its standard array of features.
Across 7 total rifles, one M4A1, two MK18's, and 4 V11's (one Pro, one LW, and two standard), I have a couple thousand rounds through DD rifles and I've had zero stoppage. The various owners, all friends of mine and avid shooters, have in their combined experience few enough stoppages to count on one hand using everything from TulAmmo to M855 to 77gr match loads.
Anecdotes aside, hard use sources like Battlefield Las Vegas who put astronomically high round counts through guns on full-auto consistently use Daniel Defense rifles and replace worn components with DD parts. Bolts are lasting 20,000 rounds and beyond before failure and their barrels are holding acceptable accuracy for better intervals under the high volume abuse of recreational machine gunfire. A hard used rifle may see 20,000 rounds of practice, competition, and courses in a year. These BLV rifles can see that in 30 days.
Speaking of those parts they're available for your and my use too.
Sights, RIS, Bolts, Carriers, Barrels, Mounting Hardware, Parts Kits and Furniture all available as single upgrades or replacements for your existing systems and builds.
Want that RIS II on your PSA rifle build? Get it. Replacement bolt? Yep. Upgrade the whole carrier? Why not. Rebarrel? Everything you need.
So if you haven't hit any of the links scattered through this article that reference what I was talking about. Go Click em!
Daniel Defense and our friends at Operation Parts have you covered.