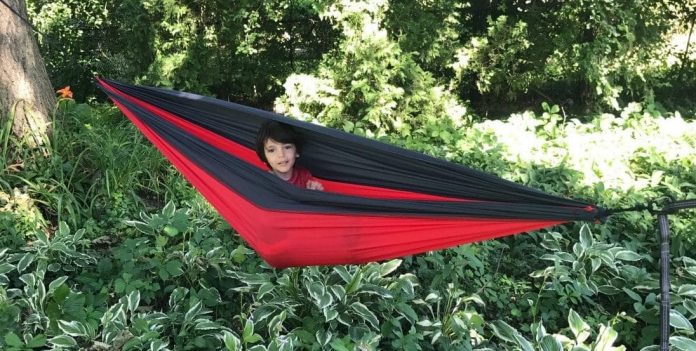 What is a gun page doing reviewing a hammock? If you're seriously asking, as some of my friends have, then you don't take enough classes. The Hammock at the Alliance PD Range gets a ton of use because on hot days there is nothing like racking out for 20 minutes to refresh the body. If you ever run competitive shooting there can be delays between matches. Nothing like taking a load off by attaching this between 2 cars.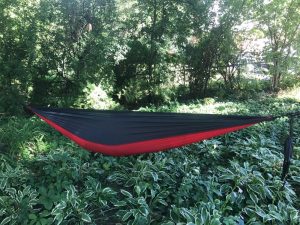 I have made the RALLT Single Camping Hammock a staple in my emergency car kit. This affords me the luxury of a fast nap in all sorts of unexpected places. The small kit takes up 5 cubic inches of room, weighs less than 1lb, and assembles in 5 minutes or less. On the go or just in your car, it's easy to find a place for it.
In a real emergency situation, it makes for a great way to stay up off cold or wet ground. When paired with a tarp it can even make for a hasty shelter. To many "survivalists" forget shelter needs to be top priority in their preparations and instead focus on just food, water, and defensive tools.
The non-stretch nautical rope that is included attaches to no snag wiregate carabiners with a simple wrap around the closest tree or pole. Then when you're done, it all stuffs back in the stuff sack attached to the hammock, ensuring it will never get lost or blown away while you snooze.
Being a larger guy 6'1" and pushing 255 lbs, I was hesitant to use this at first. The hammock is amply suited to even fit Steve Fisher "Yeti" at 10ft long and 4'7" wide but would it handle the weight? The material looks to be very thin and light weight, designed for those skinny millennial hiker types. However, the 70D Ripstop material and triple chain seams held me just fine. I have to say it's sturdy as hell and likely lives up to its claim of 400lbs. If you're larger or want to snuggle your battle buddy then you can purchase the two person version for $10 more.
Pros:
Lightweight
Affordable
Easy to set up
Perfect for spring, summer, or fall dry days
Cons:
Hammocks take some getting used to getting in and out of
While comfortable a tarp would be needed to make it a shelter
The RALLT Single Hammock comes in 7 colors with alternate versions for 2 people or cammo patterns. It can be bought from https://www.rallt.com/ directly for $35.95 in single or $45.95 as a double. At this price I bought two, one for the car and one for my bug out bag.