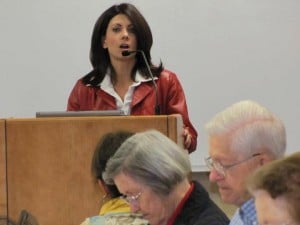 Following passage of a popular ballot referendum that reduced many crimes in California last November to misdemeanors, a state lawmaker introduced legislation to make the theft of guns under $950 in value a felony.
This comes just months after Proposition 47 passed in a 17-point margin. Designed to reduce penalties for non-violent offenders such as drug possession and property crimes, it was intended to save taxpayer dollars spent in incarceration. The crimes transitioned from felonies to misdemeanors include commercial burglary, possession of stolen property or vehicle theft if under $950 in value, possession of illegal drugs and theft of most firearms. It is this last point that is now the target of a measure by a California lawmaker.
"A criminal doesn't steal a gun for recreational use, they steal a gun to commit crimes," said Assemblywoman Melissa Melendez (R) in prepared statement on her new bill. "It makes little sense that during a time when the legislature is pushing for harsher gun control laws for law abiding citizens we would relax the penalty for gun stealing criminals."
Melendez's legislation, AB 150, makes the theft of a firearm a grand theft in all cases regardless of the value of the gun. This would place punishments for gun theft at imprisonment in the state prison from 16 months to three years. Likewise, it would make buying or receiving a gun that is understood to be stolen a felony. Since these crimes were reduced by ballot referendum from voters, the new measure would similarly go to the polls for Golden State voters to decide up or down on.
Melendez, who serves as Vice Chair of the Assembly Public Safety Committee, has been outspoken in her criticism of Prop 47, saying, "This heinous mistake is borne from an utter lack of transparency from the liberal special interests that backed this measure."
Gun rights advocates in the state are standing behind the legislation.
"It's plain unjust for law-abiding gun owners to be targeted with felony after felony, restricting their right to keep and bear arms, while Prop 47 makes criminals who steal guns subject only to a petty theft charge," Brandon Combs with the Firearms Policy Coalition told Guns.com. "California Assembly member Melendez has a good bill in AB 150 that will restore some sanity to our criminal justice system."
The legislation could be heard in committee as early as Feb. 15.
Source Article from http://www.guns.com/2015/01/19/push-to-make-gun-theft-a-felony-in-california-once-again/