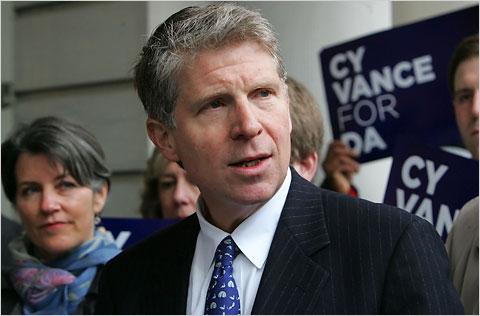 In a new take on gun control, 23 big name criminal prosecutors, including Manhattan's Vance and LA's Feuer have joined to form Prosecutors Against Gun Violence.
Announced Wednesday by Manhattan District Attorney Cyrus R. Vance, Jr. and Los Angeles City Attorney Mike Feuer, who will co-chair the non-partisan group, PAGV promises to advance "prosecutorial and policy solutions to the national public health and safety crisis of gun violence."
"For prosecutors, gun violence is not a partisan issue," said Vance in a statement. "It's a public health and safety crisis that claims lives and destabilizes communities in every jurisdiction in America. By coming together to share intelligence and advocate for pragmatic, non-partisan solutions, law enforcement officials can achieve lasting progress on gun violence."
The group includes prosecutors from Atlanta, Boston, the Bronx, Brooklyn, Charlotte, Chicago, Denver, Detroit, Houston, Las Vegas, Los Angeles, Manhattan, Miami, Milwaukee, New Orleans, Philadelphia, Portland, Queens, San Antonio, San Francisco, Seattle, and Staten Island. They plan what PAGV bills as the first national prosecutorial summit on gun violence prevention in Atlanta in late October.
At the Atlanta meeting, the prosecutors plan to discuss gang violence reduction, illegal weapons trafficking, the nexus between domestic violence and gun violence, the link between mental health issues and gun violence, and other initiatives.
In an email to Guns.com from PAGV, spokesperson Joan Vollero confirmed that the new group is non-political with no association to former New York City Mayor Michael Bloomberg's Mayors Against Illegal Guns, Everytown for Gun Safety, or Moms Demand Action for Gun Sense in America. Vollero further states that membership is open to all prosecutors who want to join.
When asked if PAGV intends to endorse candidates for the upcoming November elections, Vollero replied simply, "No."
Vance, the son of former President Jimmy Carter's Secretary of State, Cyrus Vance, Sr. won a landslide election to the post of New York County District Attorney for Manhattan in 2009.
Feuer, the Los Angeles City Attorney since July 2013, was formerly a LA City Council and State Assembly member. While in Sacramento, he introduced AB1471, the controversial California microstamping bill that was signed into law in 2007. That law has since seen a number of lawsuits challenging it in federal court over its applicability.
"Together, prosecutors across our nation can make a major impact on the gun violence afflicting our communities," said Feuer Wednesday.
Source Article from http://www.guns.com/2014/09/18/prosecutors-band-together-to-form-new-gun-control-group/?utm_source=rss&utm_medium=rss&utm_campaign=prosecutors-band-together-to-form-new-gun-control-group