By Dave Bahde
---
PWS steps up their game with substanial improvements
Over the years Primary Weapons Systems (PWS) rifles have seen use at my home range, in police training and in SWAT training. All have been accurate, reliable, soft shooting, and well built. Each generation of PWS rifles has seen useful improvements, and handling their new Mod 2 rifles at the 2016 SHOT Show, their latest efforts looked impressive. Changes are substantial, with additions keeping them at the top of the production rifle world. Primary Weapons provided two of the first available Mod 2 uppers in two barrel lengths and a single lower. The uppers were the MK116 (16") and MK107 (7.75"), respectively, for testing and evaluation.
Primary Weapons Mod 2 Rifles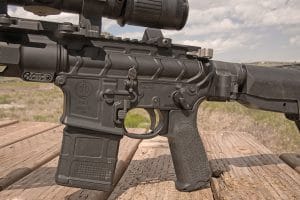 The Primary Weapons MK107 is one of the most reliable SBRs ever tested. It runs a larger variety of ammunition in general and functions reliably suppressed. Mod 2 offers the same form and function with some improvements to the hand guard with the CQB muzzle attachment standard. The barrel is 7.75 inches long with a 3-position adjustable gas system. The Picmod railed handguard allows the direct mounting of accessories to the rail while still accepting KeyMod devices.
No more rails coming loose for critical items. The custom barrel has been tapered for weight reduction, yet maintains strength. QPQ coated PWS chromoly barrels are always accurate, consistent, and rugged no matter the length. Hardened, custom-designed bolt carrier groups machined from tool steel are coated for reliability and strength.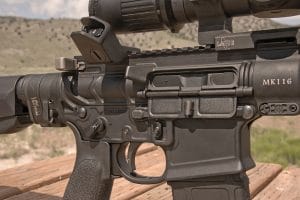 PWS MOD 2 upper receivers are forged, providing the greatest strength while keeping them light and stiff. Handguards include a trunnion machined into the upper receiver insuring a precise fit and contributing to strength and accuracy. The MOD 2 lower is forged and includes ambidextrous controls including the safety, magazine and bolt release. Recessed, they are easy to access yet stay out of the way. An enhanced trigger with a 5.5-pound pull weight is provided. A BCM GUNFIGHTER stock goes over the PWS Gen 2 Enhanced Buffer Tube. It retains the plunger/spring retainer notch and adds a Ratchet-Lock nut securing the tube in place. Control is maintained using the BCM pistol grip.
The MK116 MOD 2 upper uses a 16-inch barrel taking the 5.56mm/.223 to the limits of its range. Picmod sits at the front of the hand guard allowing for a solid attachment of my Atlas bi-pod. Rail Scale sections are attached using KeyMod and can be placed along the rail to ensure a solid grip.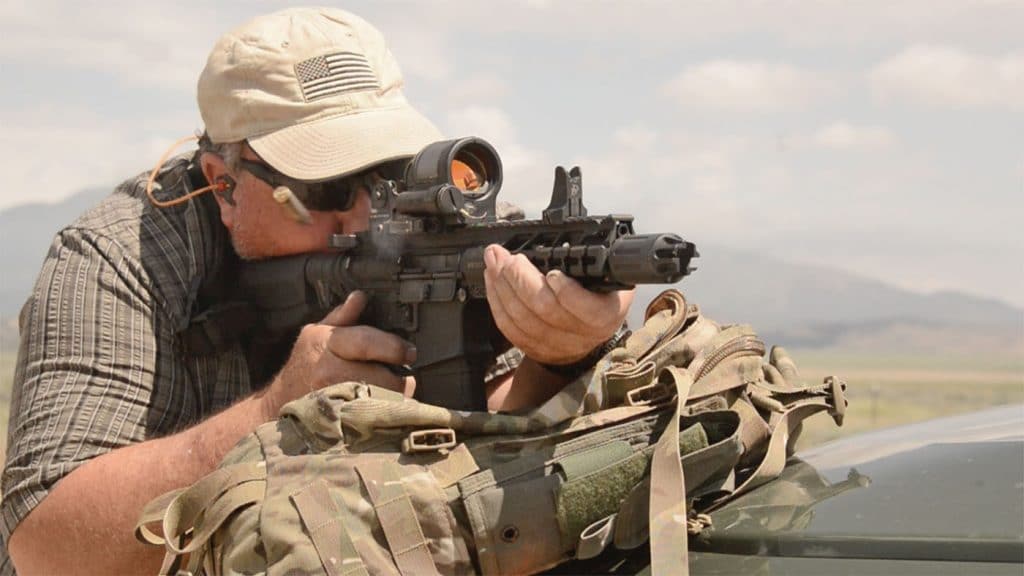 Accessories
Much of my training over the last couple of years has been with Follow Through Consulting at their range in Teasdale, Utah. It has allowed me to test numerous rifles in various calibers out to 1000+ yards under field conditions. Leopold's 3-18 power Mark 6 scope has become one of my favorites. Leopold was kind enough to install one of David Tubb's Dynamic Targeting Reticles in my Mark 6 3-18 for testing. It was mounted in a Larue Tactical mount and equipped with a Tubb scope level. Since this reticle takes spin drift into account it is imperative you keep the scope level at extended range. Optimized for the 77-grain OTM, it provides fast ranging as well as an incredibly precise ballistic reticle.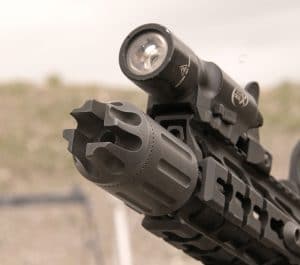 Griffin Armament Fail Safe Angle Sights were installed for close work if needed. They line up at roughly one o'clock on the rail. Machined from a single billet, they are very strong and always there.
SureFire's WarComp flash hider was added so their SOCOM 5.56 RC2 suppressor could be used. The new factory trigger is nice and a great improvement, but my preference remains a two-stage, so a Larue MBT-2S was installed.
The Trijicon SRS remains one of my favorite red-dot sights. It provides a wide field of view with no tunneling effect. Daniel Defense fixed sights mount directly to the rail. Just sight through them if needed, they sit in the lower third of the sight. My trusted SureFire X200 sits in front of the front sight at 12:00 o'clock. Law Tactical's Gen3 folder works great with the EBT and keeps things compact.
Range Testing
Accuracy with both uppers was excellent. My best 100-yard group using the MK116 came from the Remington 77-grain Premier Match at just over 0.50 inches. Everything was under an inch at 100 yards using the bi-pod from a supported position. The MK107 was about as accurate at 50 yards using Black Hills 69-grain TMK, although the Barnes 70-grain TSX was just a bit tighter, but everything was under an inch. Anything off hand or even moving from 25 yards and closer was under 3 inches.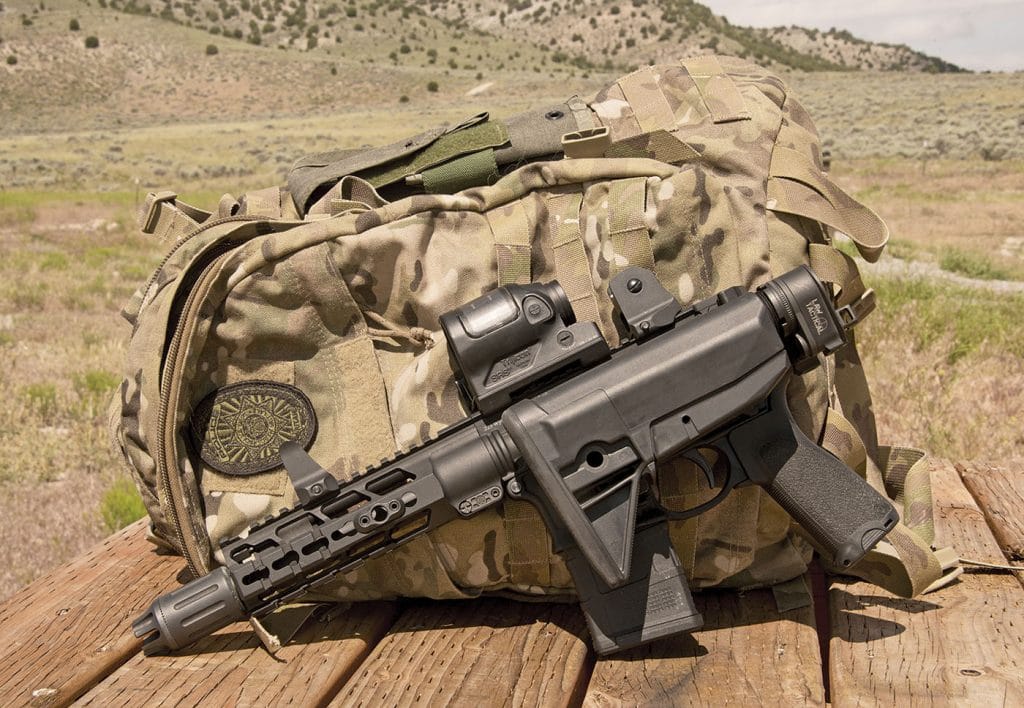 Moving out to longer ranges, both the Hornady 75-grain 5.56mm NATO and Black Hills 69-grain TMK were excellent, but it was the Remington 77-grain Premier Match that really shined. It matched the Tubb Reticle perfectly at my range's density altitude of 6,500 feet. Starting at 100 yards engaging 12-inch steel at 200, 300 and 400 yards, hits in the center were almost boringly consistent. Stretching it out to 600 then 800 yards, it was a simple matter of reading the wind and holding on the proper number to get hits with the Remington. This is the third rifle used with this scope, and so long as things mate up it is about as simple as it gets.
Other Considerations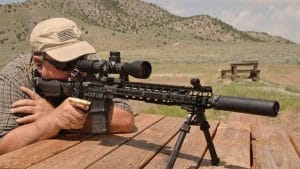 Working close range and in the shoot house the MK107 is incredibly handy. It fit nicely in my Eagle Industries 3-day assault pack. The CQB brake does a great job of sending blast forward, and it's not unpleasant to shoot. In rapid fire you still get a pretty impressive fireball, but that is to be expected. Under slow fire conditions it does pretty well. Function was excellent with everything and working around the FJ was downright pleasant.
SureFire's RC2 has quite a bit less back pressure than the initial offering, and it is readily noticeable. Turn the gas down a bit and you get very moderate gas pressure and solid ejection. It still runs when wide open, but brass is ejected forcefully with quite a bit of gas in your face. Zeroed with just the flash hider, adding the suppressor dropped point of impact about an inch.
All the new ambidextrous controls are well placed. There are three other similarly equipped lowers in my inventory and this configuration it the most intuitive. My left hand seemed to fall right on the release when shooting off hand, as did my trigger finger releasing the bolt on the right. Safety manipulation was also easy with a crisp release. Over the course of several hundred rounds with all varieties of ammunition both rifles functioned without issue.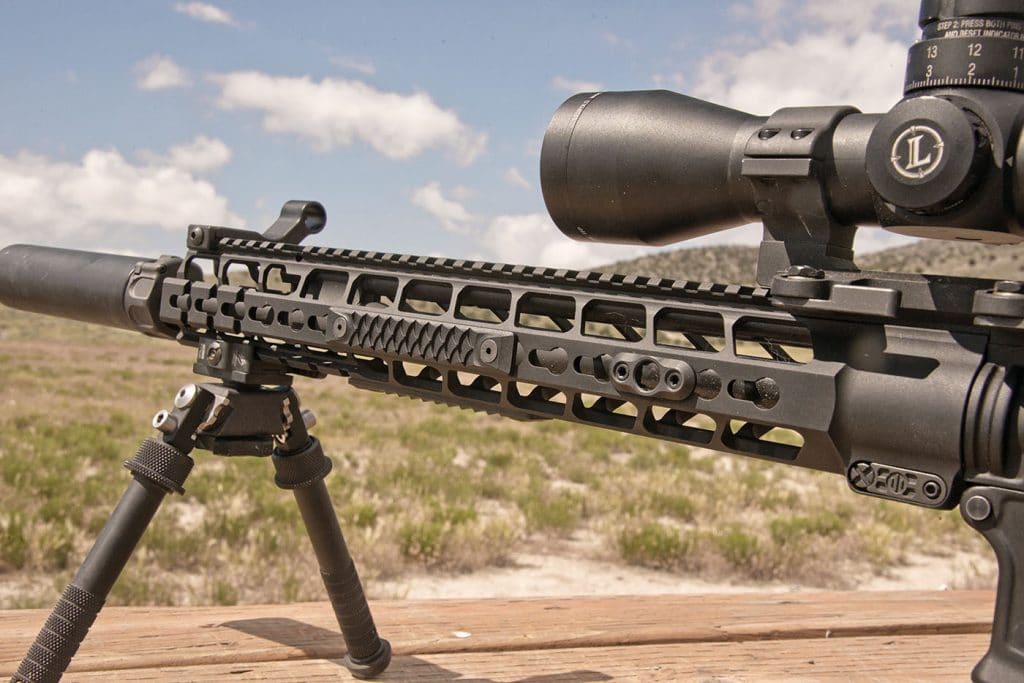 Bottom Line
If you intend to us both uppers you will need to start with the MK107 rifle since it is the registered item (LE or not) and add the longer upper. All in all, it is a very handy setup that gets you from across the room to 800 meters, and that is about perfect for most any application.
I had no disappointments with the Mod 2 updates. They are excellent. Both uppers are accurate, reliable and soft shooting. Fit and finish are excellent, with tighter lines, a more precise fit and better ergonomics. They are lighter, stronger and more sleek. Ambidextrous controls are well placed and effective. Picmod is excellent. No rails to come loose. Just the bi-pod and a light for me on the MK116. The handguard stays thin and sheds weight. The bolt carrier uses a standard hole at the rear. No more keeping track of PWS specific extensions for the Law Tactical folder, as they are interchangeable now. PWS really stepped up the game here. If you want a piston rifle void of most issues that come with piston guns, take a hard look at the new PWS Mod 2 rifles. For more information, contact Primary Weapons Systems, Dept. OT; Tel.: (208) 344-5217; Web: www.primaryweapons.com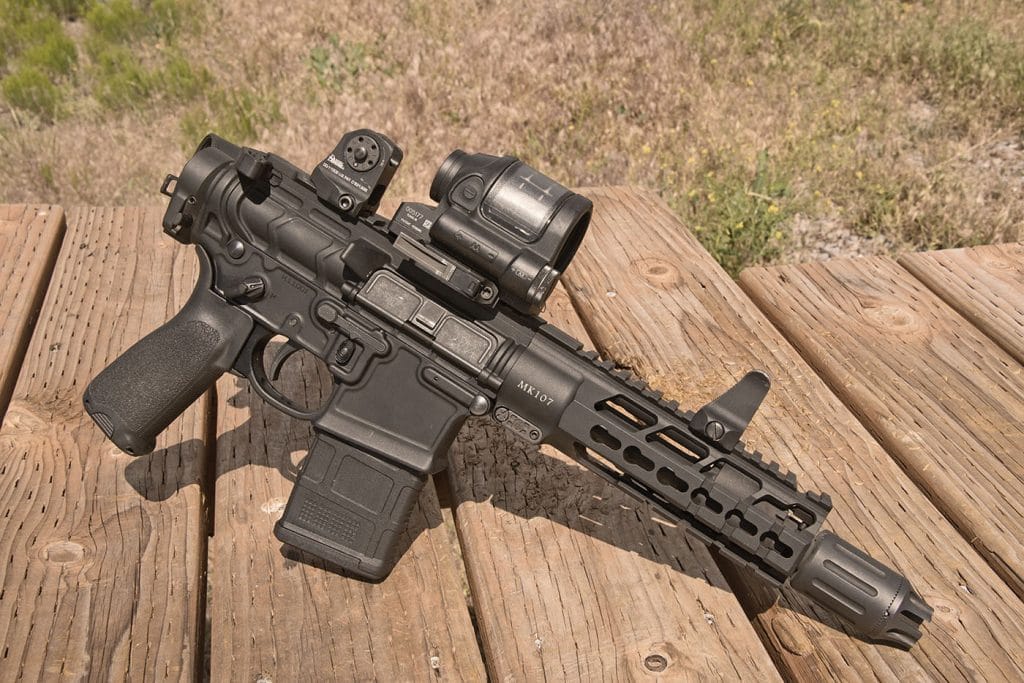 Specifications: MK107 Rifle
Caliber/Gauge:         .223 Wylde
Barrel:                      7.75 inches
OA Length:               26.5 inches extended/20 inches collapsed.
Weight:                    4.7 pounds
Sights:                    Top rail/none provided
Stocks/Grips:          BCM GUNFIGHTER stock and grip
Action:                    Semi-automatic/rotating bolt/long-stroke piston
Finish:                    Black anodized
Capacity:                Accepts standard AR-15/M16 magazines
Price:                      $2,025
Performance: MK107
                                                              Velocity                      Average Group
Load                                                       (f.p.s.)                        (50 yards)
Black Hills 69-grain TMK                           2,325             0.55 inches
Barnes 70 Grain TSX                                 2,250             0.65 inches
Hornady 75 Grain BTHP                             2,200             0.75 Inches
Gorilla 69-grain SMK                                 2,140             0.60 Inches
Specifications: MK116 Rifle
Caliber/Gauge:         .223 Wylde
Barrel:                      16 inches
OA Length:               33.5 inches
Weight:                    6.5 pounds (with lower)
Sights:                     Top rail/none provided
Stocks/Grips:           BCM GUNFIGHTER stock and grip
Action:                     Semi-automatic/rotating bolt /long-stroke piston
Finish:                     Black annodized
Capacity:                 Accepts standard AR-15/M16 magazines
Price:                       $2,025 (upper $1,750)
Performance: MK116
                                                              Velocity                      Average Group
Load                                                       (f.p.s.)                        (100 yards)
Black Hills 69-grain TMK                           2,800             0.60 inches
Barnes 70-grain TSX                                2,750             0.65 inches
Hornady 75-grain BTHP                            2,770             0.75 inches
Remington 77-grain Premier Match           2,650             0.55 inches
Velocity measured using a Pro Chrony digital chronograph. Accuracy in inches for three 5-shot groups. Groups fired from seated or supported using a bag as a rest.
Source Article from http://ontargetmagazine.com/2016/11/primary-weapons-systems-mod-2-rifles/