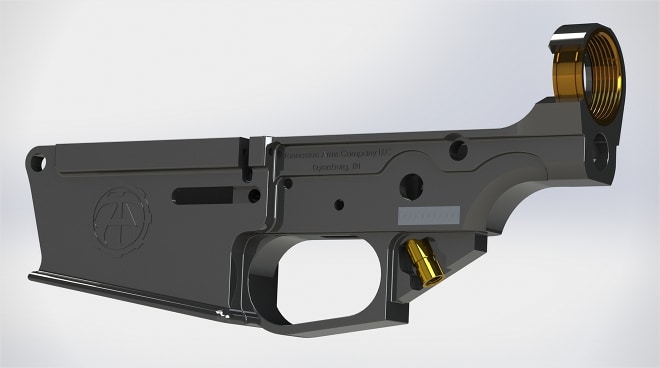 James Madison Tactical and Tennessee Arms are looking to expand into the .308 AR market with up-scaled models of their popular polymer lowers. Both companies have made solid names for themselves manufacturing polymer composite lowers for AR-15s and should have no problems getting into the big-bore business.
Tennessee Arms makes stripped and complete lowers with marine brass inserts in the buffer extension and pistol grip that make them easy to build and tougher than many all-polymer designs. The new AR-308 receiver will follow the same design philosophy and include metal reinforcements in the same spots.
In addition to the metal inserts Tennessee Arms overbuilds the receivers with reinforced sections at all of the lower's stress points.
James Madison Tactical also uses an overbuilt design with extra-thick walls and chunky struts that make its receivers stand up to hard use. The reinforcements are patterned specifically to match Magpul's PMag in terms of looks and strength.
JMT's lowers stand out for another reason entirely: they're 80 percent receivers. That means they ship straight to the builder but of course can't be used out of the box to assemble into a rifle or pistol. They require the user to machine out the fire control group pocket and pin holes.
Here's where the polymer construction comes in handy again as machining the receiver into a working firearm is that much easier to do at home. Because the receiver is the same material inside and out the lower doesn't need to be re-finished after machining.
While the JMT lowers may not have metal reinforcements, the company promises a leg up on privacy and makes for a fun project for the home gunsmith.
James Madison Tactical and the Tennessee Arms Company have played a big part in changing hearts and minds about polymer receivers.
James Madison offers an easy way to get on board with 80 percent projects and Tennessee Arms delivers polymer lowers that, thanks to reinforcements, can go head-to-head with alloy receivers and in some ways fare better thanks to their lower weight, increased flexibility and durable finish.
Tennessee Arms is already taking pre-orders for the AR-308 brass-reinforced lower receivers for $75 with free shipping. Pre-orders are being sold at a discount and when they enter full production the MSRP will be $147. Availability will be in the first quarter of 2015.
James Madison hasn't listed a price for the 80 percent .308 receiver but hopefully it will be around what AR-15 receivers sell for, $99, which includes a jig — a real savings. Jigs on their own often run $50 to $100. James Madison sells their lowers directly or through Rainier Arms, Brownells and Bullet Central.
Current JMT lowers are available in black, flat dark earth and olive drab, and we suspect the .308 models will be offered with the same color options.
Tennessee Arms will have their AR-308 lowers available in all their standard colors, black, stealth grey, olive drab, foliage green, dark earth and pink. Their pre-orders are only for stripped lowers; hopefully kits and complete lowers will follow.
If you're a polymer lower convert or want to test them out with a full-house .30-caliber upper then keep your eyes on James Madison and Tennessee Arms, they'll have the goods in due time.
Source Article from http://www.guns.com/2014/12/15/polymer-308-lowers-by-james-madison-tenn-arms-on-the-horizon/