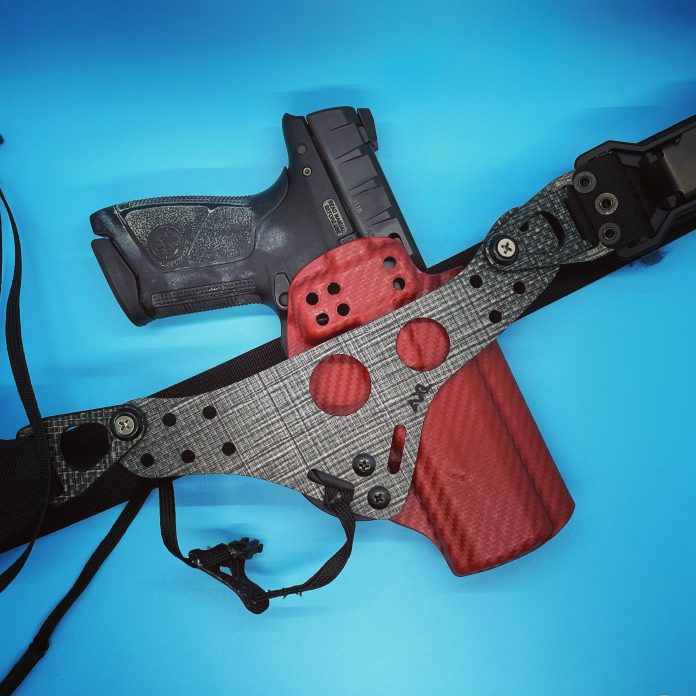 If you've ever googled "how to carry while running," you're not alone. Many carry permit holders have to deal with the problem of carrying when they can't wear a belt or traditional pants. The existing solutions, like belly bands, fanny packs, or off body carry aren't great. Then along came the mad wizards at PHLster. Enigma isn't a holster, it's a chassis to carry your holster…in whatever clothes you like.
The folks at PHLster sent me an Enigma to review, so I immediately threw an LCR holster on it and put it on under my silkies. It worked so well that I could do kettle bell swings with a gun on for the first time with no discomfort. While that was a fun exercise, after living with Enigma for over a month I've come to a few conclusions about the chassis.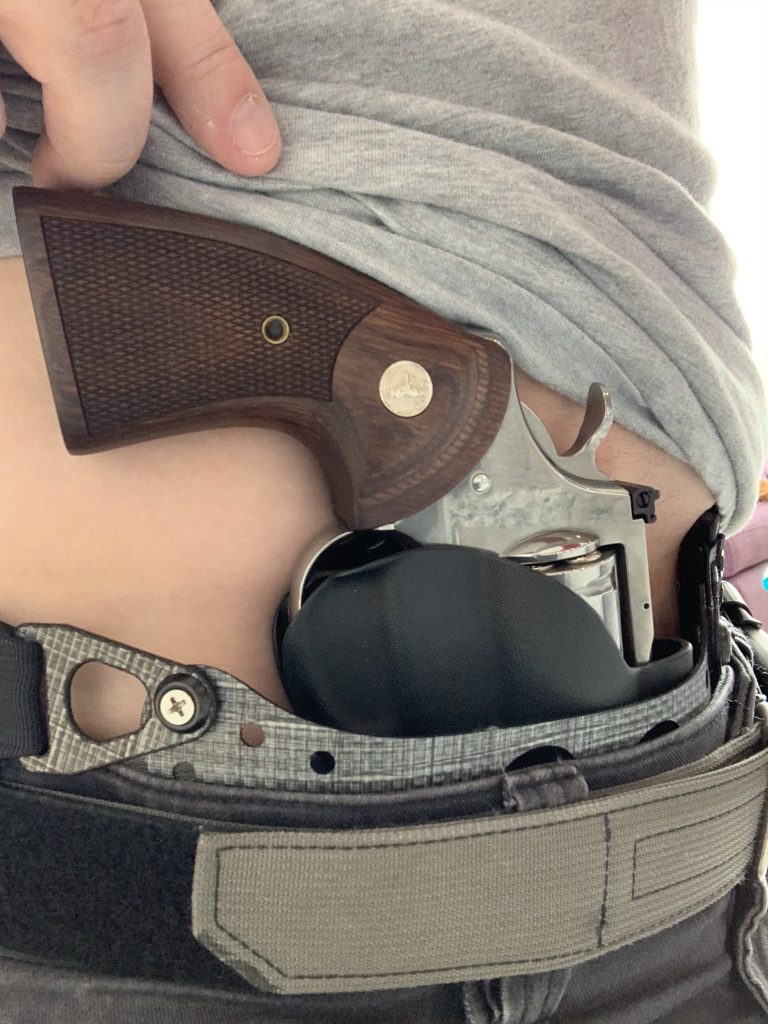 What is Enigma?
First, let's explain what it is, and what it does. The PHLster Enigma is designed to carry your "wing" equipped appendix carry holster without the need for an external belt or belt loops. It fits any non-light bearing holster that accepts common "wing-tuck" attachments, such as the PHLster Pro Series holster, the Dark Star Gear Orion, or the JM Custom Kydex Wing Claw 2.0. The holster attaches securely to Enigma's face, and then the whole rig is secured around your waist with the included nylon belt and buckle system. The belt can be sized up or down depending on your body size. My 32 inch waist needed a lot of slack taken out of the belt, and then I trimmed the excess off. When you assemble the chassis, make sure to follow the video directions posted online.
Versatile CCW options for the real world
Thanks to the multiple attachment holes for setting up the belt, Enigma provides incredible versatility because it's user adjustable for ride height and amount of butt-tuck. A high ride height for a gun makes it easy to draw quickly. Low ride height makes the gun easier to conceal. That means Enigma can be mission configured for your environment. Going for a run and want the gun fast and ready? Go high. Going into an environment where being "made" would have negative outcomes? Go low, or even entirely under the waistline, for max level concealment.
How people are using Enigma
Let's look at some use cases for Enigma. Obviously, running/exercising is that forefront of my mind, because that's a regular part of my life. Since getting the PHLster Enigma I've done several weighted rucks with a 35lb pack, and have not had any issues with the holster/band combo supporting a Beretta APX Centurion. But there're a ton of other uses for it, like people who wear scrubs all day. In fact, one of the inventors of Enigma is a healthcare professional and this was one of the considerations when designing the product. Another great use case for Enigma is because it's not attached to your belt or pants, you can tuck a shirt in over the entire gun, allowing you to wear business/professional/formal attire without relying on a jacket for concealment. Sure, your draw will be slower, but it beats not having anything on you at all.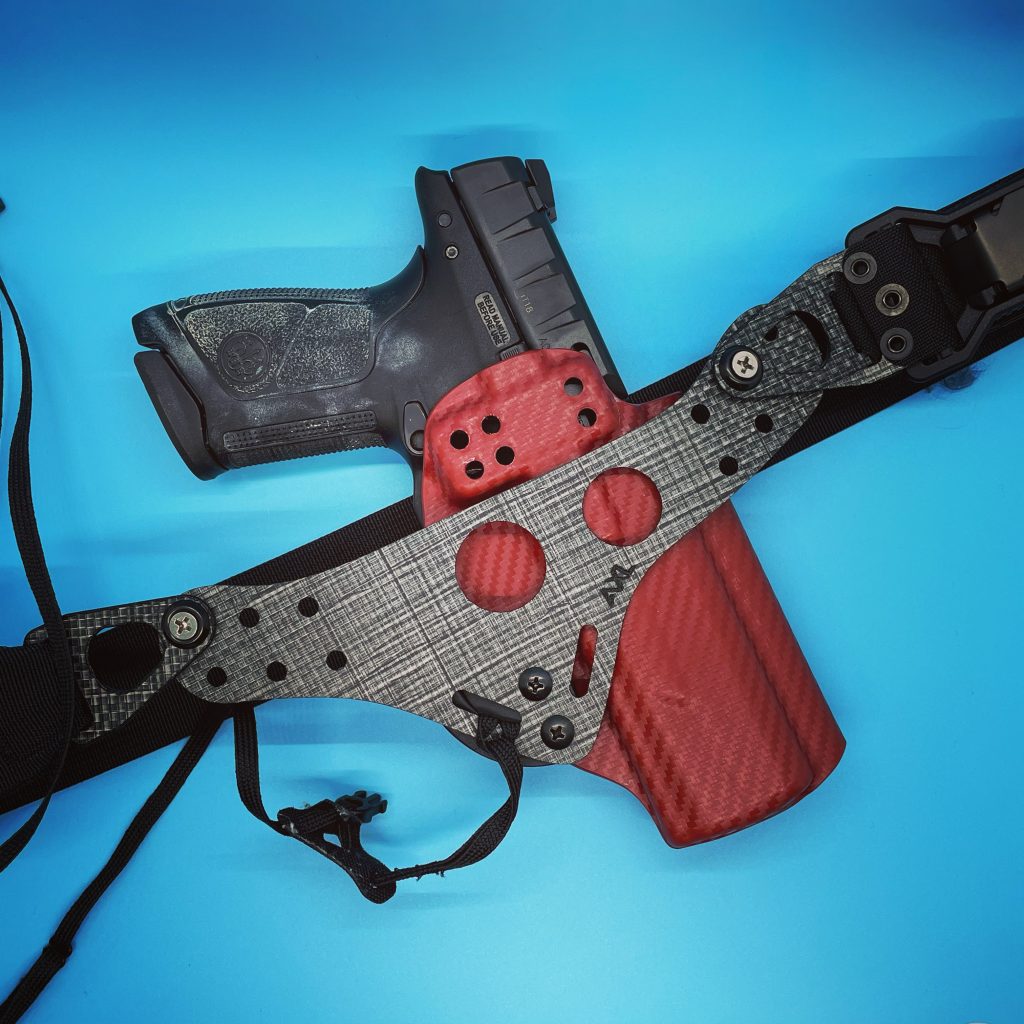 Carry more gun
One of the oddest side effects of Enigma is that I hardly carry small revolvers anymore. Previously, my "beltless carry" option was a J-frame or Ruger LCR in a holster with a DCC monoblock clipped to the waistband of my pants. Cinch the drawstring tight and it was…mostly okay. With the PHLster Enigma, I can carry the aforementioned APX Centurion, which holds 15+1 rounds of 9mm and conceal it as effectively as the small revolvers. Any time I can triple my ammo capacity without reducing my effective concealment is a win.
Game changing concealment option
Is the PHLster Enigma going to completely replace belts and holsters? Not for me. For other people it's now their standard EDC, but for me I spend most of my days wearing jeans anyway, so a traditional belt/holster setup is still my go-to. However, what Enigma lets me do is replace all the belly bands and other crappy methods I had to carry a gun while I wasn't wearing a belt. That's a huge benefit, because now I don't have to choose between "carrying a gun" or "wearing comfortable pants." I can do both, and have 15 rounds of 9mm. If that's not a game changer, I don't know what is.