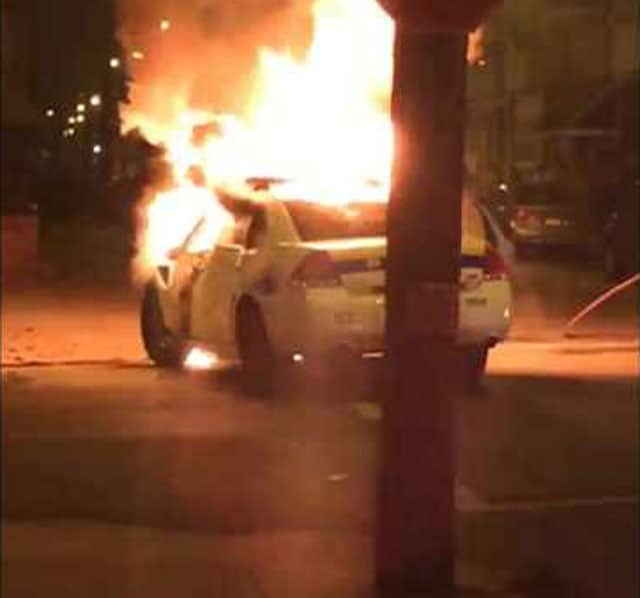 A 17-year-old boy is being called a hero after he helped to free a Philadelphia police officer who was trapped in a burning patrol car Saturday evening.
Joe Chambers, who is training to become a firefighter, said he was watching "Cops" when he heard a "big bang" outside. Officer Mark Kimsey had collided with a pickup truck and was trapped inside his squad car.
When Chambers came upon the vehicle, it was already on fire and the flames were growing, but Kimsey was stuck.
"He was in shock a lot. He couldn't feel his legs. He couldn't move," Chambers told reporters. "His door was like locked shut and it wouldn't open and there was people standing by watching, and I yelled over for someone to come help me because we had to get him out through the window."
A man by the name of Dante Johnson stepped in to help Chambers.
Chambers said the bottom of the car was on fire, and once they pulled the officer about halfway through the window, the flames had reached the engine and "really started to catch fire."
The two men were able to pull the police officer from his car, as well as the driver of the truck, who was unconscious.
But Chambers said it was no big deal, really.
"I just did what I hope anybody else would have done," he said. "That's really it."
Source Article from http://www.guns.com/2014/11/12/philly-teen-pulls-police-officer-from-burning-car-video/