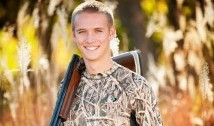 An animal rights group is condemning Broken Bow High School for considering senior portrait submissions that allows sports shooting motifs and wants a copy of the yearbook for an anti-hunting time capsule.
The group, well known for its antics against hunters, penned a letter to Broken Bow Public Schools Superintendent Mark Sievering last week decrying the recent policy decision to allow seniors to use props that represent their hobbies or interests, to include firearms and hunting, in their portraits for the yearbook. While there had previously been a practice to not consider these, the school board voted 6-0 earlier this month to allow it.
While Broken Bow is not the only district to allow such submissions, recent media coverage brought the attention of People for the Ethical Treatment of Animals, who chastised Sievering and asked the administrator how to obtain a copy of the coming yearbook for a time capsule that would include items such as a set of shackles used to chain elephants and a fur collar.
"When PETA's time capsule is opened, people will be disturbed by the idea that a school would send kids the message that it's OK to be proud of killing other living beings for fun," said PETA president Ingrid Newkirk in an email to Guns.com. "Future generations will be shocked to learn that hunting was legal in this time—in the same way that people are appalled that bear-baiting and human slavery were once acceptable since they are now universally recognized as reprehensible."
In its letter to Sievering, the anti-hunting group referred to study correlations between animal abuse by children and future serial killers, and even brought up specters of mass killings.
"Your yearbook would be a relevant inclusion to our capsule since generations to come will almost certainly be incredulous at the idea that a school would teach children that hurting and killing other living beings is acceptable—especially in light of the horrific school shootings that have taken place in the late 20th and early 21st centuries," read the letter in part, obtained by Guns.com.
"Frankly, it's shocking in this day and age that 'educators' would endorse the idea that it's OK to teach children not to respect and be in awe of wildlife but instead to hurt and kill animals as part of a 'game' or 'sport," it concludes.
To all of this, Sievering told Guns.com he responded to PETA with an email simply saying he would notify them when yearbook ordering information is available.
The Superintendent made it clear the movement by the board was to allow seniors, who have their portraits made away from school grounds, to have the option of using firearms in a non-threatening and tasteful manner. For example, photos would not be considered in which the barrel was pointed at the camera.
Sievering further explained that Broken Bow's new policy is drawing some quiet attention from other districts.
For several years, our district had a practice of not allowing such photos, but there was no actual policy in place. When the practice came into question, it was determined that a policy would address a variety of areas that had been previously unregulated. Therefore, the primary purpose for this policy was to clarify what would be considered acceptable for publication in the school yearbook. While I am confident that there are school administrators who will disagree with such a policy, I have heard from other school administrators who appreciate that a POLICY has been set forth, and see it as a model for what they might do if the situation arises in their school. I have been told that they feel it would provide some consistency.
One of the area photographers who specialize in senior portraits, to include students in hunting scenes, is Brian Baer.
Baer told Guns.com that the entire story has been blown out of proportion.
"We're talking about a very small number here," Baer said. "Out of every 100 seniors we photograph, I'd say 10-15 of them include a hunting outfit that includes a bow, rifle, or shotgun. The hunting images will generally make up 10 percent of their senior pictures. Of those 10-15 seniors, maybe one will want to make one of those hunting images their official yearbook shot. That's 1 percent of all seniors. In our very rural part of the state, we draw our clients from 100 miles in every direction. The total number of seniors in that area is 3,000. That means on average only 30 kids will want their senior yearbook picture to include a gun used as a prop in a hunting picture."
When told that PETA was seeking out a copy of the yearbook for its anti-hunting time capsule, which will likely contain images he took, Baer said that while he can appreciate the group's point of view, he also understands his community, of which he says hunting and fishing are "as common here as stripes are on tigers."
"I can respect passion. I respect how passionate PETA is about their mission. But I also respect how passionate my clients are about their interest. I'm not here to judge how something I do today might be viewed in the future with 100 years of hindsight. Right now, my community has established standards, which are representative of our community's views today. Whether I agree or not, I respect those views," Baer said.
Asked if he had received any negative feedback on the portraits, he said that a picture's ability to say a thousand words has kept naysayers who have seen them to a minimum.
"When they see images with a hunting theme it's just another senior portrait. Most compliment us on capturing such a great image which tells a story about our client's favorite activity," Baer said.
In the end, it all comes back to passion, argues Baer.
"My job as a portrait artist is to learn about my clients. Find out what they are deeply passionate about. Then create an image which tells their story. This is what I am deeply passionate about."
Source Article from http://www.guns.com/2014/10/29/peta-shocked-at-senior-portraits-with-guns-asks-for-copy-of-yearbook/