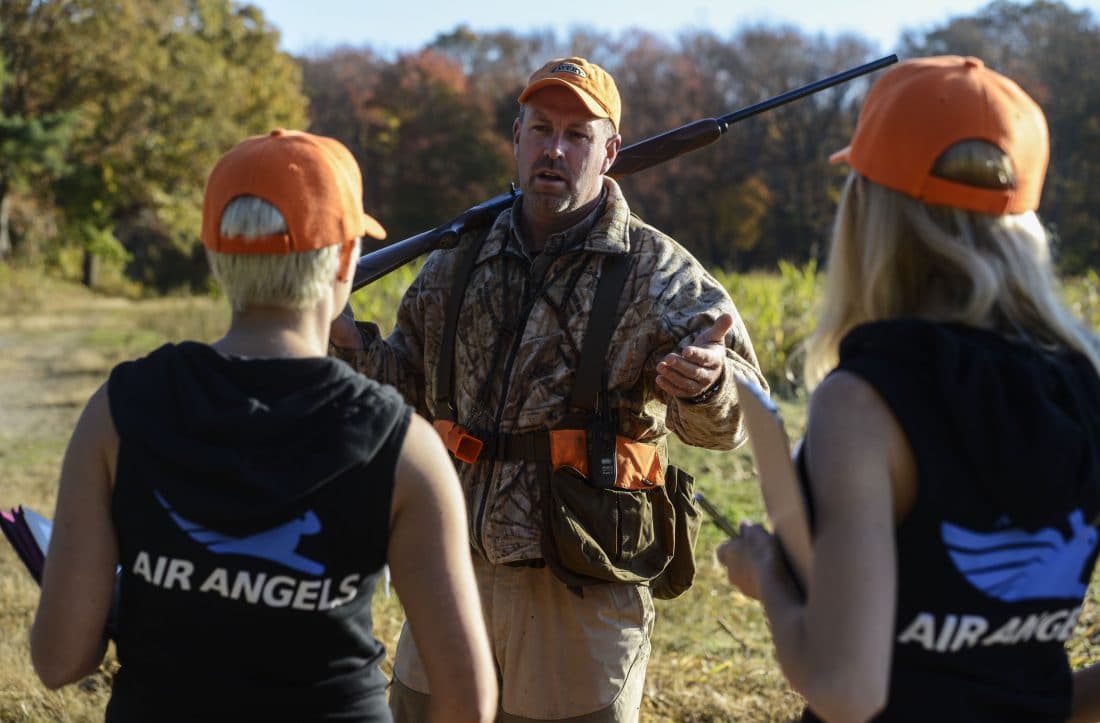 Heading into its second hunting season, People for the Ethical Treatment of Animals' Air Angel drone program is slated to be in the air once again this year.
The program, which debuted last October, is billed by the group as allowing "hunter watchers" to voluntarily observe and report on the activities of sportsmen in the woods. This is done using hobby drones sold through the group's website. With the PETA-marked devices capable of streaming and recording video, the group promises to share images captured by observers of what the anti-hunting organization terms illegal cruel hunting practices.
"With PETA's drones flying overhead, poachers need to rethink the idea that they can get away with murder while they're alone out there in the woods," Jordan Uhl, PETA media liaison told Guns.com in an email. "People planning on hunting illegally should keep in mind that PETA's eyes in the sky may be watching and reporting their actions to authorities."
While Uhl did not comment as to how large the drone program is, or if it recorded any such illegal activity last year, he did explain that Air Angel program is not made up of staff, but of PETA members who purchase the hobby craft, a Parrot AR Drone 2.0 through the group's website for $324.
"The program is in its infancy and we're already encouraged by the number of people who've purchased drones to help stop animal abuse in their states," Uhl said. "With more and more people opting for wildlife watching over hunting every year, we'd love to see our drones match or exceed the number of hunters eventually."
With PETA's membership billed as being around 3-million, and  2011 U.S. Fish and Wildlife license data asserting that no less than 13.7 million hunters took to the woods that year, it would seem that the anti-hunting group would need to step up its drone game. However, this may be difficult due to rapidly changing events.
Notwithstanding PETA's self-appointed watchdog program, the subject of drones and hunting has been a controversial one in the past few years. So far, four states have codified the use of drones while hunting illegal — New Mexico was the latest to join the ban. In June, the National Park Service called for a ban on launching or flying the devices on any of the 84 million acres of public land under its control.
Many of these bans, both actual and proposed, could also seemingly forbid the use of drones by anti-hunting groups. This could lead to PETA and others seeing their own craft grounded by the same laws — that is, if others do not take the matters into their own hands.
The escalation of unwanted unmanned aircraft has led to anti-drone detection and denial networks, towns declaring open-season on drones, and even tongue-in-cheek ammunition loads optimized for counter drone warfare. Earlier this year, Illinois passed legislation that prohibits anyone from using drones to harass hunters.
In 2012, a drone piloted by a smaller regional anti-hunting group was shot down soon after it took to the air.
PETA, for its part, is taking these events in stride. Although PETA states unequivocally that shooting down its drones would be against the law, the group contend it is targeting poachers and those who are breaking the law already.
"Our drones program is designed to protect wildlife by monitoring and reporting on illegal hunting activities, such as hunting with illegal firearms or ammunition and using spotlights, food, and other tricks to lure animals so that they can be maimed and killed,"  Uhl said. "Sloppy poachers often wound animals then fail to pursue and kill them, leaving them to die a slow, painful death from blood loss or infection. Nowadays, there are more than five time as many wildlife watchers as there are hunters in the U.S. We have no doubt that the very idea of being caught in cruel and illegal acts will cause some of the last holdouts to think twice before they let the arrow fly or pull that trigger."
Still, the rhetoric of the group, who hold that no animal, of any species, should be killed for sport, shines through.
"Before heading out on a killing spree, hunters across the U.S. should consider that their actions may be recorded and reported to the authorities. People will no longer be able to maim animals and leave them to die slowly of wounds with impunity," Uhl said.
Source Article from http://www.guns.com/2014/09/22/peta-flying-drone-program-aims-to-keep-an-eye-on-hunters-video/?utm_source=rss&utm_medium=rss&utm_campaign=peta-flying-drone-program-aims-to-keep-an-eye-on-hunters-video