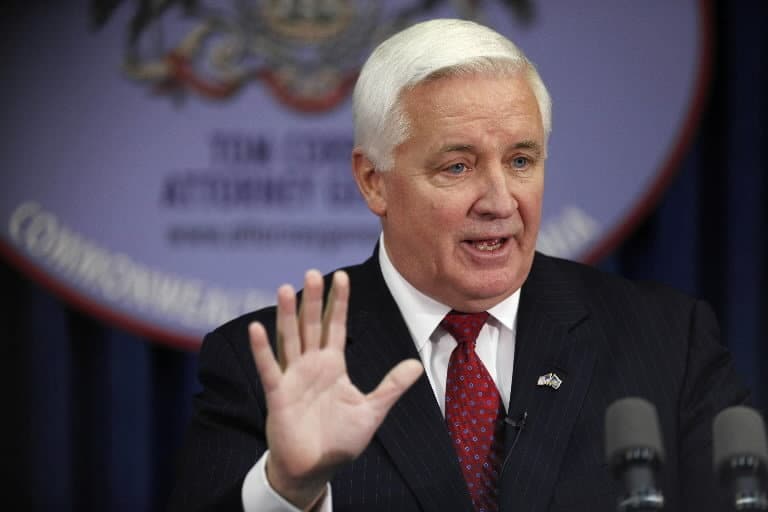 After earlier versions of an amendment to allow individuals and concerned groups to take cities and counties into court over gun laws stronger than the state's were derailed, a version added to a metals theft bill passed late Wednesday.
The measure, entered as an amendment to House Bill 80, had drawn complaints from gun control advocates due to its structure. As outlined in the language of the act, which passed by a 32-16 vote, groups such as the National Rifle Association can stand in for local citizens in challenging ordinances in court. Lawmakers backing the move argue that it's a simple matter of protecting constitutional rights.
"This is a good bill, the right bill for Pennsylvania, to protect second amendment and the rights of law abiding citizens of Pennsylvania," said Sen. Rich Alloway, R-Franklin, the amendment's sponsor. "This is about individual rights."
To buy time to bring the measure and others to a vote by the chamber, the Senate had to bypass a good-government rule that it end its voting day at 11 p.m. Tuesday, electing to carry on debate long into Wednesday.
Alloway's amendment is a simple three-page device to codify allowing "a membership organization" to stand in for a "person adversely affected" by local municipal and county laws that are in excess of those already on the state's books. This would allow organizations like the National Rifle Association and others to become primary plaintiffs in suits to overturn those laws and to recover legal expenses if successful. This has some senate Democrats seeing red.
"It is unprecedented in Pennsylvania jurisprudence…and across the nation," said Sen. Larry Farnese (D) "We're making history tonight. We are conferring rights and privileges to citizens of the United States to an association."
Gun rights groups, who endorsed the measure, see it as a means to help homogenize gun laws in the Keystone State.
"The Alloway amendment would strengthen Pennsylvania's firearm preemption laws to provide consistency in the firearm and ammunition laws throughout the state," reads a release from the NRA's Institute for Legislative Action prior to the measure's passage. "To date, nearly fifty municipalities have enacted illegal local gun control ordinances, including Philadelphia, Pittsburgh, Harrisburg, Lancaster and Reading."
The Pennsylvania House of Representatives passed House Bill 1243 with similar language by a 143 to 54 vote earlier this month, which would bode well for the amendment added by the state Senate to find its way to the governor's desk.
Republican Gov. Tom Corbett, who has received the endorsement of the NRA in his upcoming bid for re-election, had stated that he would sign the legislation in its earlier form.
Source Article from http://www.guns.com/2014/10/16/pennsylvania-senate-passes-last-minute-gun-preemption-measure/