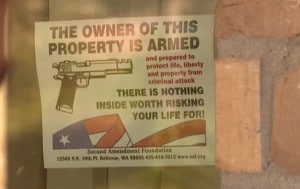 A home invasion in Tomball, Texas, last week left a man's house peppered with bullet holes after more than two dozen shots were exchanged between the homeowner and the two suspects.

The homeowner, whose name has not been released, was asleep in an upstairs bedroom when the sound of his front door being kicked in around midnight startled him. He armed himself with a pistol and from the top of the stairs saw two intruders in his home, KHOU reported.

He then opened fire on the suspects, who began to flee from the home but fired back at the homeowner as they made their escape.

The suspects drove off in a newer red Dodge pickup truck, but left behind at least two clearly distinct footprints on the front door, the frame of which was completely shattered. In addition, the home's video surveillance system, which was equipped with cameras both inside and outside of the home, captured images of the suspects.

Although they have not released any photos, authorities are hoping the images will aid them in finding the suspects.

Investigators are also looking into the possibility that the suspects may have been responsible for other recent burglaries in the area, including a home invasion last week in a nearby neighborhood where five armed suspects forced a woman and her two young daughters into a closet while they ransacked the home searching for valuables. Investigators said at least two of those suspects had facial tattoos and authorities are confident they will be identified. However, no description of Monday's suspects has been given yet.

And the rash of robberies have area residents rethinking safety.

Jennifer Dale, who heard the gunshots erupt two doors down from her own home, told reporters, "It's just crazy to raise kids around where there's crime like that happening."

"There's a lot of people that have guns in their homes," said neighbor Dale Bahn. "In this area, there are several gun owners and a gun club, so yeah, definitely dangerous on the other end."

Despite the alarming number of gunshots, police say it doesn't appear that anyone was injured.
Source Article from http://www.guns.com/2015/02/02/over-2-dozen-shots-exchanged-during-texas-home-invasion-video/