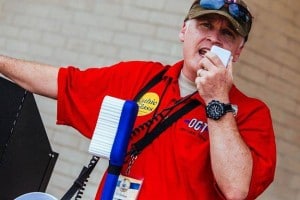 In a sign perhaps of how the open carry movement has become more mainstream, CJ Grisham, founder of Open Carry Texas, was named by the Dallas Morning News as a finalist for Texan of the Year.
The newspaper, which seeks reader nominations for its editorial board to choose from, terms the annual award a recognition of, "A Texan (or Texans) who has had uncommon impact – either positive or negative – over the past year."
Grisham, who shot to fame after an April 2013 incident in which a 10-mile hike to help earn his son a Boy Scout merit badge ended in an altercation over the Army veteran's rifle in an area known to be inhabited by wild boar, coyotes and cougars, soon became a poster child for gun culture in Texas. Now his group, Open Carry Texas, has amassed a membership of some 36,000 and is one of the more vocal in the fight for lawful open carry of handguns in the state.
Texas is one of just six states that have no provision for the practice.
"Whatever Grisham gains with more lenient laws — and many people no doubt get the shivers thinking about it — there is no denying that Grisham has dramatically changed the gun-rights debate in Texas," wrote the editorial board of the paper. "For that impact, he's a finalist for 2014 Dallas Morning News Texan of the Year."
Among the changes, that Grisham's group and others may have brought about in the past two years may be a readdress of open carry by the Texas state legislature. New Republican Gov. Gregg Abbott public avowal to sign such a bill if it reaches his desk had led to a number of pre-filings in Austin even though the next legislative session is not set to start until 2015.
Grisham was chosen to be a finalist over such other reader nominations as former Navy SEALs Chris Kyle and Marcus Luttrell, Texas's peace officers, and Willie Nelson. Other finalists vying for the title include Baylor University forensics professor Lori Baker and University of Texas regent Wallace Hall.
The 2013 winners were the firefighters, paramedics, and civilian volunteers who rescued those in peril after the West Fertilizer Company explosion which killed 15 and injured more than 160 that April. The finalists for that period included Sen. Ted Cruz, Dallas Mayor Mike Rawlings, and actor Matthew McConaughey.
As quoted by the paper, Grisham states, "We challenged the prevailing wisdom about guns in public and the stigma. … We were not a bunch of rabble-rousers; we were just out there to educate people that there is nothing to be afraid about seeing a gun in the hands of law-abiding citizens."
Grisham's organization, along with other open carry groups in the state has seen staunch public opposition from national gun control groups such as the Coalition to Stop Gun Violence and Moms Demand Action.
When asked by Guns.com for comment on Grisham's nomination for Texan of the Year, neither group replied.
Source Article from http://www.guns.com/2014/12/22/open-carry-organization-founder-in-running-for-texan-of-the-year/