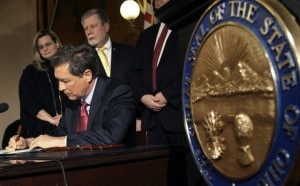 Republican Gov. John Kasich on Friday signed a bill expanding gun rights in Ohio to include the use of suppressors by hunters, concealed carry reforms, and mandatory shall-certify rules for National Firearms Act items.
The measure, H.234, had proven popular with lawmakers, passing the state Senate on Dec. 9 by a large 24-6 margin on its way to a 72-21 win in the House the following day. Beginning life as a bill that only legislated a repeal in the state's ban on using legally possessed suppressors while hunting in the state, the measure over time grew to include a number of changes to the state's concealed carry laws. These include reducing the number of hours required in training, relaxing the residency requirements to apply for a permit, and providing a grace period for renewals by active duty members of the military.
Kasich signed the bill into law Friday without comment in the face of a campaign by national gun control groups, namely former New York Mayor Michael Bloomberg's Everytown for Gun Safety and Moms Demand Action, to urge the Governor to veto the legislation. The groups contended the law would weaken the state's concealed carry requirements.
However, gun rights advocates in the state disagreed with that argument, pointing out that new oversights and safeguards built into the act will actually make the permitting process safer to the public as permit applicants will be screened through the Federal Bureau of Investigation's National Instant Criminal Checks System.
"It restores rights that we've lost and it aligns it and makes it work better," Jim Irvine, President of Buckeye Firearms Association told local media. "This is really good public policy. Currently, Ohio will issue concealed handgun licenses to people prohibited from owning guns. That's bad policy."
The expansive bill, modifies or repeals nearly 20 sections of Ohio's current gun laws.
In analysis from the National Rifle Association's Institute for Legislative Action, 234's accomplishments include the following:
Improves the concealed handgun license process by (1) reducing the number of training hours required from 12 to 8 hours, (2) eliminating minimum length-of-residency requirements, (3) allowing non-residents who work in Ohio to apply for a CHL in the county or adjacent county in which they work, and (4) makes special provisions for members of the military who have been honorably discharged or retired, extending their competency certification from six years to ten years after honorable discharge or retirement.

Expands concealed carry reciprocity to visitors and persons temporarily in Ohio who have valid out-of-state licenses, regardless of whether the license-issuing state has entered into a reciprocity agreement with Ohio.

Repeals the prohibition on Ohio citizens buying and/or selling long guns or ammunition from only the five contiguous states of Indiana, Kentucky, Michigan, Pennsylvania, and West Virginia. Citizens of Ohio can now purchase and/or sell rifles and shotguns in any state as long as the firearm laws in both states are obeyed.

Includes a "shall certify" provision which requires a chief law enforcement officer (CLEO) to sign off on an application to transfer an item regulated by the National Firearms Act, once the application procedure and requirements are met. This provision eliminates personal bias towards NFA-related items, requiring CLEOs to sign off and process the application in the same way they do a concealed handgun license.

Allows for the use of firearm sound suppressors while hunting in the Buckeye State.

Brings Ohio's definition of "automatic firearm" in line with the federal definition, limiting it to only any firearm designed or adapted to fire a succession of cartridges with a single function of the trigger.
Notable is the law's extensive reform of how NFA Title II firearms are regulated in the state to include suppressors and full-auto devices. According to the American Suppressor Association, besides now being the eighth state to enact shall-certify legislation, Ohio is also now the 34th state to allow hunters to use legal suppressors for all game animals.
As a sign of the increasing deference over the more appropriate term for sound moderating firearms devices, H234 replaces the legacy, "silencer" wording, in Ohio's statutes in no less than four places with the more currently accepted term, "suppressor."
The legislation will take effect in 90 days.
Source Article from http://www.guns.com/2014/12/20/ohio-governor-signs-gun-rights-bill-to-reform-concealed-carry-suppressor-use/