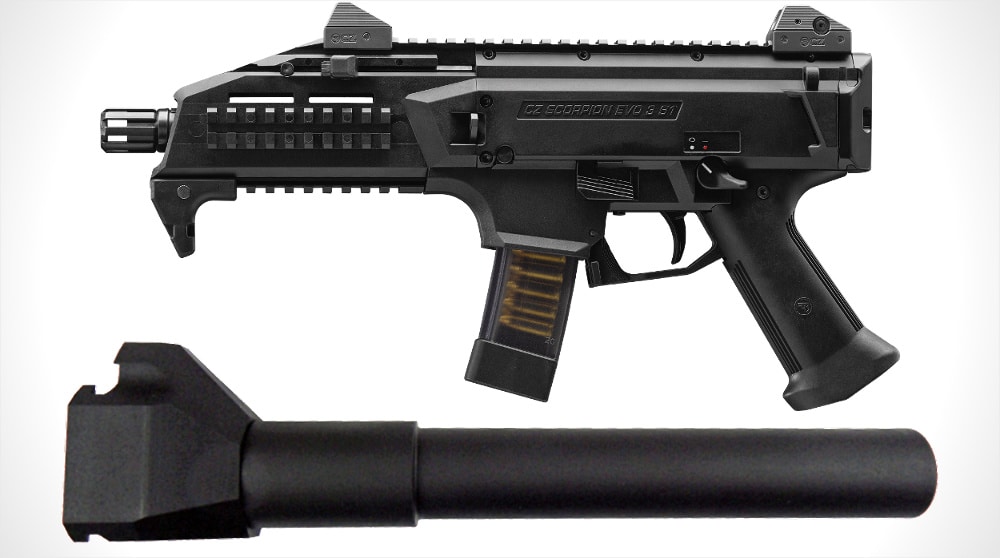 CZ-USA is following up on its plans to offer an American-made pistol buffer tube for their just-introduced Scorpion Evo 3 S1 9mm pistol. The Evo 3 S1 is a semi-automatic variant of the Scorpion submachine gun for the consumer market.
Now CZ is offering a pistol brace mount that accepts AR pistol buffer tubes and buffer extension tubes for the SBR crowd. The kit is priced to move at $79, which includes a KAK Industries buffer tube. The adapter uses set screws for use with standard extensions instead of a castle nut and end plate to index other types buffer tubes
The materials used for the adapter and the extension are designed for hard use and should last as long as the Evo 3 S1 pistol no matter what they're dragged through. The adapter itself is machined from 6061 alloy aluminum with a flat black hard-anodized finish.
The adapter replaces the standard rear sling loop point on Evo 3 S1 pistols. You can buy one today from the CZ Store while supplies last.
Despite recently reversing its position on shouldering pistols with braces, it stands to reason that the adapter will still be popular with buyers looking for a tube adapter for one-handed shooting and even just for looks.
The new Scorpion is considered to be the spiritual successor to the Czech Skorpion vz. 61, the nearly pocket-sized submachine gun preferred by security forces for decades.
A good deal larger than the original Skorpion, which was primarily chambered for .32 ACP, the new Scorpion is made for a new generation of users — professional and recreational — who want the most from their guns when it comes to accessories and mounting options.
The end product is a 9mm platform for this century, replacing established but waning Cold War designs. It's only natural that the Scorpion has a market here in the U.S.; it's a totally fresh design, it's chambered for 9mm NATO and it's a CZ.
CZ-USA is happy to offer a commercial variant to American users, and with a suggested retail price of only $849 it's guaranteed to please long-time and first-time CZ owners alike.
Specs-wise the Evo 3 S1 is right on the money. The action is blowback-operated which is simple and proven, but uses a non-reciprocating charging handle for user safety. The pistol sports four integral Picatinny rails for accessories and has a full-length flattop for optics and backup iron sights.
Every Evo 3 S1 pistol ships with CZ's new fixed low-profile iron sights with dual-aperture rear sight and straight post front sight and also come with a hand stop for the six-o'clock rail up front. The sights are designed to work with red dot sights and other optics that sit close to the rail. The sight bodies are ridged to cut glare as well.
The standard magazine capacity for the Scorpion Evo 3 S1 is 20 rounds but CZ-USA is also offering it with 10-round magazines for restricted markets. Both have the same $849 MSRP and will ship with two magazines in addition to the other included accessories. The pistols are already being listed by some retailers for less than $800.
This is good news for 805 BREN fans, too as CZ-USA has also stated that they're working on a buffer tube extension adapter for their latest 5.56 NATO pistol as well. If this is any indicator, a BREN adapter is just around the corner, hopefully for a similarly low price.
Source Article from http://www.guns.com/2015/02/04/official-cz-scorpion-pistol-buffer-tubes-now-available/