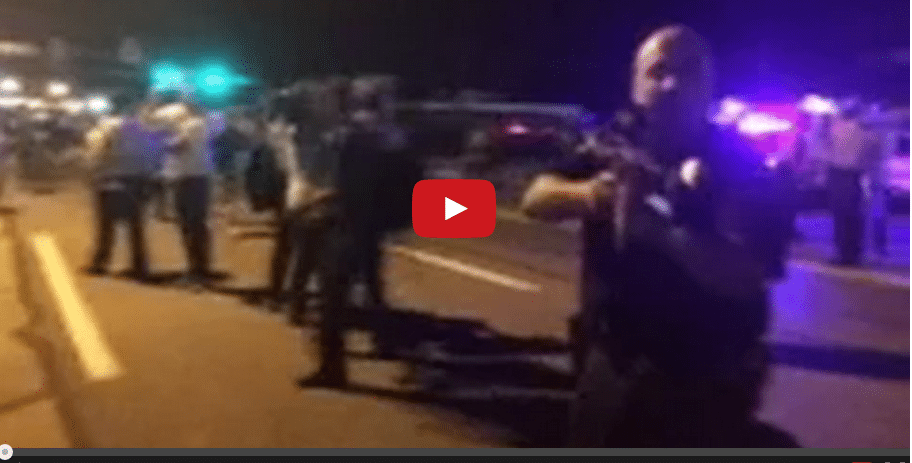 A police officer — colloquially called "Officer Go Fuck Yourself " — has been placed on indefinite suspension after threatening to "fucking kill" people documenting events in Ferguson, Missouri, Tuesday night.
Protestors peacefully roamed the streets, but one officer kept his rifle at the ready, and even aimed it at several people. When one protestor approached, the officer threatened, "I will fucking kill you." When the protestor asked the officer his name, the officer responded, "Go fuck yourself," Mashable reports.
Complaints, even one by the American Civil Liberties Union, were filed against the officer, who is only described as a St. Ann police officer, which in turn led to his suspension.
"On Tuesday, August 19, 2014, shortly before midnight, an incident occurred wherein a St. Ann police officer pointed a semi-automatic rifle at a peaceful protestor after a verbal exchange," St. Louis County Police Spokesman Brian Schellman said. "It was at this time a St. Louis County police sergeant walked over and immediately took action, forcing the officer to lower the weapon, and escorting him away from the area."
Schellman said the officer's behavior was "inappropriate" and was "not indicative of the officers who have worked daily to keep the peace" in Ferguson.
The protests, which have sometimes turned violent, in Ferguson are a response to the fatal officer-involved shooting of unarmed black teen Michael Brown on Aug. 9.
[youtube id="8zbR824FKpU" width="620″ height="360″]
The post Officer suspended after threatening with rifle to 'f**king kill' Ferguson protestor (VIDEO) appeared first on Guns.com.
Via:: Officer suspended after threatening with rifle to 'f**king kill' Ferguson protestor (VIDEO)