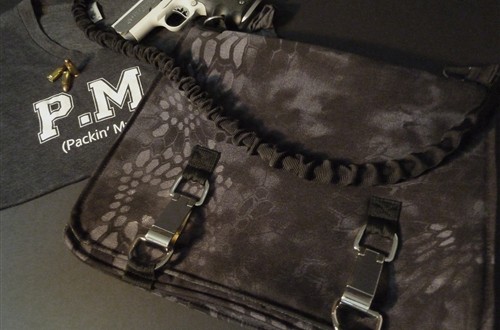 Women shooters are not the minority they used to be. Here at 248Shooter we see more and more women signing up to out Facebook page and interacting with us. We have even picked up 2 female reviewers to further test products designed specifically for the female shooters. Bean our first of these new women reviewers takes a look at the OffHand Gear NORB range bag.
When Sandi at OffHand Gear approached us to check out her new women's range bag called the NORB (No Ordinary Range Bag) we were thrilled. The only person more thrilled was our lead female tester "Bean". I am not trying to be sexist (no trying needed it comes naturally to me) but she loves handbags almost as much as she loves shoes. We did not pick a muscular fitness model turned pin up gun model  to do our reviews, we pulled from the influx of new everyday female shooters.
Bean, is a CPL holder, mother of 2, educated attorney and new gun enthusiast. She does not carry everyday and while she appreciates firearms and enjoys shooting them she has not integrated them into her EDC the same way as her husband has. One of the reasons for this is that she detests everything leather, plastic or tactical. When sitting around talking about guns, gear, bags we have not once seen eye to eye with the exception of the Sig P938.
When I asked her to test out a new range bag for us I was prompted with an immediate eye roll and the typical you know I hate that stuff look. While she enjoys shooting very much she does not enjoy packing the bag and getting ready to shoot nearly as much as me. Until now that is!
Sandi at OffHand Gear is like the female shooter whisperer.  She has gone and developed an entire line of clothing and stickers for female gun enthusiasts. Now she has moved on to creating gear designed around the female user with her first release being the NORB bag. This is a woman owned business creating products specifically for women who like to shoot.
The premise is simple 1 bag to rule them all and in the gun range bind them. Often we find women shooter at the range with a range bag and a purse. Sometimes you will find women shooters use concealed carry purses at the range. This is often done due to not wanting a traditional range bag or because they already have a concealed carry purse. Both options have serious drawbacks.
Your left taking 2 bags to the range in the first scenario
Your don't have enough room in the second situation for all the added equipment needed for a range trip
Sandi at OffHand Gear found herself struggling with this very issue when she first began to get into shooting. Let's face it with family and kids often the best range time is during a lunch break. That is when Sandi decided she could develop and manufacture an American made product by a woman for women to fill a market hole in a rapidly expanding demographic.
NORB does this well. It is an actual range bag not a concealed carry purse. There is room in this bag for:
2 full size guns
200 rounds of ammunition
Eye protection
Ear protection
Lula
Phone
Clutch/Wallet
Makeup
Keys
Phone
I didn't believe it at first either. Check this video out.
Bean went through and gave it a test.  The results were fantastic. She only shoots 100 rounds at lunch due to the time constraints. She is also 5ft flat and 100 lbs when wet so she carries as little as possible. Her P938, 2 mags, 100 rounds of ammo, shooting glasses, ear protection, gloves, phone, wallet, keys as well as a legal pad and other work accessories all fit in her bag for the day.
This is what she had to say:
When you showed me the bag it was the first time I actually wanted to check out something you wanted to show me. The pattern looked very nice and the material looked high quality. I could tell it was well made and rugged, but at the same time something I would be comfortable using. This will not replace my daily carry purse but for range trips or even as a get home bag I like it.
Lets look at some of the features the bag has and why this is such a great choice.
USA made with quality components
KryptekTM Fabric (500 Denier Cordura utilizes durability and water resistance)
Heavy, handbag style hardware
Exterior ambidextrous zipper for ability to reach gun and other items without opening flap
Rifle Sling inspired cross body/shoulder strap
Slip-Not interior fabric is a unique fabric that offers a non-skid surface in both wet and dry for range pad use
Phone Holder
Elastic Mag Holder for 2 magazines, Single or Double Stack
2 sided zipper pouch for makeup, hair ties, keys
Large interior pocket will hold 4+ boxes of ammo, eye and ear protection, cleaning supplies and many other items.
2 pouches for pistols or pistol and large wallet with exterior access to both pouches
Though Sandi does not sell this as a concealed carry purse she has designed it so you can get to your weapon if you need it easily. Either by unzipping the top or by lifting the flap. Either way provides a very quick access for an emergency. Bean agreed that the bag is a bit more heavy duty then any bag she would tote around on a daily basis but she has firmly claimed the bag as hers for the range and wont even hand it over to let our other tester check this out. I guess we will have to buy another one from OffHand Gear if we want more opinions.
Further the ability to open the bag completely and then use the Slip-Not interior fabric as a scratch free, slip free work station in the gun range was a huge advantage for her. This was one of those great little things that many people overlook but OffHand Gear put the time in to do it right.
The strap is unique as well since it looks more like a AR-15 Sling then those tiny little leather straps often found on bags. This goes hand in hand with the extreme amount of weight the bag is capable of handling for a fully loaded range trip. While Bean said it was the least favorite part of the bag to her aesthetically she admitted it was perfect for the weight she had in the bag and felt it was good at distributing the pressure. Goes to show the difference between Bean and me since I thought that was one of the cooler parts of the bag.
What was Bean's final thoughts on this bag?
I love this bag. It is useful, looks great, comfortable, distributes the weight and stores everything I need.  This is the first range bag I actually want to use and find to be sized designed for a person like me.
I'll add that as the holiday season is approaching finding a gift you can give your wife or girlfriend that encourages them to go shooting with you is a win win present. For those of you who enjoy shooting with your partner you can not go wrong with an OffHand Gear bag as a great gift. If you want to make it really special stuff the bag full of some of the incredibly cool T-shirts they sell or throw a bad ass hello kitty sticker in it for your lady to display proudly.
Check out the full site here: http://www.offhandgear.com/default.asp
Be sure to look at our collection of photo's below and watch the video above.
Here is Sandi the owner and developer of the NORB giving a rundown on her premium bag.