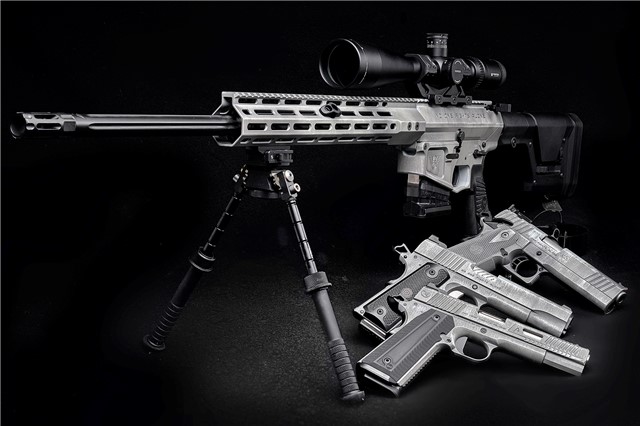 Nighthawk Custom, Wilson Combat, Guncrafter Industries, and STI Back Jordan McNair in His Battle With Cancer
Titans have stepped into the ring.
Today they stand together as one to back their friend, Jordan.
"That these highly competitive companies have joined together is a testament to Jordan's character and his place in our hearts. Jordan has impacted our lives and it's our combined goal to show the world that, people helping people, is still the American way." -Mark Stone, CEO Nighthawk Custom

The Jordan McNair: "No One Fights Alone" Fundraiser is a one-of a kind collaboration and cooperation between some of the biggest names in the firearms industry. Nighthawk Custom, Wilson Combat, Guncrafter Industries, and STI have teamed up to each build and donate a unique firearm that has been engraved with the tagline "No One Fights Alone"
Jordan McNair is a 34 year-old young man from Berryville, AR who very recently found out that he has an inoperable form of cancer. He is a bright, hard working, and kind person who is known and liked by everyone in the community. Jordan is loving husband and father to a beautiful 1 year-old daughter. He and his family are still learning about the diagnosis and treatment plans, and during this time, he has been unable to work.
Jordan is a friend of many throughout these companies and we wanted to build unique guns that could be auctioned to help support him and his family through this trying time.
These guns all have matching engraving and paint finishes donated by Hillbilly223. This is truly a unique opportunity to have a one-of a kind firearm or collection that will help a good man and his family.
All four of these items are one of a kind and exclusively available from these Gunbroker auctions.
All purpose built by the company teams to help Jordan.
If you were ever considering buying one of these fine firearms, now is the time to possess a truly unique piece and support a young man's family as he tackles the fight for his life.
And for any who just want to help. GoFundMe