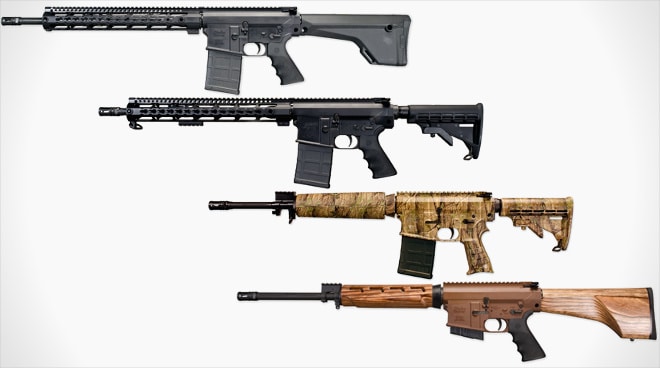 Windham Weaponry has announced four new semi-automatic .308 Winchester rifles with something for everyone, no matter what type of shooter they happen to be.
The first is a very practical-tactical carbine called the 16SFS-308. It has a free-floating 16-inch barrel thanks to its extended, lightweight 15-inch K-series KeyMod handguard by Midwest Industries that goes right out to the flash hider. It uses a standard A2-style flash hider and collapsible buttstock and an overmolded Hogue pistol grip. The carbine is sold with a 20-round Magpul PMAG where available.
Next up is the R18FSFSM, another totally modern take on the semi-auto .308. Similar to the 16SFS-308, it's configured with a longer, fluted 18-inch barrel and comes with a fixed Magpul rifle-length stock. It also comes standard with a 20-round PMAG.
They're both competitively-priced with all the quality accessories, with MSRPs set at $1,645 for the compact 16SFS-308 and $1,732 for the longer R18FSFSM. Real-world prices, as always, will be a couple hundred less.
Next up is a .308 carbine made for getting game, the SRC .308 TimberTec Camo edition. It's a straightforward rifle with a woodland camo finish, a fixed A2-style handguard and telescoping buttstock and a Starc grip.
The receivers and furniture are all finished with TimberTec camoflage. The SRC .308 TimberTec Camo carbine has an suggested retail price of $1,533.
Lastly Windham is expanding on its wood-stocked offerings with the Hunter .308 that blends the modern and the traditional with a wooden handguard and a full-length wooden fixed stock. They're laminate stocks for durability and have a deep nutmeg finish. The receivers have a coyote brown finish to match the stock and handguard.
Like the R18FSFSM the Hunter .308 also has a fluted 18-inch barrel and an A2-style flash hider. It ships with a compact five-round magazine and comes standard with a Hogue overmolded grip as well.
Priced at $1,587 it's sure to be a popular rifle. Again, we expect store prices to be a good amount lower.
These AR-10-style rifles are built on Windham's enhanced DPMS-pattern 7075-T6 forged alloy aluminum receivers that have enlarged buffer towers with an integral quick-detach sling points on both sides.
Windham Weaponry uses medium-profile barrels with their .308s and these rifles all have mid-length gas systems for smoother cycling and less felt recoil, not that the rifles are known to kick a lot in the first place.
They're all sling-ready with sling loops and quick-detach sling sockets, and the wood-stocked Hunter .308 is fit with two swivel sling studs for the traditionalist.
Like many rifles these days, all are "optics ready," leaving the choice of iron sights, red dots or riflescopes up to the user, which also helps to keep the initial price down.
If you like these guns and want to learn more head over to the Windham Weaponry website. The company is always adding new and different guns to its catalog and it's worth checking out.
Source Article from http://www.guns.com/2014/11/07/new-tactical-and-traditional-308-rifles-from-windham-weaponry/