Sig Sauer MCX ASP Air Rifle
From tactical drills to target practice to chipmunk eradication, the new CO2 powered SIG MCX ASP delivers 30 rounds of semi-auto fire and authentic MCX/AR-15 handling for realistic, economical training and practice—any time, any place. Its patented pellet drive system housed inside a detachable box magazine smoothly feeds 30 rounds in 3.5 seconds, and it comes one magazine and a refillable belt. The MCX ASP mimics the looks of the real-deal SIG MCX with a suppressor installed, and is available in flat dark earth or black.
Power comes from a 90 gram CO2 housed in the fixed buttstock tube, which propels a .177 caliber pellet to 750 f.p.s. Other features include an 18-inch rifled steel barrel, polymer handguard with full length Picatinny top rail and five rows of KeyMod slots, tactical vertical grip and flip–up iron sights. Our sample MCX ASP had the optional 1-4×24 Sig Sauer scope with mil-dot reticle. Pricing was not available at press time, but stay tuned for an in depth review of this air rifle. Contact Sig Sauer, Dept. OT; Tel.: (603) 610-3000; Web: www.sigsauer.com
Vortex SPARC AR Red-Dot Sight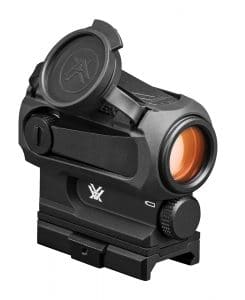 The new SPARC AR red-dot sight ($259) was designed specifically for the AR platform deployed in any defensive role. It's a simple, fast, effective, rugged, lightweight and compact red-dot with a 22mm objective lens diameter and 2-MOA dot for precise point of aim. It features digital, rear-facing controls for power and dot brightness (ten brightness levels) in the base for quick access and viewability from the shooting position. It automatically returns to last brightness setting when turned on. Other features include a single-piece, hard-anodized, aircraft-grade aluminum housing rubber armored for durability, integrated flip caps that nest together out of the way when not in use, fully multicoated optics for optimal light transmission in critical low-light conditions, unlimited eye relief and zero parallax. Powered by a single AAA battery with a 300-hour continuous  use life, the SPARC AR automatically shuts off after 12 hours to preserve battery power. Contact Vortex Optics, Dept. OT; Tel.: (800) 426-0048; Web: www.vortexoptics.com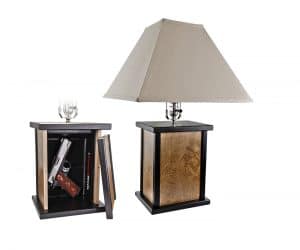 Tactical Walls Tactical Lamp
The new Tactical Lamp ($129) from Tactical Walls—the leading manufacturer of in-wall firearms concealment and storage solutions—is a fully functional decorative lamp with a Velcro-lined hidden compartment measuring is 6" W x 9" H x 4" D to keep a pistol or revolver close at hand. To access your gun, simply pull the detachable panel off the front of the base. A retention magnet placed behind the panel holds it in place. The hardwood lamp base is available in Early American, Dutch Walnut, Cherry and Black finishes, and comes with a  natural colored linen shade A note of caution is in order: the Tactical Lamp's gun storage compartment does NOT lock, which presents a safety hazard if there is any chance of children being present. Contact Tactical Walls, Dept. OT; Tel.: (540) 298-8906; Web: www.tacticalwalls.com
Blue Force Gear Jedburgh Pack
Fashion can be like a revolving door—inevitably, what was once popular will likely be so again. The Blue Force Gear Jedburgh pack is reminiscent of my '80s school backpack—minimalistic and small—but updated with the modern tools to make it just right for modern users.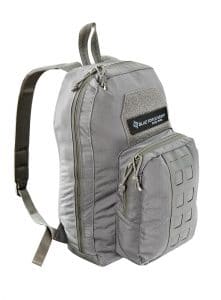 The Jeddburgh offers two compartments: a large main compartment and a smaller accessories pouch. Instead of the obvious MOLLE around the bag, this low profile EDC pack has one single strip of MOLLEminus that almost looks decorative, while still offering expansion. Inside both pockets you will find a generous amount of VELCRO for securing your kit via a number of available Blue Force Dappers. This modularity allows for a bag that has lots of dedicated pockets and pouches or a single large dump pocket. With use of the optional Dapper insert you can actually double the amount of organizational space.
Dual hydration or comms pass-throughs on the top of the pack allow for listening to your iPhone and hooking up a Camelbak or running comms for mission critical intel. Lightweight, compact and streamlined, this low-profile pack puts what you want where you need it without breaking OPSEC during EDC. Available in black, coyote brown, multicam, OD green or wolf, it's priced at $140. See it at your local retailer, or contact Blue Force Gear, Dept. OT; Tel.: (877) 430-2583; Web: www.blueforcegear.com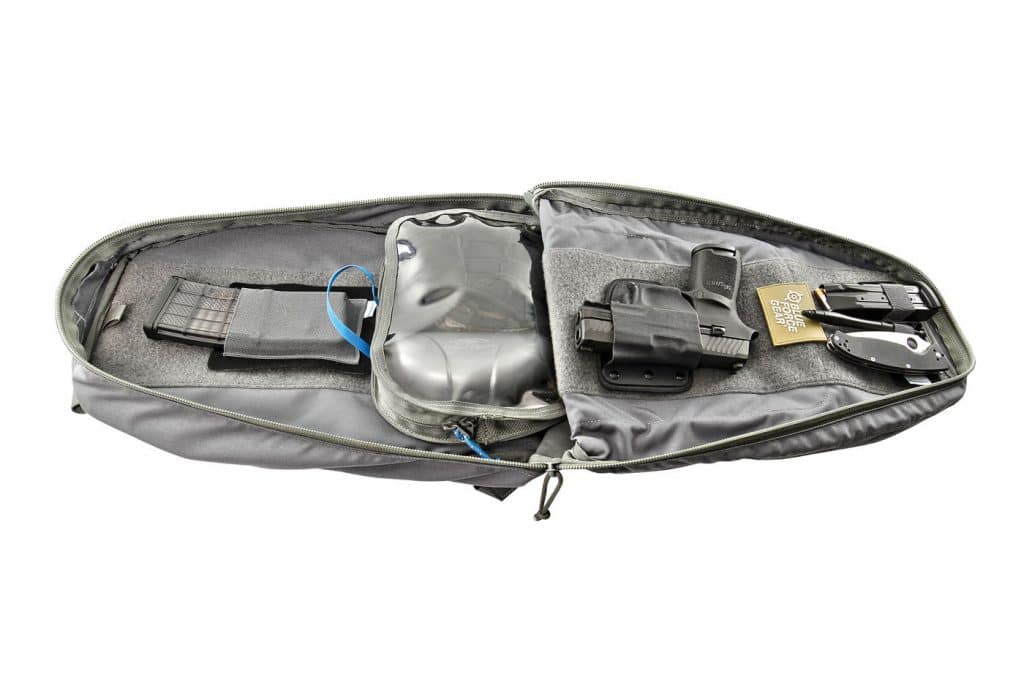 Dakota Tactical DTAC Handguard System For HKs
Dakota Tactical has been acknowledged as a leader in the H&K roller-lock market since their inception, and their new release of the DTAC M-LOK and KeyMod handguards (from $143.99) has taken the company's dedication to this platform to a whole new level.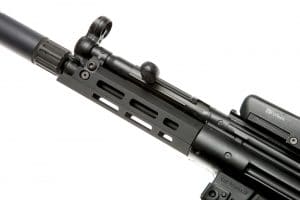 The DTAC MHS replaces the existing handguard on most roller-lock HK-style firearms—from the MP5 to the HK91—adding either M-LOK or KeyMod attachment points, and allowing for a broad range of grips and accessories to be mounted where you need them. We tested the M-LOK MP5K version of the DTAC MHS and fell in love instantly. Machined from a single piece of T6 aluminum, the M-LOK version offers six well-placed, full-size accessory mounting slots . . . all in an incredibly lightweight 2.2 oz. package.
Installation was easy. It took seven minutes total to swap out the old for the new, and only required the use of the two included Allen wrenches. The end result is that I now have a lightweight, metal (instead of the factory plastic) handguard that allowed me to mount my Surefire light, Magpul vertical grip and ZeroBravo hand stop in ergonomically correct and convenient locations. See them at your gun shop, or contact Dakota Tactical, Dept. OT; Tel: (734) 560-7407; Web: www.dakotatactical.com
Raven Concealment Moduloader Pocket Shield
Lights, magazines, knives, keys and tourniquets and have become major components of the EDC ("every day carry") movement. The problem that arises now is carrying all this gear discreetly in a work environment or around town without printing and with some semblance of organization.
Raven Concealment—known for its top-tier Kydex and injection-molded holsters—however, has solved the issue of distinctive printing and disorganization with the new Moduloader Pocket Shield ($24.99). Available in black, gray or coyote brown, the flexible, molded polymer Pocket Shield offers four columns of MOLLE to attach any number of accessories—like the Blue Force Gear or Tuff Products pistol-magazine pouches—or you can directly connect items using the supplied hardware and standard pocket clips. When inserted into the pocket of even thin trousers, the uniformly curved shape of the shield breaks up the hard lines of your EDC gear, making it impossible for others to identify your pocket contents.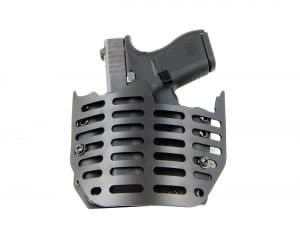 The flexible, angel-wing shape secures the shield in the pocket so that it will not pull out when you grab your knife, magazine or flashlight, and the tapered base and wide curved edges stop your gear from moving around in your pocket. The result is that your spare magazine (and anything else attached to the Pocket Shield) is always in the same spot at the same orientation every time you reach for it regardless of the pants you wear.
See it at your local retailer, or contact Raven Concealment, Dept. OT; Tel.: (440) 508-9000; Web: www.RCSGear.com
LaserMax Spartan Green Adjustable-Fit Laser
The 2015 On Target Editors' Choice Award winning Spartan Series of Lasers by LaserMax now includes an ultra-high-visibility green laser. This small, lightweight, rail-mounted laser installs quickly and easily on handguns and rifles, and has a unique mounting system to create a spot-on perfect fit on any handgun. It's also programmable to work in both a pulse mode for longer battery life or steady beam based on your needs. Windage and elevation adjustments offer you the ability to zero on multiple platforms.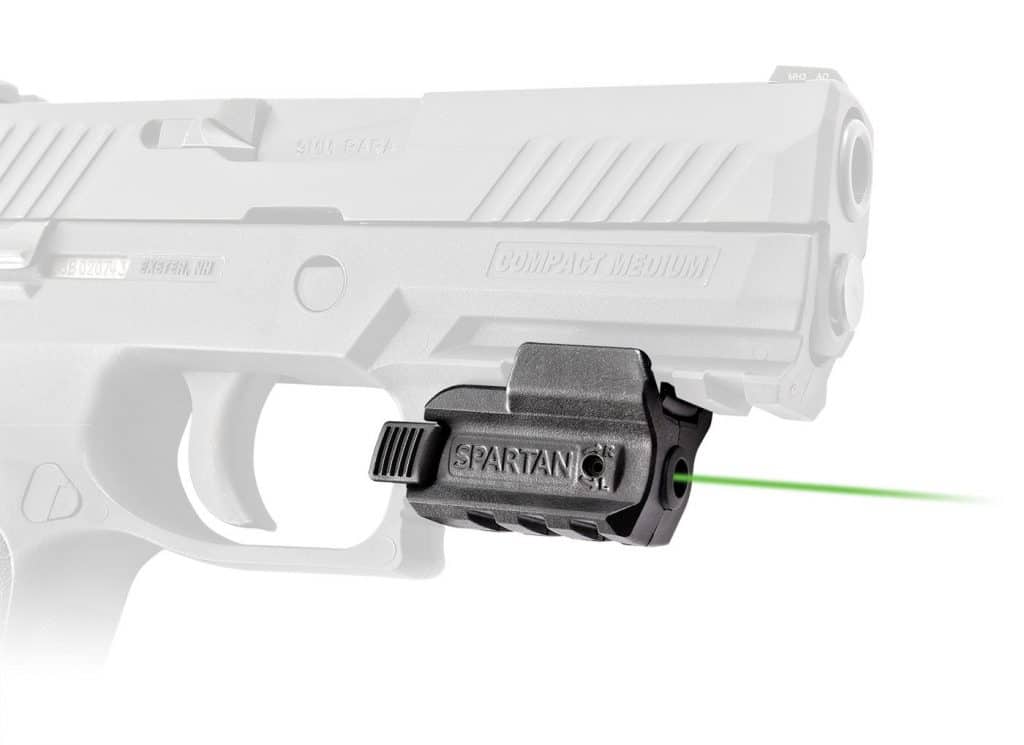 The Spartan Series features a new mounting technology that incorporates a secondary moveable indexing tab, allowing you to adjust the position of the laser front to rear on the accessory rail of a pistol or rifle. It works great, and we were able to create a snug-to-trigger guard fit on every pistol we tried it on. At the base of the Spartan's body you'll find a short strip of Picatinny rail for additional accessory mounting—such as a white-light illuminator or IR laser.
Mounting options do you no good, however, if you can't see your laser's dot. Like all LaserMax products, the signature green laser we tested was super bright, even in full-daylight sun, and is a noticeable improvement in visibility over the red laser . . . all for a reasonable $50 upcharge over the red.
To learn more about the Spartan SPS-G green laser ($149.00) and other LaserMax products, visit your local LaserMax retailer to go hands on, or contact them directly at (800) 527-3703; Web: www.lasermax.com
Steel Will Cager Knives

Steel Will has just introduced their newest urban-protection knives, the Cager Series. Comprised of the Cager 1410 and 1420 (both $89.99), these compact fixed-blade knives are designed as heavy-duty, everyday carry (EDC) knives. The 1410 has a drop-point blade, while the 1420 is a Tanto design. Otherwise they are identical, featuring 4.33-inch blades made from super tough D2 steel hardened to 58 to 60 on the Rockwell D scale, full 0.16-inch blade thickness and sure-grip, durable G10 handles. Both models come with a Kydex sheath with nylon attachment for convenient carry on a belt or MOLLE compatible gear, and both are 9.06 inches in overall length and weigh 7.34 oz.
The blades get Steel Will's exclusive Satin Finish, One of the most effective and brutal metal treatments available. The blade surface is covered with small, unidirectional strokes forming a uniform pattern. The blade has a matte finish but reflects direct sunlight. An added benefit is that most minor wear and scratches from regular use are unnoticeable with the Satin Finish. See the new Cager Series knives at your outdoor retailer, or contact Steel Will Knives, Dept. OT; Tel.: (877) 969-0909; Web: www.steelwillknives.com
TUFF BreakOut Tactical Pen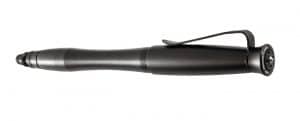 TUFF Products has just introduced their BreakOut Tactical Pen ($59.99). It's a real pen that comes with a black Parker ink cartridge, but it goes way beyond simply writing yourself reminders. The body and cap are machined from 6061 aluminum alloy with your choice of black or gunmetal anodized finish. In the head of the cap is an imbedded, carbide-tipped glass breaker, and at the other is a rubber bulb (don't ask us what that is intended for). The bulb end screws out to reveal a hidden handcuff key. Mounted under the glass breaker tip removable, wide aperture, spring-steel pocket clip that will also snap over the thickest of belts. Very cool product…see it at your tactical retailer, or contact TUFF Products, Dept. OT; Tel.: (877) 883-3776; Web: www.tuffproducts.com
Silencerco Hybrid 46 Suppressor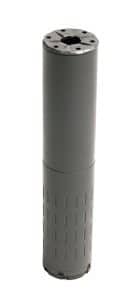 The Hybrid 46 from Silencerco ($999) is the suppressor for any platform. Compatible with calibers ranging from 5.56 NATO to 9mm, .45–70 Govt. to .458 SOCOM, and many in between, the Hybrid 46 is both full auto and magnum-rated and can be used on pistols, rifles and submachine guns. Boasting a 123.7 dB noise signature with 300 Blackout, and remaining hearing-safe with .45–70 Govt. (140.6 dB), it offers an unparalleled pairing of versatility and performance. A wide variety of mounting solutions is available, all of which are sold separately (starting at $16). The Hybrid 46 is rated down to 16-inch barrels for .45–70 and .458 SOCOM and down to 18-inch barrels for all magnum calibers up to .338 Lapua. Dimensions are 1.565-inch diameter and 7.8 inches in length, and it weighs 13.8 oz. with a direct thread mount. It's finished in durable gray Cerakote for a lifetime of use. See it at your Class 3 dealer, or contact Silencerco, Dept. OT; Tel.: (801) 417-5384; Web: www.silencerco.com
Magpul DAKA Pouches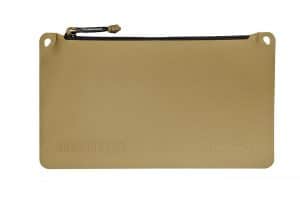 The new DAKA Pouches from Magpul are designed to keep your stuff—whatever stuff you choose—dust-free, dry and organized and provide quick access when you need it. Made from reinforced, polymer infused textiles with anti-slip texture, in flat dark earth color, with welded seams, they employ a genuine YKK AquaGuard water-resistant zipper for the top closure. They are available in Small ($16.95;  6"x9"), Medium ($22.95; 7"x12") and Large ($27.95; 9"x13") sizes, and feature lanyard or carabineer attachment points at all four corners, a 550 paracord zipper pull with heat-shrink tubing cover and dot-matrix debossed body surfaces for paint-pen identification marking. While DAKA Pouches are not 100% waterproof (read "submersible"), they will keep your stuff dry in most wet-weather situations. Contact Magpul Industries, Dept. OT; Tel.: (877) 4MAGPUL; Web: www.magpul.com
Pachmayr G-10 Tactical Pistol Grips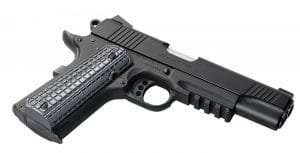 Pachmayr has just introduced a new line of auto-pistol grips made from super-tough G-10 laminate. G-10 material is a fiberglass-based epoxy resin laminate that is extremely tough and durable, and is impervious to moisture, weather or chemicals, making it the perfect material for pistol grips. Called the G-10 Tactical Pistol Grips ($44.98 to $48.98), their multiple-layer construction allows the use of different colors to be added to the grips, creating attractive patterns as it is machined. Available in two textures—Grappler pattern or fine checkered—and two color patterns—green/black and grey/black—they are initially offered for 1911s, Sig Sauer P238s and P938s, Ruger Mk II/IIIs and 22/45s, Beretta 92s and CZ 75s. Expect to see G-10 Tactical Pistol Grips introduced for a wide variety of other pistols in the near future. Contact Lyman Products Corp., Dept. OT; Tel.: (800) 225-9626; Web: www.lymanproducts.com
Surefire M600V AA Scout Light
The new M600V AA Scout Light from Surefire ($420) is a dual spectrum light that emits your choice of either white light or infrared (IR) illumination. It produces 250 lumens of white light suited for short- to medium-range applications, or 100 milliwatts of non-visible infrared output for use with night-vision devices—with no IR filter required. Machined from aerospace-grade aluminum alloy with a hard-anodized Mil-Spec finish, it measures 6.8 inches long, with a 1.06–inch bezel diameter, and weighs 4.0 oz.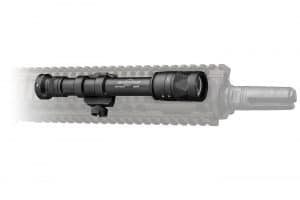 Powered by two AA Lithium batteries (included) it has a runtime of 1.5 hours and is activated by a click-type tailcap switch—press for momentary-on, press further for constant-on—switching between its two output modes (white light or IR) is simply a matter of twisting the engraved, dual-spectrum V-Series head to the desired mode. The M600V AA Scout Light attaches quickly and securely to any MIL-STD-1913 rail via its fully integrated thumbscrew clamp, while O-ring and gasket seals keep out moisture and dust. Contact Surefire, LLC, Dept. OT; Tel.: (800) 828-8809: Web: www.surefire.com
Stark Wood-Dipped AK Pistol Grip
Stark Grips has expanded their line of excellent AK pistol grips with a Wood-Dipped model that looks just like real wood. The grip itself is molded from rugged polymer, then dip finished in a walnut grain pattern. The Wood-Dipped AK Pistol Grip ($34.95) is identical in features and construction to Stark's standard AK Pistol Grip, the only differences being the wood-grain dip finish and an extra 10 bucks in the price. Stark is also introducing a MultiCam-dipped model at the same price. Like all Stark pistol grips, it is designed and tested by professionals to maximize weapon control, and includes Stark's patented hand-stop, unique grip angle, storage compartment, durable texturing, and on-board storage for CR123 batteries in the bottom plug (AA battery plug sold separately). Contact Stark Equipment Corp., Dept OT; Tel.: (603) 556-7772; Web: www.starkequipment.com
New Rock River Arms AR Butttocks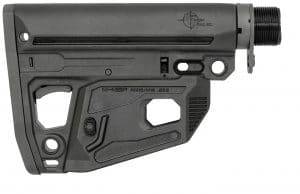 Rock River Arms has just introduced two new AR buttstocks: the RRA Mag Stock ($150) and the RRA NSP-2 CAR Stock ($115), both available in black only. The RRA NSP-2 CAR Stock is a 6-position collapsible stock with an integral rubber butt pad, featuring a trigger-style locking latch, enhanced cheek weld and QD sling swivel receptacles on both sides at the rear. The kit includes the stock, a commercial receiver extension,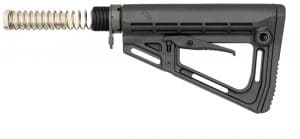 end plate, lock nut and CAR buffer and spring. The RRA Mag Stock is a 6-position collapsible CAR stock with integral rubber butt pad and innovative a removable magazine holder that holds any standard AR magazine at the ready. It features an enhanced cheek weld and QD sling swivel receptacles on both sides, front and rear. The kit includes the stock, removable magazine holder, Mil-Spec receiver extension, end plate, lock nut and CAR buffer and spring. Contact Rock River Arms, Dept. OT; Tel.: (866) 980-ROCK; Web: www.rockriverarms.com
Real Avid Gun Boss AK47 Cleaning Kit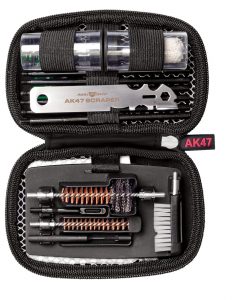 Real Avid just announced what may be the best AK47 cleaning and maintenance kit yet devised: the new Gun Boss AK47 Cleaning Kit ($29.99). It comes packed in a zippered Cordura nylon pouch and contains everything you need to clean and maintain your AK in top running condition. The rigid cleaning rod is comprised of six threaded steel sections with durable black E-coating that combine to form a 28.5-inch rod with swivel tip. Other items include a T- handle, 7.62mm bronze bore brush, nylon gas tube brush, gas tube mop, chamber brush threaded at both ends to reach the hard-to-clean AK chamber from both directions, nylon slotted patch tip, AK drift pin punch with gas-port scraper tip, bore illuminator/safety flag, a proprietary carbon-scraping tool designed for AK pistons and bolts and 50 1.5" x 3" cleaning patches. Contact Real Avid, Dept. OT; Tel.: (800) 286-0567; Web: www.realavid.com
New Black Hills Xtreme Defense Loads
If you carry a .380 Auto or .38 Special revolver for personal defense, read on. Black Hills has developed two new loads—one each in .380 Auto and .38 Special—loaded with newly designed, patented, sharp-edged, homogeneous copper bullets that do not rely on expansion, but rather cut and redirect tissue radially as they penetrate, creating wound channels superior to conventional hollow-points in both depth and diameter. The bullets have no cavities to clog with clothing fabric or material from light barriers. The .38 Special round is loaded with a 100-grain Xtreme Defense bullet that develops over 1,000 f.p.s. velocity and 222 ft. lbs. of energy out of a snub-nosed revolver (and over 1,250 f.p.s./347 ft. lbs. out of a 6-inch barrel). The .380 Auto round, loaded with a 60-grain Xtreme Defense bullet, exits the barrel of the typical .380 auto-pistol at a velocity of over 1,150 f.p.s. and delivers 176 ft. lbs. of kinetic energy. Contact Black Hills Ammunition, Dept. OT; Tel.: (605) 348-5150; Web: www.black-hills.com
Source Article from http://ontargetmagazine.com/2016/05/new-personal-defense-gear-accessories/