Ruckersville, VA. – Ashbury Precision Ordnance (APO) Manufacturing introduces the next evolution in the SABER Modular Rifle Chassis System: the MRCS-AR. Utilizing the same Center Chassis Section module as all other SABER rifle chassis platforms, this model now integrates a wide variety of commercial AR shoulder stocks and hand guards. The MRCS-AR is designed for the carbine shooter desiring to set up their bolt gun like their gas gun and, alternatively, it's perfect for the bolt gun shooter needing a modular compact lightweight rifle with AR features.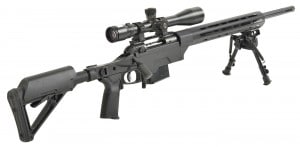 The Ashbury MRCS-AR rifle chassis is engineered for recreational, hunting, competition, target and tactical shooting activities. It is offered by APO with Magpul Industries furniture and in addition to AR compatibility, is also compatible with all APO and Magpul® M-LOK accessories, offering shooters hundreds of possible chassis configurations. Now that's a modular rifle chassis system! "Our product development team has worked on this AR cross-over product for about two years," said Gary Vance, APO's Manager of Engineering Services. "We wanted to make sure that it would provide exceptional performance in the hands of shooters and be just as accurate as our other SABER rifle chassis products."
The SABER MRCS-AR rifle shoulder stock utilizes a mil-spec, six-position buffer tube and a Magpul MOE shoulder stock and cheek piece riser. The retractable MOE shoulder stock assembly is attached to the SABER Center Chassis Section with a tension adjustable Double Locking Alloy Hinge making it both retractable and foldable. Users can easily install other aftermarket AR shoulder stocks with ergonomic adjustments along with APO signature shoulder stocks. This only requires a few easily installed accessories with simple tools.
The MRCS-AR is initially available for the popular short action Savage Model 10 bolt action rifle in right and left hand operation. Long action models will be available later in 2016. The MRCS-AR uses the Magpul PMAG® 5 7.62AC(tm) 5-rd detachable box magazine for the .308 Win family of cartridges and features an ambidextrous paddle lever release. The MOE pistol grip is attached to the Center Chassis Section with a 17.5 degree Grip Angle Adapter (similar to a M1911-A1) and includes an adjustable hand grip-to-trigger distance feature for shooters with long or short fingers.
The new MRCS-AR employs a rugged APO designed octagonal aluminum alloy hand guard that features Magpul M-LOK accessory attachment system at the 3, 6, 9 and 12 o'clock position and a bipod stud located at the front of the hand guard. The forend can accommodate barrel shank diameters and contours measuring 1.250″. An optional carbon fiber hand guard with similar features is available as an upgrade. For professional marksmen and predator hunters desiring to maximize down range precision using clip-on night vision and thermal imaging weapon sights, Ashbury's unique one piece 20 MOA monolithic rail option is available.
The truly modular MRCS-AR rifle chassis system is manufactured to ISO:9001-2008 standards from aerospace grade aluminum alloys and carbon reinforced composites. The base model has a standard hard coat anodized black finish. A broad range of Cerakote ceramic finish coating colors are available from the APO Custom Shop – some of which match up very well with Magpul furniture colors.
The SABER® MRCS-AR is very lightweight with the short action model weighing only 3.9 lbs. A "tactical-hunter" version, using a Savage Model 10 FCP with a 24″ medium contour barrel and Bushnell 2.5-16x42mm Elite rifle scope, weighs in under 10 pounds! APO continues to improve the bolt action rifle shooting experience by continuously focusing on advanced engineering, accuracy, ergonomics, shooter comfort and now cross-over AR accessory appeal with the MRCS-AR.
At the 2016 SHOT Show in booth #31407, Ashbury is displaying versions of the MRCS-AR built up as complete rifles in custom Cerakote finishes. You'll can also view the SABER MRCS-AR in the SHOT Show's New Products Section. For more information about Ashbury Precision Ordnance Mfg., our line of modular rifle chassis systems, precision rifles, custom pistols and long range shooting accessories, please visit the Ashbury Web Portal. Also, please visit us at the 2016 SHOT Show in booth #31407 located on the upper level in the Law Enforcement section of the exhibition.
About Ashbury…
Ashbury International Group Inc. is a central Virginia USA based company, having more than 20 years of international experience as a prime contractor to government agencies, military, and special operations forces as well as manufacturer of commercial shooting sports equipment. The company provides logistics, engineering, training, ordnance manufacturing, systems integration and emergency preparedness products and services.
Ashbury Precision Ordnance Mfg. (APO), a division of the Ashbury International Group Inc., is a BATFE licensed 07/11/SOT commercial firearms and shooting accessories manufacturer. APO manufactures SABER bolt action receivers and patented modular rifle chassis systems for factory and custom bolt action rifles. APO manufactures custom precision tactical and multi-sport precision rifles in calibers from .223 to .408CT. The APO Custom Shop offers custom reflex sight installation on pistols and complete special order custom rifle and pistol builds for discriminating clients.
APO manufactures high quality rugged electro-optical weapon mounts and TACT3 tactical field tripods. The company also distributes a wide range of rifle sports accessories to include Ruag Swiss-P ammunition, Field Firing Solutions (FFS) ballistic software, the RSTA-II Tripod Shooting System, Long Range Accuracy Bipods, and Snipers Field Tool Kits.
The Rapid Product Development Center (RPDC) provides engineering design and prototyping services. The engineering services group is Solidworks® CAD based with Simulation FEA and FeatureCam® CAD/CAM machine programming software, 3D Printer-Fused Deposition Modeling (FDM) capable, a modern CNC precision machining shop and an experienced, well trained staff.