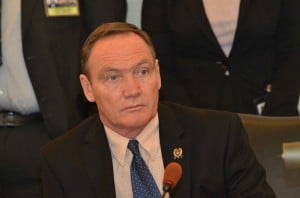 A bill introduced into New Jersey's state Assembly would require those applying to buy a handgun to attend mandatory training beforehand.
The legislation, introduced by Assembly Democrats, will require up to a four-hour block of firearms safety training approved by the New Jersey State Police before granting a Firearms Purchaser Identification Card, which is required for all handgun purchases in the Garden State. The measure, introduced in October, is aimed to decrease gun accidents through increased legislation says the bill's sponsors.
"The most devastating gun accident stories are of innocent children who find unsecured firearms of relatives," Assemblyman Tim Eustace said in a statement obtained by the Cliffview Pilot. "This legislation educates prospective gun owners on how to keep themselves and their families safe while owning a firearm."
Currently the state's 30-question firearms purchaser identification card application, required for the purchase of any handgun in the state, does not have a training requirement. Under Eustace's bill, A3764, that would change.
If enacted with its current language, those applying for a card or permit would be required to provide proof of previous firearms training or experience. This could include prior military or law enforcement training, or certification through the National Rifle Association.
Should the applicant not have one of these, they would have to attend a class taught with curriculum approved by the state police. This would have to include instruction on, "responsible firearms ownership, safe storage, restricting access to firearms by unsupervised minors, and any other matters relating to protecting the safety and well being of New Jersey's families and children."
The measure also includes authorization to establish a firearms safety panel of members appointed by the state Senate President and Speaker of the General Assembly and chaired by the state police superintendent to develop the standards and curriculum of the training course.
Although not even out of committee yet, state gun rights advocates are rallying against the new requirement as being a step too far.
"Lawmakers can incentivize firearms training, but it is unconstitutional to mandate it as a condition to exercising a fundamental right," Scott Bach, executive director of the Association of NJ Rifle & Pistol Clubs, told NJ 101.5. "The government can no sooner force someone to take a public speaking course before they can exercise the First Amendment."
New Jersey is one of the just a dozen of states that follow a so-called "permit to purchase" licensing system in which prospective gun owners must acquire a license of some sort prior to seeking to purchase a firearm. Of these, fewer still require safety training or an exam as part of this permit. Currently only California, Connecticut, Maryland, Massachusetts, Rhode Island and Hawaii have such laws. Should New Jersey's join this list, it would be the seventh such state to require prior training for potential handgun owners.
While many state legislatures are in recess, New Jersey's two-year sessions means that the current 216th Legislature does not adjourn until January 2016.
Currently A3764 is in the Assembly Law and Public Safety Committee.
Source Article from http://www.guns.com/2014/11/04/new-jersey-lawmakers-seek-mandatory-training-for-potential-gun-owners/