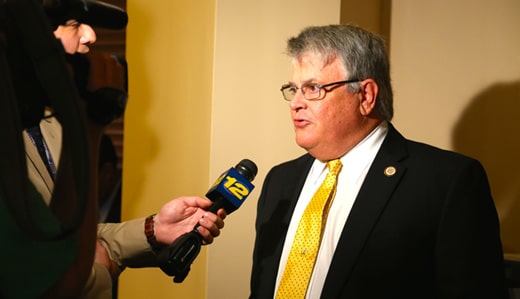 Under new legislation that passed the New Jersey state Senate on Monday, gun owners who do not properly lock up their guns could see up to five years in prison.
The measure proposes an increase in the penalties for leaving a loaded firearm within access of a minor that result in an injury or death. Currently, Garden State gun owners who do not secure their firearms according to the state's guidelines risk a disorderly person's offense, which can result in up to 18 months in jail should a minor obtain the gun and cause an injury. The bill, which passed the state Senate in a sweeping 31-6 vote Monday, would change that to a sentence of up to five years.
"As a former prosecutor, gun owner and supporter of the Second Amendment, I find it unconscionable that some gun owners could be so irresponsible," the bill's sponsor, Sen. Jim Holzapfel, said in a statement Monday. "As long as the penalty remains a virtual slap on the wrist for gun owners in these instances, we will continue to read about these tragedies."
Holzapfel's bill, S-516, would substantially increase penalties for gun owners who do not secure their firearm from access by minors, leading to an accident or death. Currently, New Jersey law carries a maximum penalty for those found guilty of such an offense as a $1000 fine and up to 18 months in prison. With Holzapfel's proposed upgrade, they could now face three to five years imprisonment, as well as a fine of up to $15,000, or both.
As defined by state law, a person who has a firearm and a reasonable belief that a minor could access it must store the gun in a locked box, or secure it with a trigger lock. Alternatively, the gun owner could store the firearm in an alternate location in the care of someone they feel to be secure.
The bill is drawing debate from gun rights groups who maintain that its language is overly flawed. According to the National Rifle Association, the group contends that SB-516 is ill conceived.
"So-called 'safe storage laws' are inherently misguided as they render firearms useless for self-defense by making them inaccessible when seconds matter," reads the statement from the NRA's Institute for Legislative Acton. "S.516 is no exception."
Gun control groups have politicized the subject of safe gun storage in recent years.
This summer, Everytown for Gun Safety, along with Moms Demand Action conducted a study that cited legislation that requires securing arms and ammunition separately is a key factor to reducing future accidents.
In response to that study, Dr. John Lott, president of the Crime Prevention Research Center, said passing such laws "scare law-abiding homeowners into either not owning guns or into locking up their guns so that most guns are not going to be readily accessible for people to use defensibly."
New Jersey's bill is now headed to the state Assembly for future consideration.
Source Article from http://www.guns.com/2014/09/23/new-jersey-bill-to-strengthen-penalties-for-unsecured-guns-advances/