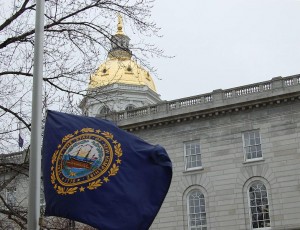 As control of the state House in Concord switched from Democrat to Republicans, one of the first orders of business was to approve concealed carry on the floor of the chamber Wednesday.
The move is a flip-flop from a 2012 decision that banned the practice when that lawmaking body was under the control of state Democrats. Following an easy 228 to 149 roll call vote, the GOP restored the right for permit holders to lawfully carry in the chamber.
"We're not talking about the Wild West," state Rep. Fred Rice (R) told the Boston Globe. "We're not talking about irresponsible people running around waving guns in the air. … We're asking for the right to do what we do in our daily lives."
Since 2006, the policy to allow guns on the legislative campus has gone back and forth at least five times with Republicans lifting bans enacted by Democrats with each changing of the guard.
Meanwhile, blue party lawmakers decried what they see as time wasted in making the issue one of the first to be addressed as the new session begins.
"House Republicans have again decided to listen to the call of partisan, ideological voices and focus on an issue that the people of New Hampshire do not want us to focus on," said Senator Jeff Woodburn, the Democrat minority leader, in a statement obtained by Reuters.
Source Article from http://www.guns.com/2015/01/08/new-hampshire-lawmakers-approve-guns-on-state-house-floor/