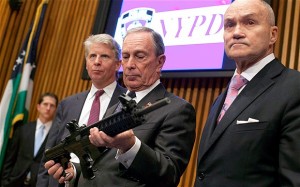 By Chris Eger
Former New York Mayor Michael Bloomberg inspecting a firearm at a press conference. (Photo: Telegraph)
In a recent analysis of mass shootings over the past half-decade, Everytown for Gun Safety claims women are targeted out of proportion, gun free zones are not a factor and assault weapons create 63 percent more deaths when used.
The group analyzed FBI and media reports of 110 incidents between January 2009 and July 2014 to produce their latest report, Analysis of Recent Mass Shootings. For reference, the group defined a mass shooting as a crime in which at least four people were murdered with a gun. In at least 46 of these incidents, the shooter's self-termination was included in the total.
The study argues that women are disproportionally targeted by mass shootings by citing in their research, "Whereas only 14% of total gun homicide victims are women, 51% of mass shooting victims are women."
However, according to statistics from the U.S. Census figures on demographics by sex, in 2010 the agency found that the number of females in the country to be 50.8 percent of the general population, a close match to Everytown's number.
The gun control group's study also contends that just 11 percent of the perpetrators exhibited signs of mental illness before their respective mass killing incident while 42 percent possessed their guns illegally due to being felons, domestic abusers or were otherwise prohibited under federal law from having guns.
One of the talking points of the study's release came from its finding that, "In shootings where perpetrators used high-capacity magazines or assault weapons likely equipped with them, they shot 156 percent more people, resulting in 63 percent more deaths."
This statement was delivered with the caveat that just 14 of the 110 incidents reviewed used a weapon classified as an assault rifle or large capacity magazine by the media. This figure is similar to that found in a study released earlier this year by criminology professor James Alan Fox that cited a similarly low rate of shootings involving a firearm that used a magazine with a capacity of more than 10-rounds.
The 110 cases used in Everytown's study included several instances of violence in which those involved on both sides were believed to be criminals. These included the case of an alleged Chicago drug trafficker who robbed and killed potential buyers, a robbery gang in Indiana that targeted drug dealers and a Texas case where four young men with criminal history and apparent gang ties were found shot to death in an area home.
In trying to debunk what the group refers to as the "Washington gun lobby's claims that 'gun-free zones' – areas where gun-carrying is restricted – enable mass violence rather than reduce it," Everytown's study contends that the majority of shootings take place in private homes and less than one in six incidents profiled by the group occurred in an area where firearms were prohibited.
Notably in its case study information, the group refers to such well-known incidents as the Sept 2013 Washington Naval Yard Shooting, in which a military contractor concealed firearms in a backpack to make it past several controlled entry points, as not occurring in a gun free zone.
Everytown does concede that mass shootings amounted to less than 1 percent of the overall number of murder victims in the country for the period reviewed and that there is no clear seasonal pattern for the events.
This is not the first in-depth study that Everytown has released since being formed in April from a partnership between Mom's Demand Action and former Mayor Michael Bloomberg's Mayors Against Illegal Guns program. In June, a study on school shootings by the group came under fire from skeptics as being overly broad. A further study released in July on accidental shooting figures was questioned by Dr. John Lott, president of the Crime Prevention Research Center, for being likewise misleading and the focus too broad.
The full 43-page Everytown report on mass shootings can be downloaded here.
The post New Everytown study on mass shootings points finger at assault weapons appeared first on Guns.com.
Via:: New Everytown study on mass shootings points finger at assault weapons