GATCO Edgemate Carbide Knife Sharpener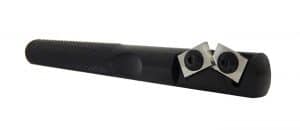 GATCO has just introduced its 40001 Edgemate Carbide Knife Sharpener, a simple-to-use, reliable knife sharpener that creates a professional finish. Engineered to ensure a fast, safe method to restore a sharp cutting edge to dull blades, the Edgemate Carbide Knife Sharpener is a must for kitchenware, toolboxes, hunters, fishermen and professional first responders. This sharpener is crafted from 6061-T2 structural-grade aluminum with tungsten carbide sharpening bits set at a 35 degree angle. The Edgemate Carbide Knife Sharpener ensures lighting fast sharpening and provides a durable edge to all plain-edge knives. The handle is CNC checkered for a secure grip and features a hard-coat anodized finish for corrosion resistance. The GATCO Edgemate Carbide Knife Sharpener is lightweight, narrow and a great value (pricing was not available at press time). See it at your outdoor retailer, or contact GATCO Sharpeners; Tel.: (800) 844-3034: Web: www.bearandsoncutlery.com
TRUGLO Hunt•Tec 4×32 Compact Rifle Scope
The new, affordable Hunt.Tec 4×32 Compact rifle scope from TRUGLO is available either with a non-illuminated Duplex reticle ($54) or with a DUAL•COLOR illuminated reticle (red or green) for increased contrast in low-light conditions against almost any background ($103). It is waterproof, fog-proof, nitrogen gas-filled and shock resistant to 1,000gs. This little gem provides a generous 4-inches of eye relief and an extremely wide field of view. Its bright 32mm objective lens admits enough ambient light to provide quick and easy target recognition in low-light conditions. It features durable leaf-spring click adjustments (1/2 MOA for both windage and elevation adjustments) and comes with an included  set of Weaver-style rings. See the Hunt.Tec 4×32 Compact Rifle Scope at your firearms retailer, or for more information contact TRUGLO; Tel.: (888) 8-TRUGLO; Web: www.truglo.com
GSM Outdoors DS4K Trail Cam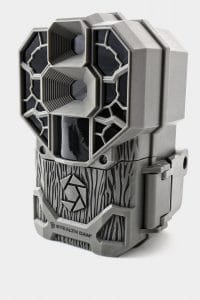 The new DS4K Trail Cam from GSM Outdoors ($299.99) offers 30 megapixel high resolution performance, 4K ultra-HD video and 42 No-Glo IR emitters for what is perhaps the highest performance trail-cam yet offered. Other features include dual image sensors, adjustable PIR range control, security mode (re-write SD memory), less than 0.4-second Reflex Trigger, intuitive backlit menu programming, Matrix advanced blur reduction, Retina low-light sensitivity, 16:9 wide image ratio, Quick Set pre-programmed option, burst mode with 1 to 9 images per triggering, time/date/moon phase/temperature/name stamp, GEO-TAG GPS tagging, manual shot capability, secure-lock password protection, SD card slot for up to 32GB cards, active time setting test mode, preset time and date and video and USB output. It operates on 12 AA batteries, includes an external power jack for a 12V battery box and is multi-lingual (English/French/German/Spanish). See it your outdoor retailer, or contact GSM Outdoors; Tel.: (877) 269-8490; Web: www.gsmoutdoors.com
New Stuff From Wildlife Research Center
The new Golden Estrus with Scent Reflex Technology is like super-charged Golden Estrus, taking estrus scents to a whole new level. Engineered to be stronger for more consistent results. It is formulated using premium doe urine with estrus secretions, enhanced with the company's proprietary Scent Reflex Technology. Golden Estrus with Scent Reflex Technology is available in 1 fl. oz. and 4 fl. oz. bottles.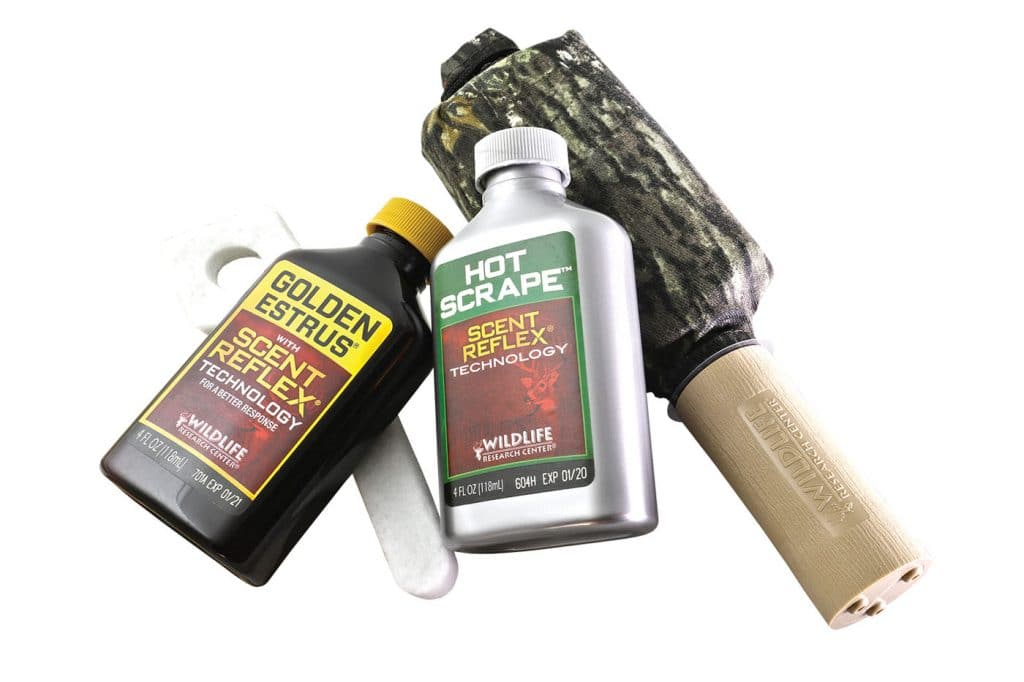 Also new from Wildlife Research is the Super-Charged Scrape-Dripper Combo, consisting of a Super-Charged Scrape-Dripper and a 4 fl. oz. bottle of Hot-Scrape. Its higher output stimulates higher deer traffic, and will operate for 7 to 12 days on 4 fl. oz. of Hot-Scrape scent, depending upon conditions. Normally shuts down during rain and bad weather, so it saves your valuable scent. Pricing was not available on either product at press time. See it at your Hunting retailer, or contact Wildlife Research Center; Tel.: (800) 873-5873; Web: www.wildlife.com
MTM High-Low Shooting Table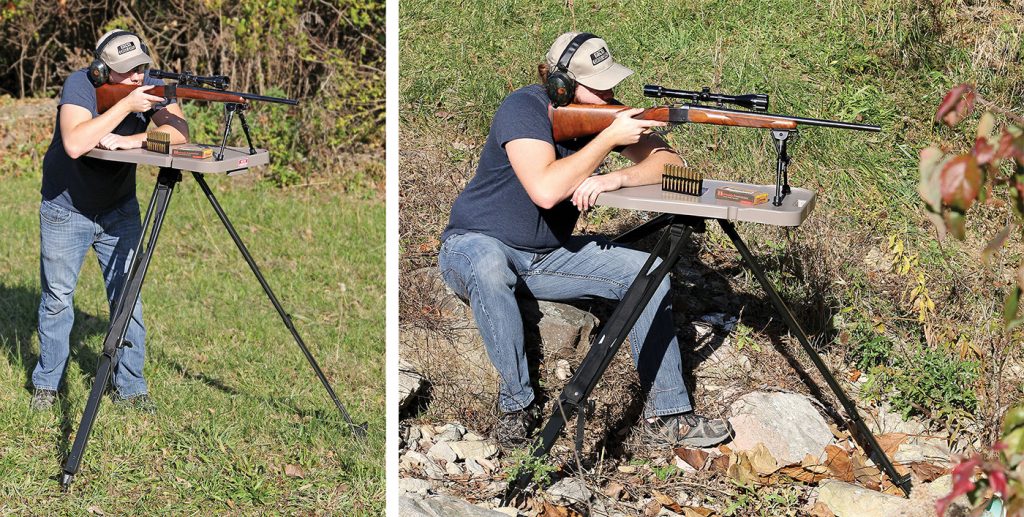 MTM's new High-Low Shooting Table is a true, in-the-field shooting table that can be set up where no table could be set before. Its tripod design allows it to work on uneven ground, gravel, grass, hillsides, etc. Independently adjustable black legs lock securely via two locking systems per leg. Stake-style steel feet feature side stirrups for easy leveraging into the ground. Not designed for hard surfaces like blacktop and concrete, it works well in a carpeted hunting blind. The degree of adjustability is unmatched—from a low of 18 inches to a high 55 inches off the ground, or anywhere in between. Shaped to accommodate both left- and right-handed shooters, the FDE colored table surface measures 17″ W x 33″ L and easily holds front and back rests, ammo and other necessities. A molded in handle and tripod shoulder strap make transport a cinch. Pricing was not available at press time. Contact MTM Case-Gard through the e-mail facility on their website: www.mtmcase-gard.com
Blue Force Gear Hunting Sling
Blue Force Gear has been manufacturing weapon slings for the U.S. Armed Forces and its allies for over 10 years. The Blue Force Vickers Combat Application Sling is the issued sling of the U.S. Marine Corps. Their new Hunting Sling ($28 in black or coyote brown) brings the combat-proven quality of the adjustable, two-point, Vickers Sling to hunting rifles. The Hunting Sling is made from the same military-grade INVISTA solution-dyed CORDURA webbing used in the Vickers, which is colorfast and resists rolling, cracking, or hardening. It is extremely durable, easy to install and offers quick adjustability. Overall length is 26 inches fully tightened, and 46 inches fully loosened. When tightened, it keeps the rifle or shotgun close and secure to the user, allowing ready availability while eliminating concern over muzzle position or the gun slipping off the shoulder. When loosened, the sling is free enough for the user to comfortably shoot. Contact Blue Force Gear; Tel.: (877) 430-2583; Web: www.blueforcegear.com
Sig Sauer KILO2400 Rangefinder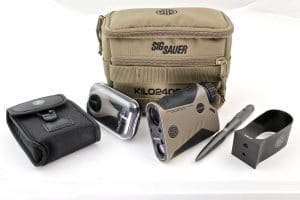 The new KILO2400 from Sig Sauer ($1,799) is the company's top-of-the-line rangefinder. It may be the world's most advanced rangefinder, with the ability to range reflective targets accurately out to two miles. For non-reflective targets—like deer and other game animals—ranging distances will be shorter, but what kind of knucklehead hunter is going to try to shoot a deer or other game animal at a range of two miles? The KILO2400 features 7X magnification for plenty of long-distance ranging power, an embedded Applied Ballistics calculator, onboard environmental sensors and Bluetooth for synchronizing custom profiles with a free, downloadable ballistic app for your iOS or Android smartphone. The body is made from advanced polymer in flat dark earth, with black grippy rubber panels top an bottom. It includes an adjustable objective lens, tripod adapter, smartphone jack, WindMETER, ballistic nylon Molle kit bag, nylon carry pouch, lanyard, three spare batteries, Sig Sauer Tactical pen/stylus and an unconditional lifetime warranty. Contact Sig Sauer; Tel.: (603) 610-3000; Web: www.sigsauer.com
Huntworth Soft Shell Jacket and Pants
Made from stretch polyester in Disruption camo, bonded to a thick Sherpa fleece inner layer with Microban scent reducing technology, Huntworth's new Soft Shell Jacket and Pants ensure you blend into your hunting environment. A durable water repellent (DWR) finish sheds light rain and snow. The jacket features six pockets for plenty of storage options, and a back access hole below the collar permits wearing your tree stand harness under the jacket. A full zipper with inner storm flap, high-stand collar and long back hem keep out wind and rain.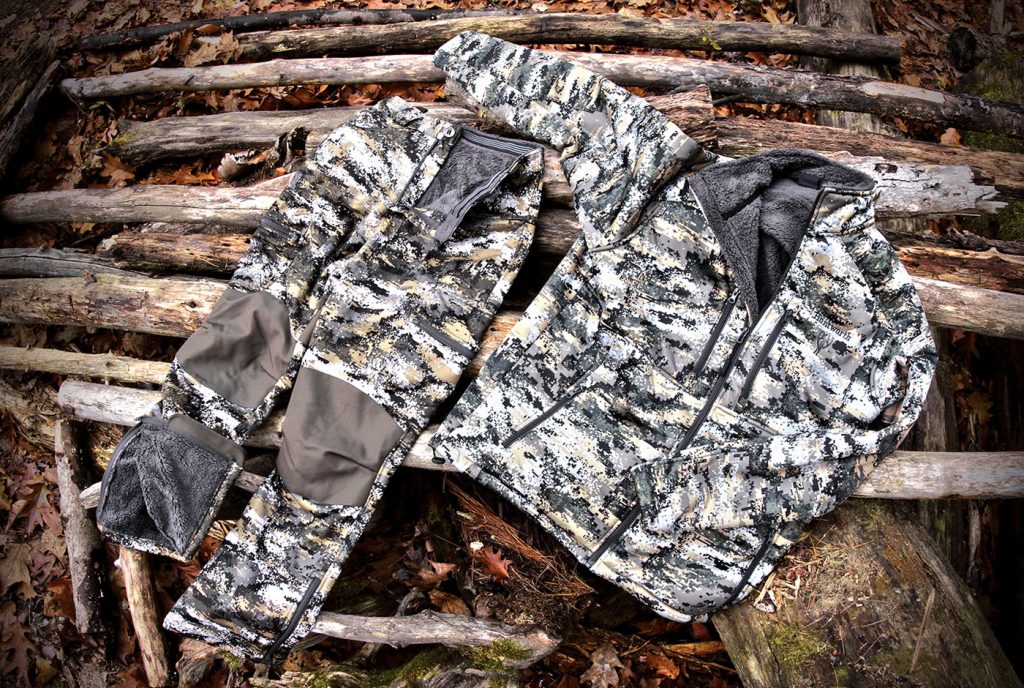 The pants are similarly constructed, except they feature two layers of stretch polyester in Disruption camo. Patches on the knees and seat provide abrasion protection, and the non-slip waistband keeps the pants from sliding down. Five pockets provide lots of storage space, and a knife pocket on the right leg offers quick accessibility when you need it. Pricing was not available at press time. Contact Huntworth Gear through the e-mail contact page on their website: www.huntworthgear.com
Walker's Silencer In-The-Ear Earbuds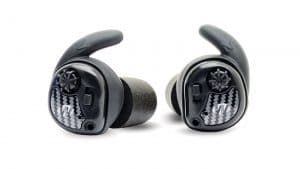 Like an all-in-one suppressor and sound amplifier for the hunter's ears, Walker's new Silencer In-The-Ear Earbuds ($229.95) have integrated Omni directional microphones and full dynamic range speakers that deliver a crisp clear sound. Along with the advanced technology, Silencer provides a comfort level above and beyond similar products by incorporating Walker's patented Secure Lock fit system. Three different sized contoured fins and foam buds allow for a customized fit. Sound Activated Compression protects hearing with an instantaneously activated system that provides 25 dB Noise Reduction Rating. Full Dynamic Range Speakers deliver crisp clear sound through the units' OS-R3110 digital sound processors, fed by integrated omni directional microphones. Other features include independent volume controls and on/off power switches for each ear, baffled silicone and foam ear buds in three sizes each, a removable lanyard and carry case. They are powered by standard size-10 hearing aid batteries (four included) that provide approximately 80 hours of battery life. Contact GSM Outdoors, Dept. OT; Tel.: (877) 269-8490; Web: www.gsmoutdoors.com
Federal Fusion 6.5mm Ammunition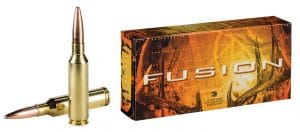 It's no surprise to us that 6.5mm cartridges are gaining favor fast among deer hunters, especially those who stand a good chance of getting a long shot. The high ballistic coefficients and high sectional densities of 6.5mm bullets provide flat trajectories and deep penetration. Federal has just announced two new 6.5mm loadings in its Fusion line of specialty deer hunting ammunition: the 6.5 Creedmoor and the increasingly popular 6.5 Grendel. The Grendel is loaded with a 120-gr. Fusion soft-point bullet and exists the muzzle at 2,600 f.p.s. (1,801 ft. lbs.). It's being chambered in both AR-15 format MSRs and bolt guns, notably including the Howa Mini-Action. The 140-gr. 6.5 Creedmoor is loaded with a 140-gr. Fusion soft-point bullet, and generates 2,750 f.p.s. of muzzle velocity (2,351 ft. lbs.). Fusion ammo offers the greatest expansion and highest weight retention in its class. See it at your gun shop, or contact Federal Premium, Dept. OT; Tel.: (800) 379-1732; Web: www.federalpremium.com
Zeiss Mobile Hunting & Shooting App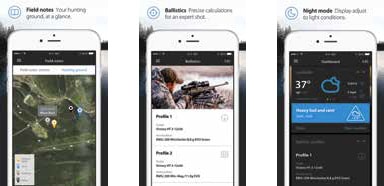 Zeiss has developed a downloadable Mobile Hunting & Shooting App for users of their proprietary ballistic reticles and target knobs—and it's free! The app works on Apple iOS and Android devices, even if you don't have a cell signal of WiFi access. It's loaded with useful features, including a ballistic calculator for precise long-range shots, GPS tagging for scouting or hunting data, field notes journal with photo capture function, detailed global weather forecasting, compass function, glare-free automatic night mode and customizable dashboard. Characteristics of different calibers and loads, as well as the effect of current weather conditions and the inclination angle at the point of impact, can be precisely determined from an extensive database containing over 5,000 calibers and cartridges. If a shot is fired, it can be easily tagged by GPS through the shooter's and target's positions, and then displayed on the map. The App can be downloaded from the Zeiss website at: www.zeiss.com/sports-optics/en_us/hunting/experience/hunting-app.html
Black Hills' .44 Magnum Honey Badger Load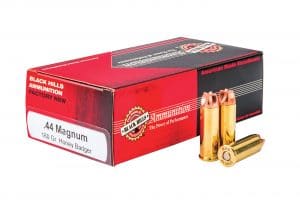 Black Hills has just introduced a new .44 Magnum load in its Honey Badger Series: a 160-gr. hollowpoint bullet at 1,800 f.p.s., generating muzzle energy of 1,151 ft. lbs. The jacketed hollow-point bullet is of unspecified manufacture, but you can bet it's a premium brand.
Black Hills' original Honey Badger loads in .380 and .38 Special were loaded with non-expanding, Lehigh Defense, solid copper, Extreme Penetrator bullets with three or four deep scallops around their circumference. These cuts extended to the bullet nose, where they come to together creating a sharp-edged star, rotating to force tissues outward as the bullet penetrates deeply. Why Black Hills switched its Honey Badger Line to traditional hollow-point bullets goes unanswered, but knowing Jeff Hoffman at Black Hills, it must have been for a good reason. See them t your gun shop, or contact Black Hills Ammunition, Dept. OT; Tel.: (605) 348-5150; Web: www.black-hills.com
Source Article from http://ontargetmagazine.com/2017/12/new-for-2017-hunting-gear-accessories/