Sig Sauer .308 Win. Match Grade Elite Performance Ammunition
Sig Sauer has been expanding their line of Elite Performance ammunition faster than we can keep up with them, and the newest addition to their precision Match Series rifle ammunition is a .308 Win. round. Loaded with a 168-gr. Sierra Match King OTM (Open Tip Match) bullet. In addition to premium bullets, Match Grade Elite Performance Ammunition uses clean-burning, temperature-stable propellants, premium quality primers and is precision loaded using state-of-the-art, electromechanical monitoring for geometric conformity.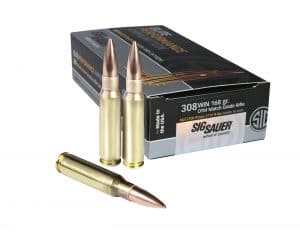 The new .308 Win. round expands the Elite Performance Match Grade line by 50%, joining its .223 Rem. and .300 Win Mag. counterparts. The new round produces  a muzzle velocity of 2,700 f.p.s., with kinetic energy of 2,719 ft. lbs. Sig Sauer also produces three .300 Blackout loads: the Sig HT 120-gr. hunting load (2,250 f.p.s./1,349 ft. lbs), plus 125-gr. supersonic (2,200 f.p.s./1,343 ft. lbs.) and 220-gr. subsonic (1,000 f.p.s./488 ft. lbs.) personal defense loads. Contact Sig Sauer, Dept. OT; Tel.: (603) 610-3000; Web: www.sigsauer.com
Hornady Rapid Rack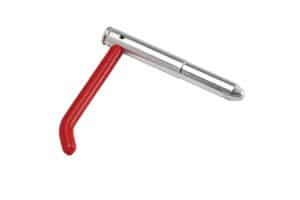 The new Rapid Rack from Hornady ($12.48) doubles as an empty chamber indicator and load-assist device for those who prefer to keep their AR rifles ready for action with a fully loaded magazine and an empty chamber. To use it, simply insert the cartridge-shaped portion of the Rapid Rack into the empty chamber, leaving the colored lever protruding out of the ejection port. Slowly close the bolt, allowing the extractor to grasp the extractor groove on the head of the Rapid Rack, then insert a loaded magazine. The colored lever visually displays that the chamber is empty.
To charge the rifle, simply shoulder it, grab the lever and pull straight back, allowing the Rapid Rack to fall to the ground as the bolt carrier springs forward to feed a round into the chamber. Models are available for 5.56 NATO/.223 Rem. chambered AR-15s, 7.62 NATO/.308 Win. chambered AR-10s and select 3-inch 12–gauge semi-auto shotguns (Benelli M1 Super 90, Benelli M2, Benelli M4, Benelli Super Black Eagle II, Beretta 1201FP, Remington 11-87, Mossberg 930 and Weatherby SA-80). Contact Hornady Manufacturing, Dept. OT; Tel.: (800) 338-3220; Web: www.hornady.com
LaserMax Manta Ray Snap-on Weapon Light
The new Manta-Ray LMR-M from LaserMax ($199) is an ultra-lightweight 1.8 oz. with batteries), ruggedized, rubber armored, rechargeable weapon light that snaps on and off any Picatinny rail without the need for tools, levers or clamps via the combat-proven Manta rail connection.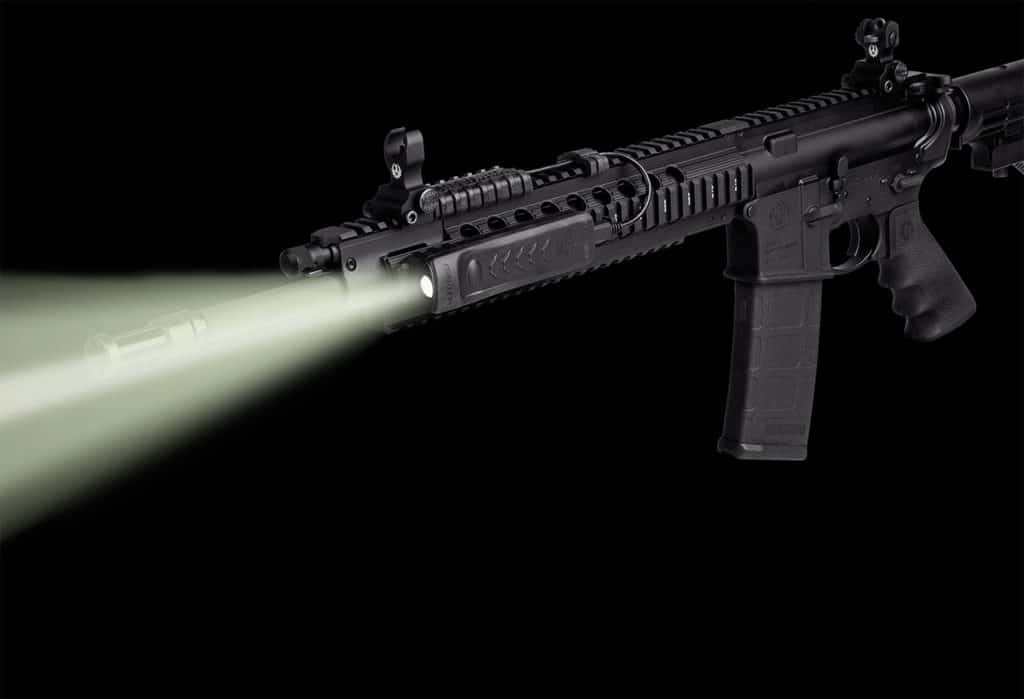 It puts out 140 Lumens of the newest "mint" green LED light technology, offering maximum visibility, superior performance in close quarters and guarding the operator's vision from harmful reflection caused by higher output white lights. It features adjustable brightness (dimmable from 140 to 20 lumens) and a discrete status indicator light displays remaining battery life. Its single LED is powered by internal, rechargeable batteries, and it comes with a mini USB charger. Continuous runtime is one hour, and it fully recharges in 90 minutes. Made in the U.S.A., it's waterproof to ten feet, shockproof and comes with a five year warranty. Contact LaserMax, Dept. OT; Tel.: (800) 527-3703; Web: www.lasermax.com
SureFire M600IB Scout Light with Intellibeam Technology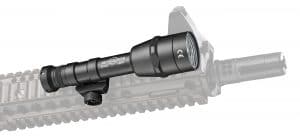 SureFire's new M600IB Scout Light with Intellibeam Technology ($299) utilizes SureFire's proprietary IntelliBeam Technology, an intelligent sensor and microprocessor-based system that continuously evaluates the environment where the beam is aimed to automatically adjust the light output to the optimal level—between 100 and 600 lumens—faster than the human eye can detect. Its high-performance LED and parabolic reflector create a smooth beam with far-reaching center and significant surround light for maintaining situational awareness at all output levels. Other features include O-ring and gasket sealed Mil-Spec hard anodized aluminum construction, tailcap click switch with momentary and constant-on modes (remote switching available optionally), integral thumbscrew Picatinny rail mount, five hour runtime and SureFire's No-Hassle Guarantee. Powered by two 123A Lithium batteries, it measures 5.8 inches long with a bezel diameter of 1.37 inches, and weighs 6.2 oz. with batteries installed. Contact SureFire, Dept. OT; Tel.: (800) 828-8809; Web: www.surefire.com
New AR Red Dots from Vortex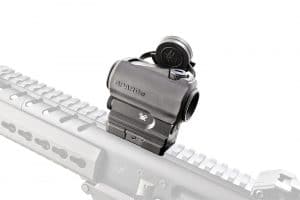 The new 22mm SPARC AR $259 measures 2.9 inches long and weighs 7.5 oz. with its single AAA battery installed. It features  a 2 MOA red dot with ten illumination settings, 1X magnification, built-in lens caps, rear-facing power and illumination controls, single-piece machined aluminum chassis, multiple anti-reflective coatings on all air-to-glass surfaces and nitrogen gas purging with O-ring seals for fogproof, waterproof, shockproof performance.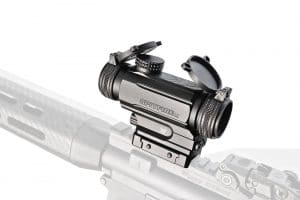 It offers unlimited eye relief and comes with a an integral Picatinny rail mount with a spacer shim that can be utilized to provide two different mounting heights: lower 1/3 co-witness (40mm) and absolute co-witness (37mm). The other new AR red dot is the Spitfire AR ($349). At 4.3 inches in length and weighing 11.2 oz., it's bigger than the SPARC, but offers a 25mm objective lens and a 79 foot field of view at 100 yards. It also features 12 illumination settings, flip-up lens covers and all of the other features of the SPARC. Contact Vortex Optics, Dept. OT; Tel.: (800) 426-0048; Web: www.vortexoptics.com
SB Tactical SIG MPX Pistol Stabilizing Brace
SB Tactical, inventors and manufacturers of the Pistol Stabilizing Brace, have received approval from the Bureau of Alcohol, Tobacco, Firearms and Explosives (BATFE) for two new adjustable models specifically designed for the SIG MPX ($249.99) and SIG SBPDW ($299.99).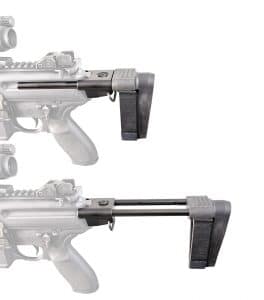 SB Tactical is the manufacturer of the SBX and SB15 Pistol Stabilizing Braces sold exclusively by Sig Sauer. Our evaluation sample was the MPX model. It weighs 17 oz. and measures 8.75 inches in overall length. Its three adjustment positions put the heel (as in "butt pad") 4, 6 and 8 inches, respectively, from the rear of the MPX receiver. Pressing in on a positive locking button on top permits instant length adjustment. The split rubber arm brace at the rear tapers from 1.5 to 2.25 inches in thickness, measures 4.5 inches in height and is secured to the arm via a 1-inch wide Velcro strap. Contact SB Tactical, Dept. OT; Tel.: (603) 793-6411; Web:  HYPERLINK "http://www.sb-tactical.com" www.sb-tactical.com
AXTS Raptor Freedom Bone Charging Handle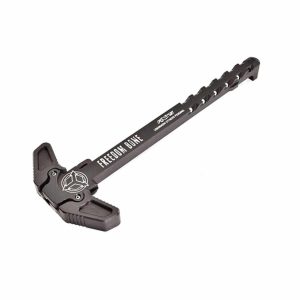 AXTS, the makers of arguably one of the best charging handles in the market, has decided to take their Raptor design to the next stage of evolution. Made in the USA and machined from aircraft-grade 7075 aluminum, the Raptor Freedom Bone ambidextrous charging handle takes all the outstanding features and design elements we love from the Raptor, but adds ports to the shaft to redirect gas blowback. This makes shooting with a suppressed gun a much more comfortable, enjoyable and way-less-distracting experience. If you shoot suppressed, we consider the Raptor Freedom Bone to be an On Target must-have component. You can get yours ($109.95) at your local AXTS retailer. Contact AXTS Weapons, Dept. OT; Tel.: (503) 893-AXTS; Web: www.axtsweapons.com
PAK-rite Custom Pelican Case Foam
For some, simply encasing their firearm is not enough. When you reach that level you need to call Morgan at PAK-rite to take your Pelican case to the next level. PAK-rite has developed an advanced protective foam called Xcellotrast, which is available in multiple colors and custom water-jet-cut to meet you exact needs.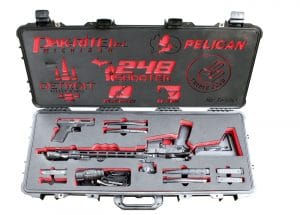 In our testing this material not only offer the highest level of protection for high-end firearms, but does so without absorbing moisture like traditional foam. Xcellotrast's extra rigid cellular structure will not go soft and break down like traditional foam, meaning that it's the only foam material that holds up to abuse as well as the case it's packed in. If you're sick of messing with egg crate or pick and pluck foam that shreds, tears and has inferior cut out tolerances, we highly recommend a call to PAK-rite at (248) 624-1885. It's also available via www.thepelicancaseoutlet.com. Pricing starts at just $100, including custom design to match your gear profile.
Yankee Hill Machine Nitro 30 Suppressor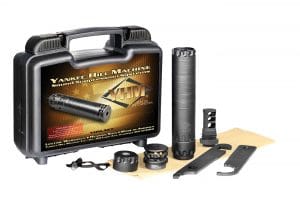 The new Nitro 30 Suppressor Yankee Hill Machine (YHM) achieves mission specific modularity and multi-caliber utility by providing the operator with muzzle cap and rear cap options. The NITRO is full-auto rated and will accommodate .17 HMR to 300 Ultra Mag. It comes with two different .30 caliber muzzle caps: a flat one for the tactical user and one for target shooters It also comes with two different rear caps: a Quick Disconnect rear cap for rapid switching between multiple platforms, and a 5/8-24 direct thread-on rear cap for a dedicated set-up. Also available separately is a flat muzzle cap and a direct thread-on rear cap (1/2-28) for 5.56mm use. Included in the Suppressor System Kit is the welded suppressor body made from 17-4 Ph stainless steel, two .30 caliber muzzle caps, two rear caps, one muzzle brake in your choice of thread pitches (5/8-24, 1/2-28 or 1/2-36), one Basofil heat resistant pouch, a carry case to hold all the parts, two assembly wrenches and YHM's lifetime warranty. Contact Yankee Hill Machine, Dept. OT; Tel.: (877) 892-6533; Web: www.yhm.net
TRUGLO TRU•BRITE 30 Series Tactical Riflescopes
The new TRU•BRITE 30 Series Tactical Riflescopes from TRUGLO are available in 1-4X ($184) and 1-6X ($270) magnification ranges, with your choice of Duplex Mil-Dot or tri-color illuminated Power Ring Duplex Mil-Dot reticles.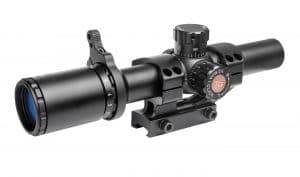 Built on a 30mm machined aluminum tubes for increased brightness, they include two pre-calibrated BDC turrets in calibers .223 Rem. (55 grain) and .308 Win. (168 grain) to engage targets up to 800 yards away, durable leaf-spring click adjustments for windage and elevation in 1/2-MOA increments, reversible, offset, monolithic 30mm scope mount/rings CNC-machined from aircraft grade aluminum, fully-coated lenses for maximum brightness, clarity and contrast and a bright 24mm objective lens. They are nitrogen gas-filled for complete waterproof and fog-proof integrity, and are shock resistant up to 1,000 G's. Eye relief is 3.75 inches. Contact TRUGLO, Dept. OT; Tel.: (888) 8-TRUGLO; Web:  HYPERLINK "http://www.truglo.com" www.truglo.com
Otis I-MOD Cleaning System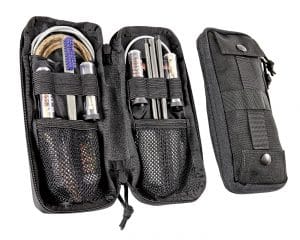 The new I-MOD cleaning system from Otis Technology was originally developed for the U. S. Military, but is now available for civilian hunters and shooters as well. Packed in a ballistic nylon pouch are all the tools needed for proper breech-to-muzzle cleaning. The kit includes such items as Memory-Flex cables, bore brush, slotted tip, patches and a Ripcord for quick, one-pass cleaning. It also includes an all-purpose receiver brush and solid rod sections (with the 5.56 NATO, 7.62 NATO and 9mm kits only). Otis offers I-MOD cleaning systems for 5.56 NATO, 7.62 NATO, 9mm, .40/10mm and .45 caliber, all priced at $69.99. Twin caliber kits are offered in 5.56/7.62 NATO, 5.56 NATO/9mm, 5.56 NATO/.40 caliber and 5.56 NATO/.45 caliber, all priced at $79.99. See them at your gun shop, or contact Otis Technology, Dept. OT; Tel.: (800) OTISGUN; Web: www.otistec.com
Walker's Game Ear Razor Series Muffs
The new Razor Series muffs from Walker's Game Ear ($79.99) are then thinnest amplifying ear muffs yet devised. They so thin that they greatly reduce the chance of contact between the muffs and any rifle or shotgun stock. They feature a Noise Reduction rating of 23dB, ultra low profile rubberized ear cups, two omni directional microphones, full dynamic range HD speakers for clear and  balanced sound, low noise with frequency tuning for natural sound clarity, independent volume controls on each muff, sound dampening composite housings, sound-activated compression with a 0.002 second reaction time, audio input jack, recessed volume control knobs, external battery door and a comfortable padded headband with metal wire frame. They are powered by two AAA batteries (included).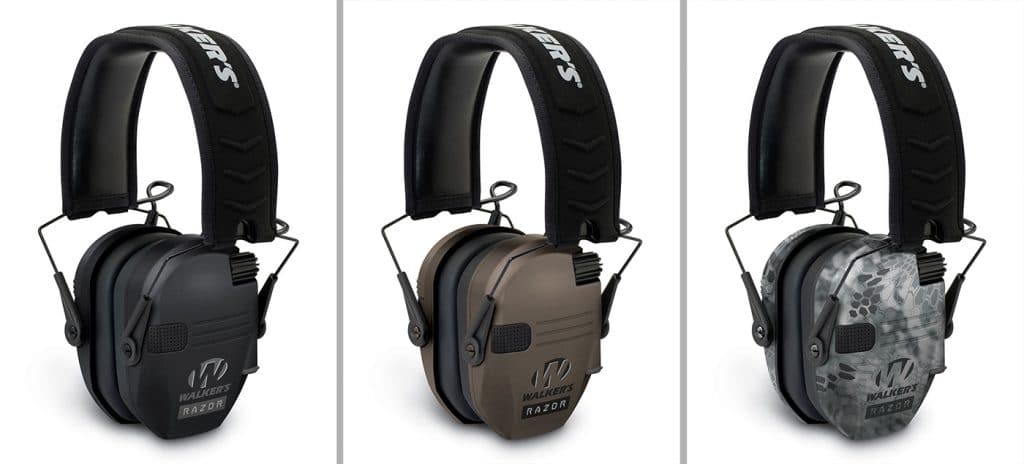 See them at your outdoor retailer, or contact Walker's Game Ear, Dept. OT; Tel.: (877) 269-8490; Web: www.gsmoutdoors.com
Nightforce SHV 4-14×50 F1 Riflescope

The new SHV 4-14×50 F1 riflescope from Nightforce is the company's first SHV scope built with a first focal plane reticle. It delivers first focal plane performance in a versatile, mid-power package suitable for a wide range of shooting applications. This feature gives the shooter the option of precisely holding for elevation and windage at any magnification setting by using the intelligence built into the reticle. It is offered with the choice of a MOAR or MIL-R reticle, both with illumination standard. Featuring a 4-14x magnification range it offers an excellent combination of field of view and resolving power at higher magnification. The 50mm objective lens provides excellent light transmission any time of day. Other features include a 30mm main tube, 90 minutes or 26 Mil-radians of adjustment range in 1/4 minute 1/10 tenth mil-radian click adjustments, Nightforce ZeroSet for rapid return to zero, parallax adjustment from 25 yards to infinity, 12 illumination brightness settings and a fast focus eyepiece. For more information contact Nightforce Optics, Dept. OT; Tel.: (208) 476-9814; Web: www.nightforceoptics.com
Midwest Industries Gen 3 Handguards

What has a continuous Picatinny Rail, seven sides for M-LOK attachments, five QD sling swivel receptacles and weighs as little as 6.7 ounces? The new Gen 3 M-LOK Handguards from Midwest Industries ($139 to $189). Ranging in length from 7.25 inches to 15 inches, these handguards will fit pistol length to rifle length gas systems without issue. Machined from 6061 aerospace-grade aluminum and hard anodized, they are both incredibly strong and highly resistant to scratches.  The surface is fully de-horned and non abrasive with a comfortable feel. Normally this would concern us when running wet or bloody, but dimples on the seven angle points create a positive grip surface without a rough texture. Midwest Industries stands behind their product with a 100% lifetime warranty, ensuring you only need to buy once, no matter how hard you run your gear. See them at you your local dealer, or contact Midwest Industries, Dept. OT; Tel.: (262) 896-6780; Web: www.midwestIndustriesInc.com
Source Article from http://ontargetmagazine.com/2017/02/new-for-2016-ar-gear-accessories/