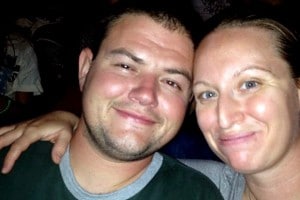 The brutal killing earlier this year of a 30-year-old commercial truck driver has an industry group pushing for a nationwide federal firearms business carry permit.
The move, termed "Mike's Law" with the blessing of the wife of murdered driver Mike Boeglin, is backed by the Small Business in Transportation Coalition. It would establish a federal program so truckers can carry firearms for personal and load protection nationwide regardless of state and local regulation.
"Once an American citizen leaves his home state and engages in 'interstate commerce,' his ability to carry a firearm and guard the shipment is at the mercy of other states that may or may not choose to grant reciprocity to their home state," explains SBTC Chairman James Lamb in a Change.org petition backing the proposed new law.
The petition has more than 8,500 supporters.
Lamb argues that commercial drivers do not have the same protections others in the workforce, as they often cannot return to their homes every night. This, the group contends, should warrant an exception under the Interstate Commerce clause and in the spirit of the Second Amendment for truckers to be able carry across state lines while on the job. The solution to this would be a proposed Federal Business Concealed Carry Firearms Permit Program in which commercial drivers could apply to the Bureau of Alcohol, Tobacco, Firearms and Explosives for a license to allow carry anywhere in the country.
Currently the U.S. Department of Transportation defaults to local laws regarding possession of firearms in commercial motor vehicles, which is open to much interpretation.
The proposed law is named for an over the road trucker, Mike Boeglin, from Ohio whose burned out rig was found at an abandoned sports complex on Detroit's West Side in June. Inside the cab, authorities found Boeglin's remains and ruled his death an apparent armed robbery. Police speculate that the driver was shot to death then was set on fire to destroy evidence.
Since his death, the SBTC has run a social media campaign in conjunction with the online petition in a drive to increase awareness for their proposed change.
In the past, the organization has had success in addressing other issues to benefit interstate truckers such as a 2009 campaign known as "Jason's Law." That effort, which highlighted the murder of long haul driver Jason Rivenburg after he parked to sleep at a disused gas station parking lot, as no rest areas were available. It ultimately led to more funding from Congress to increase the number of safe roadside rest areas.
While universal reciprocity of state permits which would treat concealed carry permits like driver's licenses, allowing current permit holders to carry in any other state that issues permits, has been proposed in recent years in both the House and the Senate, this legislation has not proved successful.
Second Amendment scholars likewise are not convinced the trucker proposal has much likelihood of success in the current political climate.
"This proposal to allow interstate truckers to carry across state lines is not likely to be adopted," Adam Winkler, a professor of constitutional law at UCLA, told Guns.com Friday. "Even with a Republican Congress, it's hard to imagine the current president, who believes guns make you less safe not more, signing this legislation."
The problem, explains Winkler, is that the move could be seen as the foot in the door of a larger nationwide carry campaign to follow, which lawmakers may be unready to tackle.
"If it is adopted, it wouldn't necessarily have much effect on national reciprocity for ordinary carry. But there would be one less brick in the wall that prevents gun owners from taking their personal protection firearms with them when they travel," Winkler said.
Source Article from http://www.guns.com/2014/12/19/murdered-trucker-stirs-push-for-federal-concealed-carry-permit/