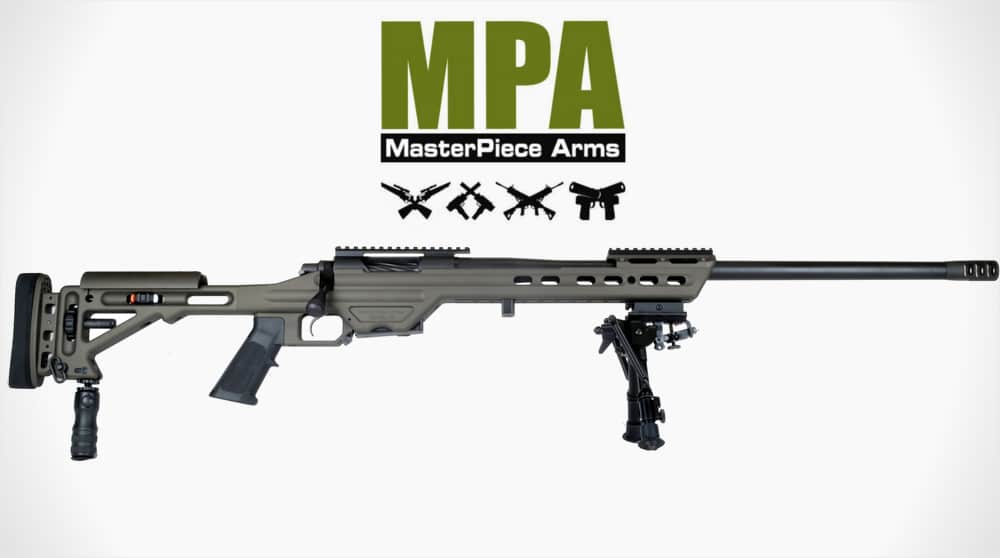 MasterPiece Arms has always been the kind of company that works directly with customers, putting together firearms one at a time, flexible and open to individual orders. Now they're taking things further with their custom bolt-action rifle service.
The idea of building rifles from scratch to order isn't at all new — if anything it's the oldest form of manufacturing in the gun business — but MasterPiece Arms is doing it in a new way.
They've set up a new website that takes orders for custom guns that gives shoppers a series of drop-down options when it comes to parts selection, not really different from ordering a laptop online.
Buyers start by selecting an action, the core of their rifle build. MasterPiece Arms currently builds guns with Defiance, Howa and Remington long and short actions and Defiance extra-long action for rifles chambered for .338 Lapua.
Right now they pair these rifles with MPA-tuned Spencer barrels although they offer Howa barrels with Howa actions as well.
MasterPiece Arms's barrel finishing process has separated them from the pack when it comes to precision rifles at their price point. Spencer barrels already have one of the best reputations in the business and MasterPiece goes the extra mile to ensure that every step is taken to put the best barrel in their guns.
Before they even begin making a barrel they run the steel through an ultrasonic testing process to check if there are any aberrations in the metal and they've developed their own lathe system that minimizes work-hardening of their 416 stainless steel barrels before they're precisely reamed and rifled.
Just the same the barrels are then heat-treated for stress relief, individually hand-lapped and then chambered in a final step. Chambering the barrel after finishing the bore ensures that the cartridge is centered along the bore axis to a degree of precision that's not achievable by other methods.
These barrel finishing techniques were perfected by Spencer and continue on under the care of MasterPiece Arms, so it's no surprise that they use them for their own precision rifles.
The barreled actions are then fit to MPA's own BA Chassis, a machined 6061 aluminum chassis that sports a V-bedding system to ensure predictable accuracy. Their chassis can also be glass-bedded to maximize the rifle's potential.
The chassis has a fully-adjustable stock with an integral height-adjustable monopod for resting the rifle while shooting prone for prolonged times. The recoil pad is adjustable for height and cant along with the cheekpiece and the chassis accepts all AR-15 pistol grips to ensure that each user can customize their rifle to suit their personal needs.
One nice touch is an integral bubble level to help shooters keep the rifle perfectly level when shooting. The chassis also sports a forward rail for night vision systems. Lastly, each stock is given a Cerakote finish for durability in a variety of colors in the tactical rainbow.
Customers can then select from a handful of trigger options from Timney and Rifle Basics ranging in pull weights from 4 pounds down to an ultra-sensitive 8 ounces.
The end result is a rifle that, depending on the configuration, has a sub-MOA — down to .375 MOA — accuracy guarantee, for between $2,200 and $3,350. You don't have to shop around for long on the custom rifle market to recognize that MasterPiece Arms is offering these at a price that's hard to match, let alone come even close to.
Source Article from http://www.guns.com/2015/02/13/mpas-got-a-cool-new-custom-bolt-action-rifle-service/