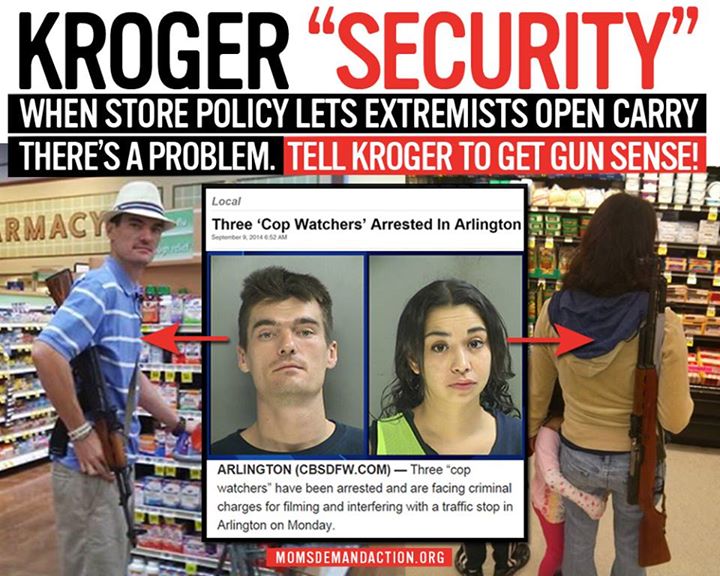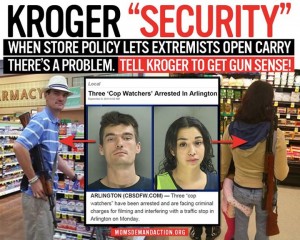 Following an arrest of two Texas open carry advocates earlier this week, a gun control group is using their mugshots in an ongoing campaign to influence a large grocery store chain change their gun policy.
The arrest came when the pair were booked along with a third man earlier this week in Arlington, Texas, on charges of interfering with a traffic stop stemming from a "cop watching" incident. The trio – Kory Watkins, his wife Janie Lucero, and Joseph Tye – claims they were not interfering and are calling the charges "bogus."
This however, is not stopping Bloomberg-backed Moms Demand Action for Gun Sense in America from using the mug shots of the Watkins and Lucero in their Kroger ad campaign, although the pair was neither arrested for crimes stemming from open carry activities, nor at a Kroger.
"Tell Kroger we don't need this kind of protection," reads a statement posted to the MDA social media account late Wednesday. The post is accompanied by a graphic displaying the mug shots of Watkins and Lucero superimposed over a file image of what appears to be the couple open carrying inside a grocery store.
"When store policy lets extremists open carry there's a problem," states the graphic under a banner labeled "Kroger Security."
The Moms group in recent weeks has set the grocery store chain in its sights, pushing for the giant, which owns 17 brands that are responsible for $98.4 billion in sales in fiscal 2013 to "make a clear statement that the open carry of firearms is not welcome in its stores." The group has made a name for itself in challenging corporations ranging from Target to Chipolte and most recently Panera Bread through social media campaigns to make changes to their firearms policies.
For his part, Watkins, who is the coordinator and a legal figurehead for Open Carry Tarrant, which was once part of Open Carry Texas, is not impressed with the latest salvo from gun control group.
"MDA uses nothing but propaganda and lies to persuade their followers," said Watkins in an email to Guns.com Thursday. "We use facts, truth, and history to back up what we say. We don't pay much attention to MDA because attention is what they want."
Watkins contends that the arrest, which generated the mugshots, was spurious.
"The arrest was unlawful and we will prove that in court just like we did 3 months ago in federal court against the same people for violating freedom of speech," advised Watkins. "Last time it was freedom of speech, now its freedom of press. My wife was bruised and battered by a police officer that evening. The violent video has went viral on social media. Where is Moms on that? Nowhere to be found."
Guns.com contacted MDA for comment, but did not receive a response in time for publication.
Source Article from http://www.guns.com/2014/09/11/moms-demand-action-use-arrest-of-open-carry-advocates-in-kroger-campaign/?utm_source=rss&utm_medium=rss&utm_campaign=moms-demand-action-use-arrest-of-open-carry-advocates-in-kroger-campaign