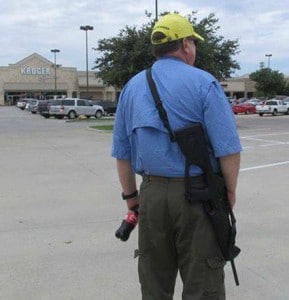 "Kroger's refusal to stop open carry is putting customers and employees at risk," said Moms Demand Action on their Facebook page, but others aren't so convinced. (Photo: Facebook)
Two teens were knocked unconscious and another man beaten by a mob of young people in the parking lot of a Memphis Kroger Saturday night and a portion of the brutal attack was captured on cell phone video.
One witness told local media that there were at least 100 people in the mob which stormed the parking lot around 9:15 p.m. after leaving a nearby CiCi's pizza. As they swarmed the parking lot, they randomly attacked a customer who was walking to his vehicle.
"As I was starting to get my camera open, a guy popped around a car and said, 'Hey bro,' and just started swinging at me. And I tried to put my hands up, another guy started rushing at me. I took off running backwards through the parking lot," the 25-year-old victim, who wanted to remain anonymous, told reporters.
In an attempt to escape the violent mob, the victim ran back into the store.
"I had run clear in through the door. I was at the fruit aisle, and I turned back to see if they were still following me. So immediately, I pulled out my phone and called 911," he said.
The incident was captured on cell phone video by a Kroger employee standing in the doorway of the store. She appears to initially think they are just running through the parking lot, but quickly realizes the "kids" are randomly and violently attacking people.
After assaulting the first victim, the mob then moved on to assault two teen employees, knocking them both unconscious. The chilling video shows several people kicking and stomping the head of one of the victims, then continuing to throw 20 pound pumpkins at his head even after he is knocked out.
"He was already unconscious, so all you could see was blood and pumpkins," said one witness, a friend of both teen victims, who also wanted to remain anonymous.
Moments later, the security guard could be seen in the video dragging the third victim, who is also unconscious, across the parking lot in an attempt to get him away from the mob and to safety.
Joe Bell, public spokesman for Kroger, confirmed that the teens were taken to the hospital but have since been released. They are home resting and recovering and, although understandably shaken over the incident, are "doing just fine," he said.
The teen in the lime green shirt, seen here stomping on the victim's head, was arrested early Monday morning. (Photo: WREG)
The 25-year-old victim was not seriously injured, but is extremely frustrated by the ordeal.
"I felt like my life was threatened and I was lucky to get away. But what is it gonna take," the victim said.
Memphis police Director Toney Armstrong called the incident "troubling" and said in a statement, "Last night's events clearly demonstrates a lack of parental controls and if warranted these parents will also be held accountable."
Armstrong added, "We can do a lot, but we can't do everything."
Memphis Mayor A.C. Wharton reiterated Armstrong's statement. "We're not going to accept this … that dog will not hunt in Memphis, Tennessee," Wharton said.
Authorities did confirm that the incident appeared to be gang-related.
One arrest was made this morning, as the incident continues to be under investigation and authorities search for those responsible.
The violent attack came just weeks after Everytown for Gun Safety and Moms Demand Action for Gun Sense in America petitioned Kroger to "make a clear statement that the open carry of firearms is not welcome in its stores." But, unlike some other national chains, Kroger refused to cater to their demands and soon after released a statement which said, in part, "Our long-standing policy on this issue is to follow state and local laws and to ask customers to be respectful of others while shopping. We know that our customers are passionate on both sides of this issue and we trust them to be responsible in our stores."
Moms Demand Action reacted to the store's refusal to ban open carry by posting a picture on its Facebook page yesterday of a man with a rifle slung across his shoulder, standing in front of a Kroger store and posed the question, "How would you like your teen to be the employee putting grocery carts away in this Texas Kroger parking lot?"
But since the story of the Memphis mob has been shared thousands of times over social media, the Moms page has been bombarded with comments from gun rights advocates – many of which were promptly deleted.
Guns.com reached out to Everytown for Gun Safety and Moms Demand Action for a statement on the incident.
"As guns were not a part of this incident, we don't have anything to say on this," communications director for Everytown, Erika Soto Lamb, said in an email.
However, not everyone was mute on the subject. Memphis Kroger customer, Chris Morgan, spoke with reporters about the random violence.
"That's why people are carrying guns," he said. "That's why people are dying. That's why people are scared to get out of their house."
The post Mob of teens randomly attack people in Memphis Kroger parking lot (VIDEO) appeared first on Guns.com.
Via:: Mob of teens randomly attack people in Memphis Kroger parking lot (VIDEO)