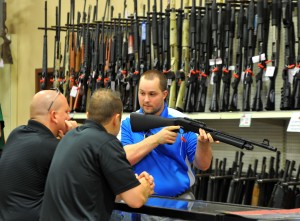 By Chris Eger
Gun shops across Mississippi expect to be busy this weekend due to the first annual Second Amendment sales tax holiday. (Photo: Brand Sanderlin)
Following implementation of a new law, Magnolia State residents will enjoy Mississippi's first "Second Amendment Sales Tax Holiday" this weekend.
The holiday, which runs Sept. 5-7, came as a result of legislation introduced during the last session that was signed into law by Gov. Phil Bryant in March after receiving wide support in the state legislature. The measure implemented the annual three day period in which the state's normally mandatory 7 percent sales tax is not collected on the sale of firearms, ammunition, archery equipment, and hunting supplies.
"With dove season underway and deer season less than a month away, this weekend is a great time to take advantage of this tax break," Republican Lt. Gov. Tate Reeves said while visiting an area sporting goods store. "Mississippians love to hunt, and this sales tax holiday makes it a little less expensive to enjoy the outdoors."
While items such as firearms, knives, and ammunition are clearly covered by the exemption, many other items are also eligible for tax-free sales this weekend. These include shooting bags and pouches, bow fishing accessories, targets, and trap throwers. Other items commonly used by sportsmen, however, such as game lures, gun cabinets, and binoculars are ineligible.
Local sporting goods stores are anxious for the upcoming weekend and are expecting a boost in sales from gun owners and hunters looking to save money.
"I'm thinking it's gonna be crazy; it's gonna be like Christmas time," said Corey Campbell, manager of Scruggs Sporting Goods in Tupelo.
The holiday is mandated by law to run the first weekend in September of every year.
A full list of the items eligible for sales tax exemption is available here.
The post Mississippi to kick off first annual Second Amendment sales tax holiday appeared first on Guns.com.
Via:: Mississippi to kick off first annual Second Amendment sales tax holiday