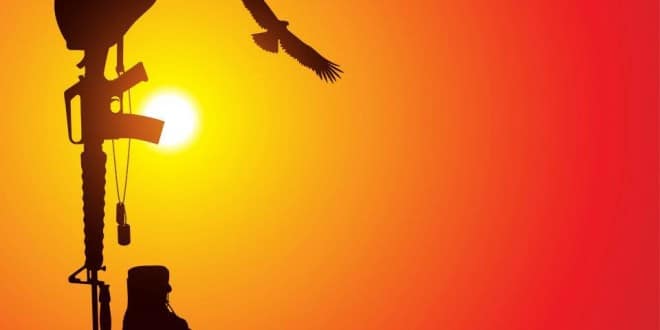 Local residents in Milford raised money to fund a veterans memorial. Residents looked for approval of a monument depicting the battlefield cross (header image above). When local veterans approached the city council for approval they were rejected according to Bear Hall who said:
There was some concern from a couple of members regarding the specific memorial that's proposed. Specifically, the gun. They understood the history and meaning of it; they just didn't feel it was appropriate for that specific location.
Milford Councilman Tom Nader said during an interview with the Detroit Free Press about the battlefield cross memorial,
"Being a veteran, I want to see a monument there, yes," "I just don't think this is the proper one."
Local citizens however seamed to offer an overwhelming support for the monument raising $12,000 in 90 days. These supporters of freedom flooded the city council meeting.
"To deny the statue is to deny the truth about war, to deny our history and to deny our children the opportunity to ask meaningful questions as it relates to both," Bear Hall said after the Milford Village Council meeting.
We are pleased to report though through the activism of the towns folk and veteran supported group the proposal has been approved and is moving ahead. We echo the sentiments of the citizens who understand that without the soldier and their guns we would not have the freedoms we enjoy. This monument serves as a talking piece to help us educate the next generation and now we can have that conversation without censoring it for the politically correct anti-gunners.
Source Article from http://248shooter.com/index.php/milford-vets-speak-out-against-city-council-and-win/