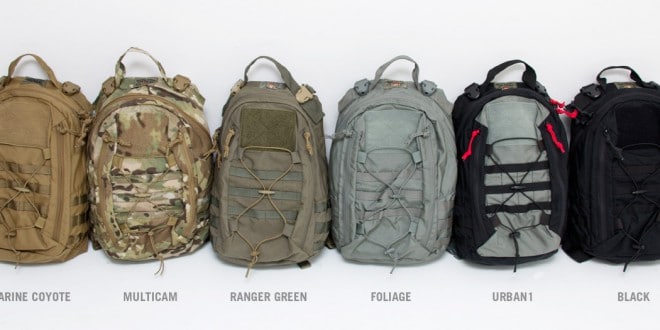 Mil-Spec Monkey has a knack for taking great products and tweaking them a bit via some very high profile collaboration projects. In conjunction with Tactical Tailor Mil-Spec has developed the Adapt Pack.
As you may notice we are using pictures from the MSM site. The fact is Monkey or whomever he uses for photography is much better at taking pictures than me. While the images are pulled from the site the bag has been in our possession for about a month now and used very heavily. It has shown no signs of loose threading or significant wear. This review is 100% independent and based on our testing and use.
Adapt Pack
The product is designed as a lightweight assault pack for military users or to be used as a go back or on the move bag in civilian markets. It is the size of a typical school backpack:
Approx Dims:
Main Pocket: 17″ tall x 9.5″ wide x 5.5″ deep
Front Pocket: 14″ tall x 8″ wide x 2.5″ deep
Total Volume: 1,178.25 cu. in.
Weight: 1.75 pounds
It comes in a wide array of colors that range from hunter to military to police to urban depending on your needs or sense of style.
What separates this from other gear is how well thought out and how adaptable this bag can be.
Attaches to LBV
Hydration pockets included
PALS webbing for adding additional space
2 strap or single strap adjustability
Storage
The Adapt Pack does not offer as much storage or small compartments as many of the other bags on the market. This is not designed to be a EDC bag to fit your headphones and space pen into. This is a rugged military grade assault pack that does double duty as a go bag, get home bag or even a decent 72 hour bag.
Starting from the most outside in the very first thing you will see is shock cord rig designed to hold soft bulky items that may not fit in the actual bag. This would be great for tarps, jackets, blankets or anything you may want to dry out as you journey.
Across the back panel as well as the sides is high quality PALS webbing. This allows for you to modularly grow and adapt the bag as needed. Mag pouches, canteen holders as well as any number of other PALS/MOLLE attachable gear can easily fit on here. If your not running a camelback these side pouches are a great place to attach Nalgene bottle holders. It also is a very handy place to attach an IFAK or other medical kit.
The first pocket you reach is a ambidextrously accessible 14 inch by 8 inch pocket lined with hook and loop fastener. Initial design concept was to put your side arm here. This is a quickly accessible pocket in a single sling formation. The hook and loop allows for attaching both a holster and additional mag carriers for secured and fast deployment.
Those of you who do not off body carry or want additional organizational features can attach smaller pouches in here to keep electronics, pens, tools and any other gear you can find small hook and loop pouches for. Just go to the Mil-Spec Monkey site to get additional ideas.
The large main pouch is 17 tall x 9.5 wide x 5.5 deep and is typical of what you would expect for a school bag sized pocket. Inside this pouch on the bottom of each side you will see a pocket that will fit a Nalgene bottle. These can be used for either the bottles or just as a compartmentalized  pouch. While these are not likely to be easily accessible when fully loaded down it is a nice touch for keeping an extra bottle for a bug out scenario when you may need to purify water prior to putting it in your camelbak.
On the top of the bag you have 2 MOLLE style connection points. This is used as described below for attaching the bag to a LBV or Plate carrier. It is also perfect for attaching additional MOLLE gear on a quick disconnect. The Mil-Spec Monkey Ka-Bar Knife for example would go here nicely if you're putting this on a go or get home bag.
Closest to your body you will find a duel purpose pouch. This pouch is designed to work as storage for your Camelbak as well as were any straps not being used store out of the way. It is padded thickly enough that any straps tucked inside will not dig into your back.
There is also 2 holes covered by heavy duty material and hook and loop to allow for additional routing of water tubes, antennas, communication gear or anything else you can think of.  The elastic material on the straps would allow you to keep any cords or tubes your route through these posts closely attached for reduced risk of snagging.
Straps
Straps on a bag should be one of the major deciding factors in purchase. Uncomfortable or poorly designed straps will make the coolest bag either uncomfortable or completely useless. The straps on this bag are wide enough to be comfortable but not overly thick. They are very well attached and support and distribute even a substantial amount of weight well. This is the type of thing you would expect from Tactical Tailor and Mil-Spec Monkey as well as from a 2 strap bag.
However the recent trend is for a single strap bag.  This may be due to all the students from the 90s that only wore backpacks with a single strap on their shoulder. It reminds me of the scene from the new 21 jump street 2 straps are whack. More likely though the trend comes from the ability to easily access content of a bag without removing it from the body. I have found this to be an incredibly useful feature on my Maxpedition bag that I used until recently. If you have a sidearm in your bag it is incredibly fast to sawing it around your body and access the weapon while moving to cover.
The big draw back to this though is weight distribution on a single strap sucks. With my hydration pack, sidearm, extra mags, gadgets for the kids, snacks and other items I am forced to cary as a dad in the wild I find myself wishing my Maxpedition pack had a second strap.
The Mil-Spec Monkey Tactical Tailor Adapt Pack throws out conventional design and offers you the best of both worlds. No not some crappy hybrid version that does not have the strength  of either counterpart. Instead of making you choose a single or dual strap pack MSM gives you the ability to set up a one bag in either configuration. Even better you can choose a strap designed for either shoulder with the ability to alternate.
My favorite part of this is that any parts of the bag not being used easily tuck into the hydration pouch. So there is no extra swinging straps to get stuck on your environment or annoy you.
If that is not enough how about if you could configure the bag to attach to a plate carrier or LBV? Yeah Mil-Spec Monkey has you covered there. There is included hardware that allows you to tuck away the typical shoulder straps and add this to your Plate carrier, chest rig or LBV.  We attached this to the Blue Force Gear SPLIT Minus chest rig we tested in the past, a surplus LBV we had and a cheapo plate carrier we had available. Since the unused connectors and straps get tucked away this is actually an incredibly comfortable way to wear the bag.
Lastly for those that want to strap this to another bag so you have a quick go bag with a larger bug out kit all the straps can be tucked away and your left with a carry handle or PALS attachments for easy maneuverability.
Summary
Comparably priced with other Maxpedition or Tactical Tailor gear this bag is a very reasonable $99. When you count that amount of additional hardware the bag comes with to allow for attachment to a variety of gear it becomes more of a bargain.  While this is not the perfect EDC bag for the student or electronically savvy it is likely the perfect Go, SHTF, Get Home, 72 Hour or other type of "emergency" bag.
As a Father who takes day trips often with many kids this bag has come in very handy. It's repurposable strap configurations allow me to make this one pack fill multiple purposes.
This multipurpose formation actually has me in a quandary. This bag will fit so many needs on a daily basis that it is likely to replace my "Adventure" pack. The bag I bring with me when the family or myself will be out of the house for the day. However due to its size and features this will also work well as my get home bag replacing the small cheap one I keep in my car. Most importantly this will replace my fighter bag that I keep with my real emergency gear like my plate carrier and battle gear.
It is my hope that I can buy only one more of these and be happy but upon further evaluation I may need to get 2 more of them to spread across my various needs. The idea of one bag that I train with for all 3 environments has strong advantages for muscle memory. How many will you be buying?
Purchase
Before you buy it check out this video by Mil-Spec Monkey:
[embedplusvideo height="420″ width="620″ editlink="http://bit.ly/1e5HaBR" standard="http://www.youtube.com/v/akKQ14Rza_I?fs=1″ vars="ytid=akKQ14Rza_I&width=620&height=420&start=&stop=&rs=w&hd=0&autoplay=0&react=1&chapters=&notes=" id="ep2367″ /]
Once you decide you want 1 or more of these go here and pick them up: http://milspecmonkey.com/store/packs-bags/341-msm-adapt-pack.html
If you own one already or are buying one based on this article please leave us a comment below.