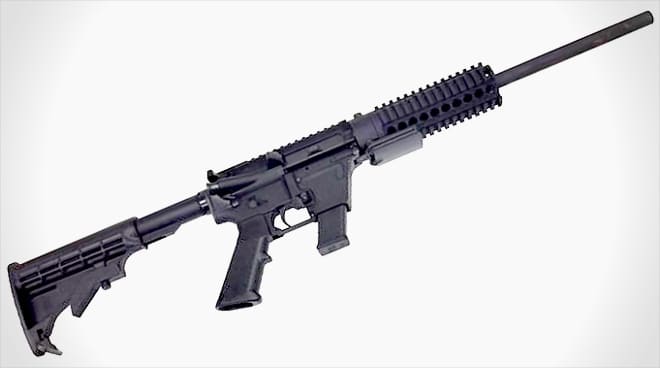 MG Industries, best known for its Hydra series of unique AR-15-style rifles, has just announced a pair of new rifles and conversion kits, a .50 Beowulf thumper and a 9 mm package that uses easy-to-find Glock magazines.
The Glock-compatible magwell isn't entirely new, MGI is bringing it back due to popular demand. In addition to the common 10-, 15- and 17-round magazines, Glock makes 33-round mags that are proven to be reliable and affordable.
The Hydra rifle, and its derivative, the Vipera pistol, uses a modified set of receivers with a modular magazine well and barrel assembly. This makes it possible to swap calibers without tools, and more importantly change out the magazine pattern.
MGI offers magazine wells for standard AR-15 mags along with Glock, Colt SMG and AK-pattern magazines. The new cartridges join 5.56 NATO/.223 Remington, .300 AAC Blackout and 7.62×39 mm.
Here's a demonstration of the Hydra system courtesy the Military Arms Channel.
Like MGI's Colt-pattern 9 mm rifle, the Glock-compatible AR has a suggested retail price of $1,299. Real-world prices are generally around $1,100 or less. The .50 Beowulf rifle is a little higher with a $1,499 MSRP but should also be priced a couple hundred or more less in stores.
The price includes a custom cutout lockable hard case for transportation and storage with room to spare for conversion kits. MGI firearms are "optics ready," have flattop receivers and free-floating handguards for the user's choice of iron sights and optics.
Additionally for users who already own a Hydra, MGI will offer Glock 9 mm kits separately for just $555, which is a real bargain.
Apart from the fundamental changes to the design, all of MGI's products are made to meet or exceed MIL-SPEC standards when it comes to build quality and finish. The upper and lower receiver parts are forged 7075-T6 hard-anodized alloy aluminum and use standard components wherever possible.
Hydra rifles can be used with any number of aftermarket accessories including fire control groups and buffer assemblies. They are built using standard AR-15 barrels and will accept all aftermarket barrels, gas blocks and even gas systems.
MGI also builds rifles to-order for users in need of a California-, Massachusetts- or New Jersey-compliant firearm.
For more information, details and specifications about these and other MGI firearms head over to the company website.
Disclosure: MGI is a Guns.com advertiser.
Source Article from http://www.guns.com/2014/10/13/mgi-announcing-glock-9-mm-and-50-beowulf-ar-15s/