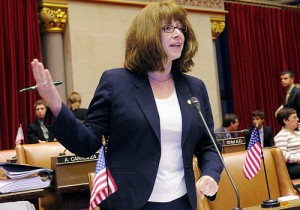 A New York lawmaker wants to prohibit minors under age 12 from being able to visit a gun show anywhere in the state in an effort to reduce gun violence.
The bill, introduced by state Assemblywoman Linda B. Rosenthal, a Democrat who represents the Hell's Kitchen area of Manhattan, would bar entry to pre-teen youth to these shows with no provision allowed for those with a supervising adult.
"As the gun industry prepares a public campaign to broaden the appeal of guns, it is important that we establish reasonable age limits for admission to gun shows by children," reads a memo Rosenthal wrote for her legislation.
"Within New York State and other areas of jurisdiction, we have myriad regulations that seek to protect minors from exposure to certain potentially dangerous situations and influences," the memo continued. "For example, a minor is restricted from watching films or playing certain video games that portray deadly weaponry and gunplay. Currently, however, minors of any age may gain unfettered access to a gun show."
Rosenthal thinks that by curbing a young person's interactions with firearms, gun violence reform can be achieved.
"As our State continues to look for solutions to violence involving guns, we must begin by limiting the exposure of young children to these weapons and their capabilities," wrote Rosenthal.
Her bill, A967, would add a simple 19-word sentence to New York state laws that would effectively place gun shows off limits to those under 12 years of age. It is a carbon copy of a 2013 measure from the lawmaker that failed to gain traction. Current federal law prohibits persons under the age of 18 from purchasing a firearm already.
While the Assemblywoman's office declined comment to Guns.com about how the legislation would affect her own district, there seems to be few gun shows in Manhattan to regulate.
In researching four different gun show listing sites to include Gunshow Monster, American Gun Shows, Gunshows USA, and Gunshow Trader, of the more than 60 shows listed in New York state so far for 2015, few if any are in Manhattan. In fact, the closest shows listed to Rosenthal's district are in Long Island, some 50 miles away, leading to the conclusion that by far the biggest impact for her bill would be in other parts of the Empire State.
However the lawmaker, a member of State Legislators Against Illegal Guns, is no stranger to the introduction of gun control bills that aim to tackle problems in their infancy. In 2013, she proposed a bill to make it a felony to manufacture, sell or use firearms and ammunition magazines made with digital 3-D printers.
Rosenthal's legislation currently has five co-sponsors and has been referred to the Assembly Committee for Economic Development.
Source Article from http://www.guns.com/2015/01/24/measure-to-ban-kids-under-12-from-gun-shows-introduced/