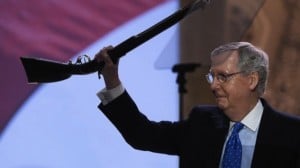 By Jared Morgan
Kentucky Sen. Mitch McConnell holds up a shotgun at CPAC 2014. (Photo: AP)
The National Rifle Association on Monday announced it is getting behind Republican incumbent Mitch McConnell in the race for U.S. Senate in Kentucky.
The organization says it's the Senate minority leader's guidance on Second Amendment issues and his willingness to go toe-to-toe with President Obama and former New York City Mayor Michael Bloomberg on their gun control agenda that makes him the best choice to continue the fight for Kentuckians' right to bear arms.
"The true measure of leadership and courage comes during moments of adversity and Leader McConnell has stood steadfast with America's law-abiding gun owners during the most trying of times," said Chris W. Cox, chairman of the NRA Political Victory Fund. "He has fought against sweeping gun and ammo bans and supported substantive efforts that rightfully place the burden of our justice system on violent criminals."
The NRA-PVF gave McConnell an A-plus rating for leadership on Second Amendment issues in the upcoming November elections.
McConnell is squaring off against Democratic challenger Alison Lundergan Grimes and is the favored candidate ahead with 5 points, according to a New York Times / CBS News / YouGov Battleground Tracker online poll.
The post McConnell gets NRA nod for U.S. Senate in Kentucky appeared first on Guns.com.
Via:: McConnell gets NRA nod for U.S. Senate in Kentucky