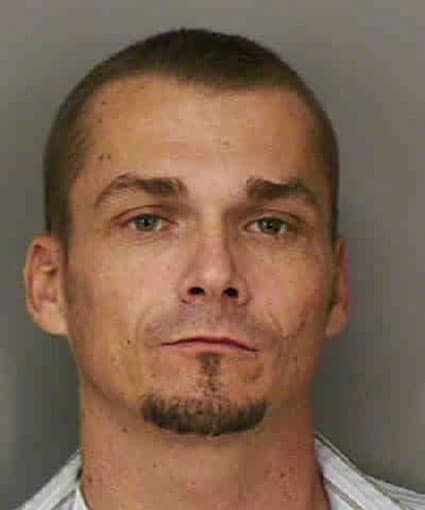 A man is recovering from a gunshot wound after he trespassed on two separate properties in Auburndale, Florida, early Saturday morning and exhibited bizarre behavior before throwing a dagger at one homeowner.
Michael White, 32, showed up at the home of Kim and Steven Pointer about 6:30 a.m., according to WTSP. White was armed with a large dagger and a chain and was looking towards the back screened-in porch of the Pointer's home when Kim noticed him. She yelled at her husband, who immediately came out and told White to leave.
White ignored Steven's demands and told the couple he was a "prophet and could talk to animals" and that it was "the time of Revelations," all the while swinging the chain over his head.
White then told the couple that he was thirsty, so they gave him a glass of water and again told him to leave.
The couple thought the man had left, but moments later White went walking through the back door of their porch. At that point, Steven grabbed his handgun and told White for a third time to get off of his property.
White complied that time, but wandered to a nearby neighbor's home.
Lisa Ring noticed White standing near her porch, and she told him to leave. White then told Ring that he belonged on her property because his sister was the "Lord of the Estate." Ring once again told him to leave before she saw what appeared to be a large knife in White's waistband.
At that point, Lisa yelled for her husband, Paul, who came out with a 12-gauge shotgun and ordered White to leave once again.
White continued to talk about his sister, who he said was burned at the stake on the Ring's property because she was a witch. White said because of this, the property now belonged to him.
White then threw the dagger at Paul, who in turn shot White in the arm.
White took off running and was found in the parking lot of a nearby convenience store. He was apprehended by police and taken to a local hospital where he was last listed in stable condition.
White is charged with unarmed burglary of occupied dwelling, burglary of unoccupied conveyance, aggravated assault with deadly weapon and armed trespassing.
Source Article from http://www.guns.com/2014/10/17/man-talks-of-witches-throws-dagger-then-gets-shot-by-homeowner/