Rifle-like performance in an extremely-shootable, handgun-sized package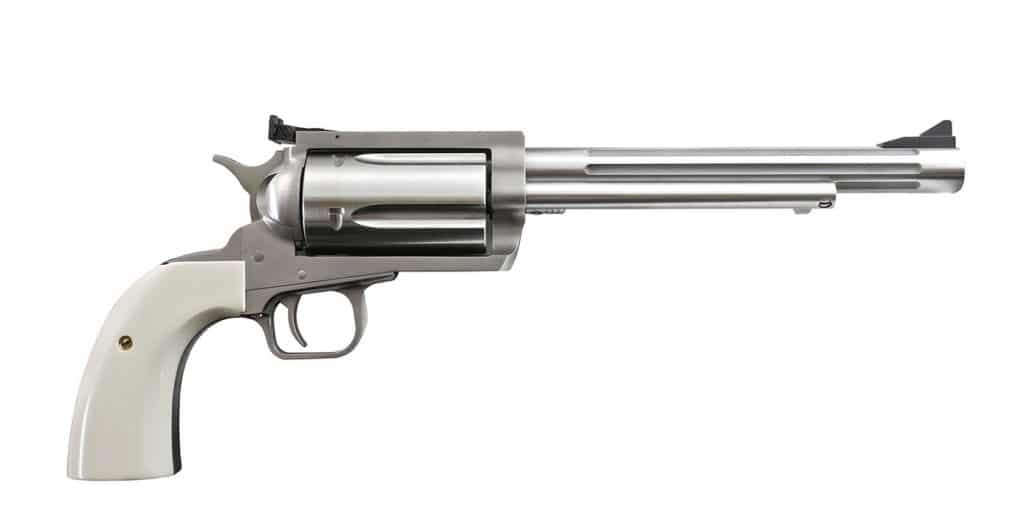 The Magnum Research BFR ("Big Frame Revolver" or "Biggest, Finest Revolver," take your pick) has earned an enviable reputation as one of, if not the, strongest and most reliable single-action revolvers ever produced . . . anywhere, by anybody. It's 100% CNC machined in America at the Magnum Research factory in Pillager, Minnesota, using 100% American stainless steel, components and labor. Like the legendary Desert Eagle Pistol, also manufactured by Magnum Research, the BFR was designed from the ground up as a Magnum handgun.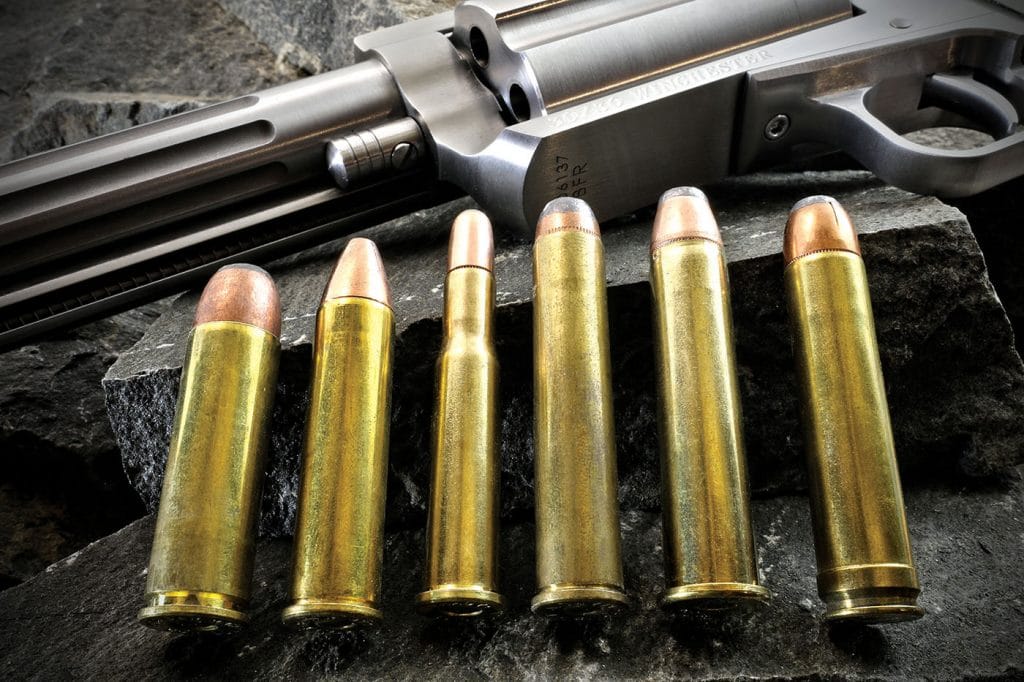 The BFR has been around for many years, and is currently chambered in seven long-cylinder factory offerings: 30-30 WIN., .45-70 Gov't., .460 S&W Mag., .500 S&W Mag. and .45LC/.410 Shotgun, .45/70 Gov't and .450 Marlin—some available in both 7.5 and 10-inch barrel lengths, and some in only one or the other. Short-cylinder models with barrel lengths from 5.0- to 7.5–inches are also offered. Prices are all over the place depending upon model, chambering, cylinder length, barrel length and a host of other options, including fluted cylinders, so forgive us for not being able to quote exact retail pricing for the standard for every custom model you may want. We can tell you that the MSRPs start at $1,184 for the standard model (including the 10-inch barreled .30-30 test gun), and can jump to over $2,000 depending upon how many of the seemingly endless custom options—like octagon and fluted barrels, fluted cylinders and high-polish finish you add—and what optional custom chamberings (20 available) you opt for. The Bisley-frame models—which are the subject of this article—start off with a slightly higher base price. You'll pay an extra $100 for the Bisley grip frame, but the full retail upcharge may be somewhat higher. Consult the Magnum Research website for specific pricing, by model, barrel length, caliber and custom options.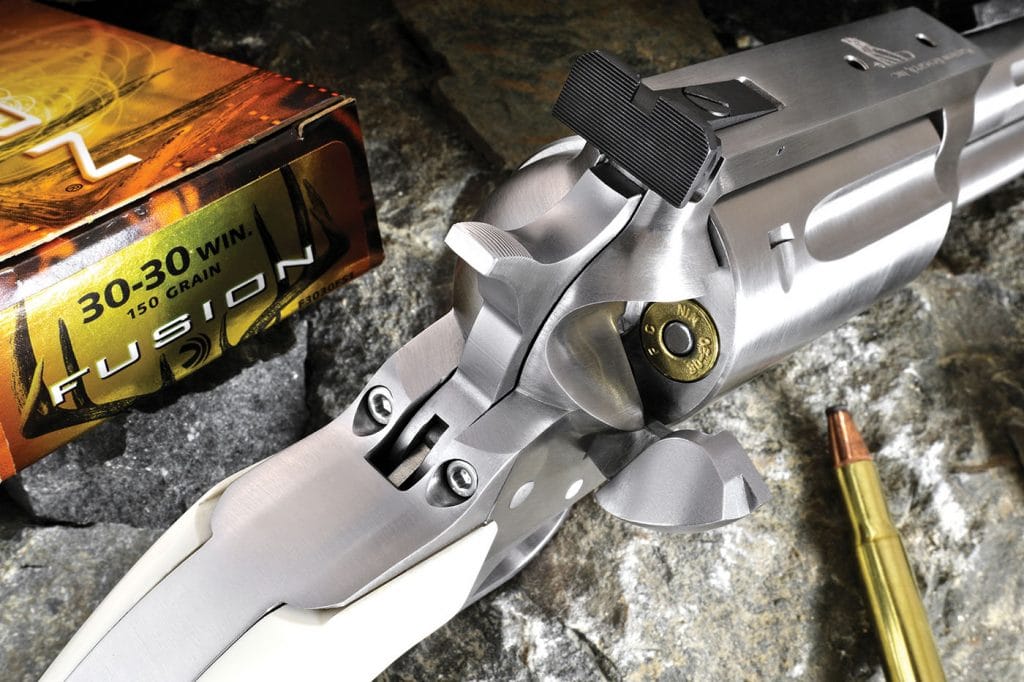 In perhaps the biggest development in the BFR's storied history, Magnum Research recently introduced a BFR model with a Bisley grip frame and white faux ivory grip panels. The Bisley grip frame is much more vertical than standard "old West" or "Cowboy" grip frame, and it is authentically executed in the BFR by Magnum Research. But first, my personal story.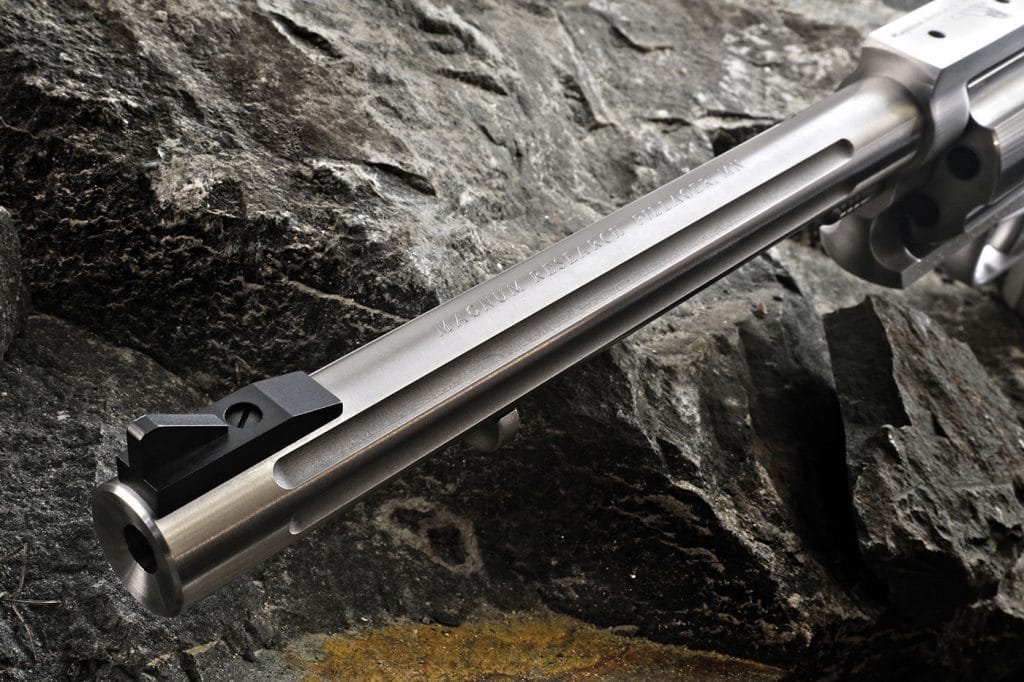 I was home after extensive shoulder reconstruction surgery, unable to shoot, drive, work, walk or do anything except sit or lay on my butt for nine interminable weeks in a full shoulder immobilizer that was more like a full upper-body cast. I learned  of the Bisley BFR during that time, and made it my life's goal to obtain one chambered in .454 Casull, my favorite personal defense caliber for Alaska Brown bears that try to screw with my fishing. The good folks at Magnum Research accommodated my request, and even threw in a Gould & Goodrich scope-ready holster to make me feel like I was getting better (and it worked!). I received a 6.5-inch barreled BFR Bisley chambered in .454 Casull within a couple of weeks. The Bisleys only come with the polymer faux ivory grip panels—which are both very good looking and, extraordinarily well designed and engineered to provide surprisingly good grip traction. And like all current-production BFRs a frame-top Weaver/Picatinny scope mount is included.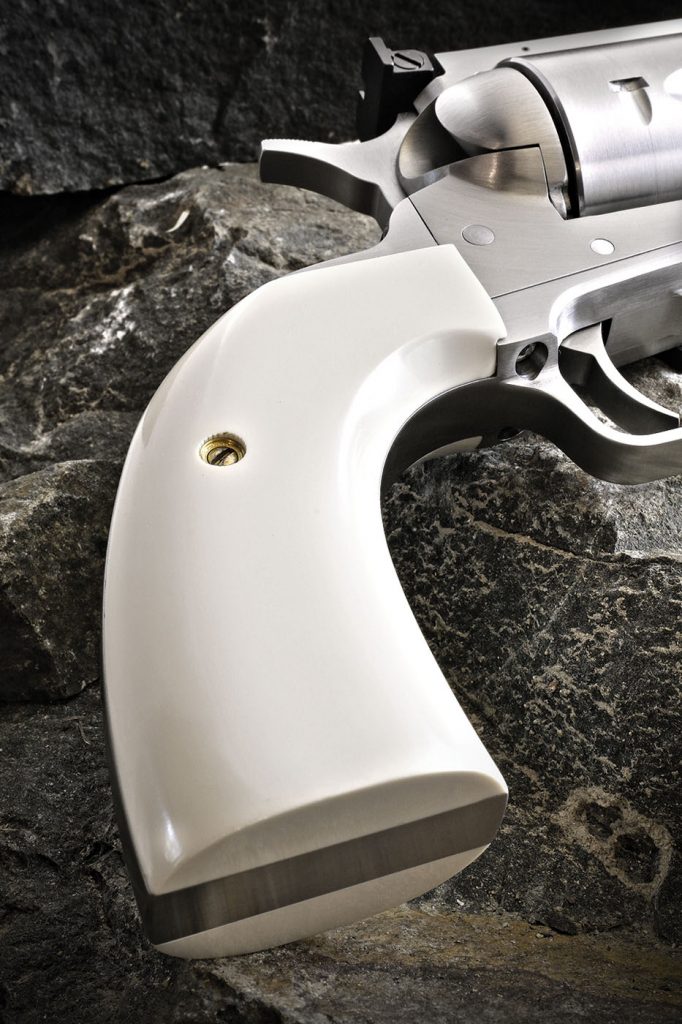 I was absolutely delighted with my new Bisley. The .454 Casull chambering permits shooting .45 Long Colt rounds as well, so within a few days I was out with a hundred rounds of fresh .45 Colt reloads blasting away. Accuracy was phenomenal—1/2" center-to-center at 25 yards—and perceived recoil was virtually non existent thanks to the pronounced vertical Bisley grip frame and the weight of the gun (3.8 lbs.).
Now for the test gun we received from Magnum Research. It was a BFR Bisley chambered in .30-30 Win. This is a long–cylinder, long-barrel (10-Inch) revolver designed specifically for hunting. Made entirely of U.S.-sourced stainless steel, it's a marvel to behold and an incredibly high-quality piece to hunt with. The top strap is drilled and tapped for the included full-length scope mount that permits setting up a long-eye-relief scope or red-dot sight without having to jump through flaming hoops. The long, 5-round, .30-30 Win. cylinder is fluted, as is the 7.5-inch barrel, both of which are extra-cost options. Upon inspection of my personal .454 Casull and the supplied .30-30 long-cylinder model, I was very favorably impressed with the fit and finish—which were virtually identical between the two guns—a brushed matte stainless in both cases—and the consistency of the trigger pull. Both guns had excellent triggers—the best I could ask for in a single-action revolver, with short, crisp light trigger pulls averaging in the 2-pound range on our Lyman trigger-pull gauge, with no take-up, stacking or other unpleasant attributes. Sights consist of a windage and elevation adjustable rear with a fixed, serrated front ramp. In testing my personal, .454 Casull BFR, I found the matte black front sight difficult to see against most natural backgrounds, so I went to Walmart and picked up a container of nail polish in Day-Glo orange with multi-colored sparkles. It worked great, and I have enough for 5,000 more front sight applications. If I'd been quick enough, I could have purchased a BFR Hi-Viz fiber–optic front sight for $26.99—and still might—but for right now I'm kind of taken with the sparkle nail polish treatment!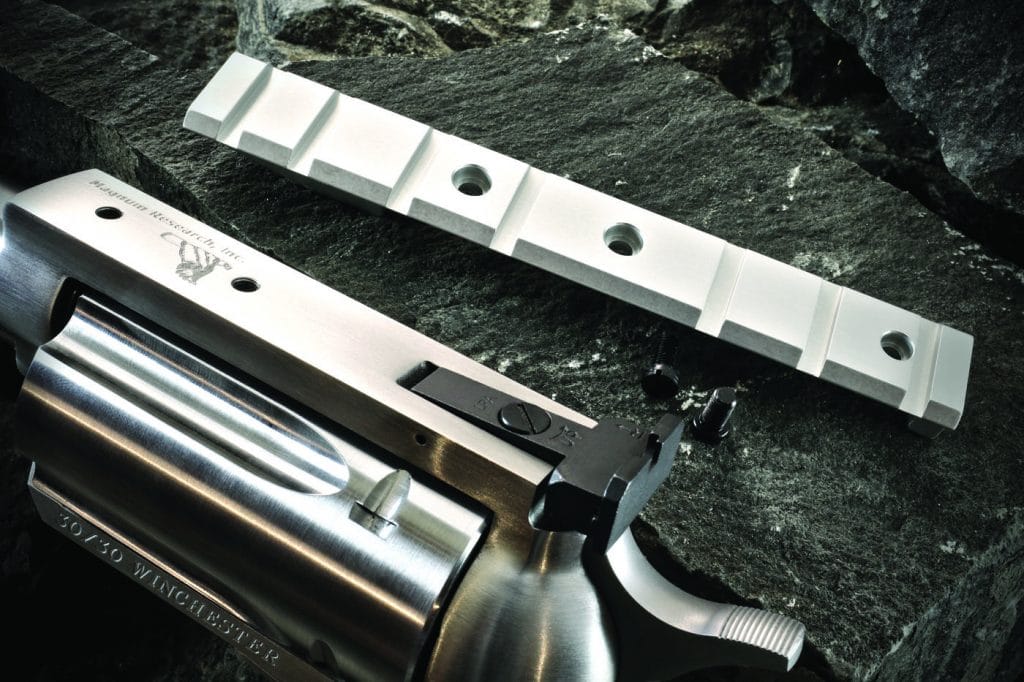 My difficulty in breaking out the front sight from the background was my only complaint with the .30-30 BFR. As my frigged-up shoulder progressed to the point where I could reliably shoot the sample gun in .30-30 Win., I found that there was little difference between the .45 long Colt and the .30-30 Win. models in terms of perceived recoil, so I just went ahead and fired the .30-30 model for accuracy and reliability on its own terms. I attribute that phenomenon to the excellent geometry of the Bisley grip frame, the BFR's 17.5-inch overall length and its 5-1/2 pound loaded weight. Needless to say, the .30-30 Win. is not a high-pressure cartridge, and it felt very tame in the 10-inch BFR. It was easy for me to shoot accurately from the bench despite my marginal right shoulder, which should make it a piece of cake for anyone with full range of motion.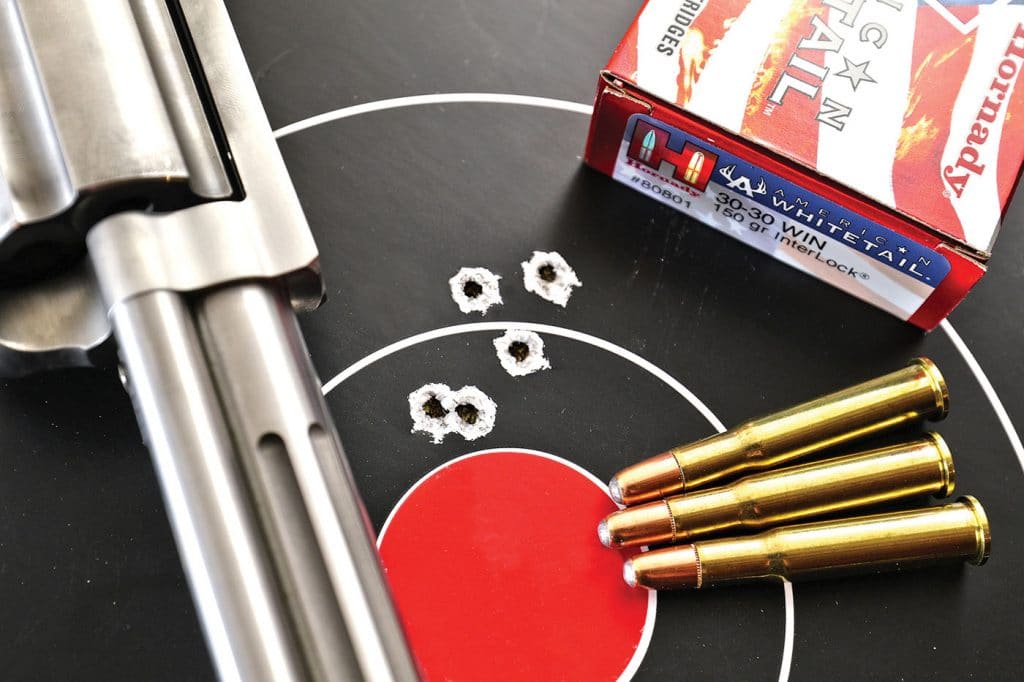 During testing we encountered no failures of any kind. Instead of our typical 25-yard bench-testing for handguns, we decided to stretch the legs of this long-cylinder BFR to a longer, 50-yard distance due to our absolute confidence in the BFR to perform. Without the help of an optic, and using stricly open sights, our test gun yielded 5-shot groups that averaged below two-inches, with .30-30 factory ammo which included Federal Fusion 150-gr. soft point, Federal 150-gr. Power-Shok jacketed soft point, Hornady's American Whitetail 150-gr. round-nose Interlock and Winchester 170-gr. Super-X Power Point. Our best group of the day, however, came in at a very impressive 1.40 inches on the dot, fired with the Hornady load. We never tested the gun at 25-yards, but—based on its 50-yard performance—logic would dictate that this gun is capable of at least three-quarter-inch, five-shot precision at that distance. Not that one could ask for more, but we're confident that with the right shooter, this gun would be capable of even better performance.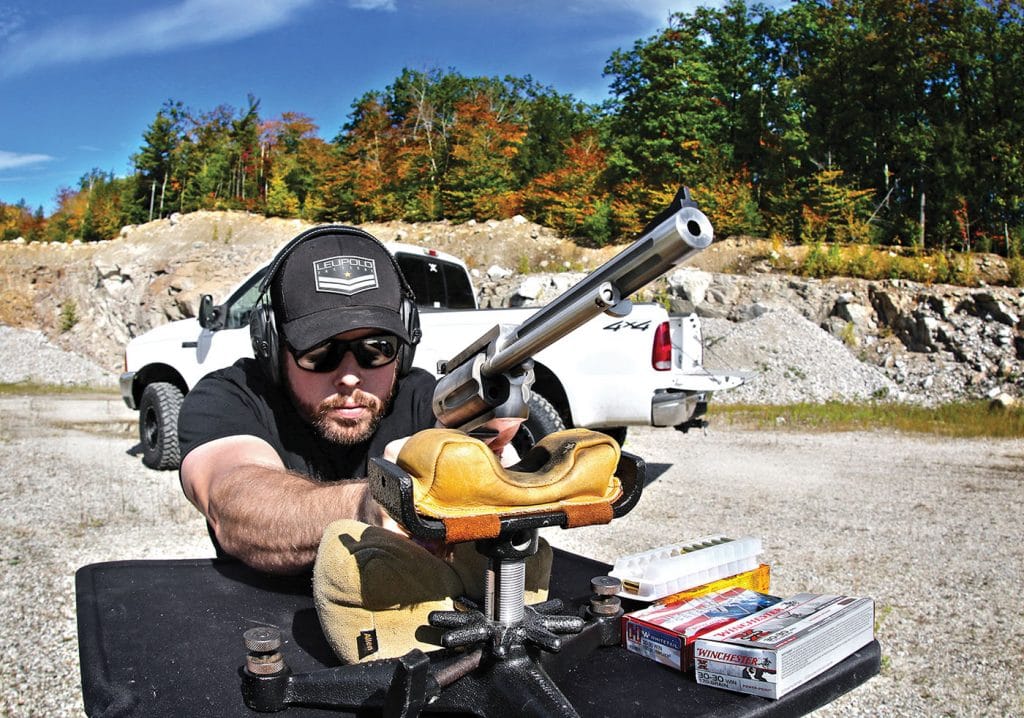 Everything about the Magnum Research BFR .30-30 Win. Bisley revolver says "hunt me", and while I have to send the long cylinder .30-30 back to Magnum Research, I plan to deer hunt in both New Hampshire and South Dakota this fall with my .454 Casull 6.5-inch model BFR Bisley. These revolvers will not let you down for big game hunting at appropriate ranges, and are arguably some of the best bargains going in the wheel-gun industry today. For more information, contact Magnum Research, Dept OT; Tel.: (508) 795-3919; Web: www.magnumresearch.com
Source Article from http://ontargetmagazine.com/2017/11/magnum-research-bfr-30-30-win-bisley-revolver/