By Dave Bahde
Photos by: David Bahde and Ben Battles
---
The MKII variation brings key upgrades and changes to an iconic 7.62 weapon platform
Years ago (about 2010) I tested the first REPR rifles that came out of LWRCI in both their 16- and 20-inch configurations. Both rifles worked well, exhibiting some impressive accuracy for the day. Seven years ago truly accurate AR10s that worked were rare; piston versions even more so. I'm not a fan of any AR with left-side charging used outside prone. It was also heavy. Gas adjustment facilitated suppressor use, but it was pretty much an on/off affair. Set to suppressed it would not run without a suppressor. The opposite resulted in a harsh-shooting, over-gassed rifle. My thoughts at the end were pretty concise: great rifle, just need to lighten it up, get rid of that left side charging setup and come up with a truly adjustable gas block. Well, it's taken seven years, but LWRCI did just that and more with their new REPR MKII.

LWRCI REPR (Rapid Engagement Precision Rifle) MKII
Built for the CSASS (Compact Semi-Automatic Sniper System) the REPR MKII started with the original REPR rifle and was evolved adapted as needed to meet the specification. Consumers can choose between 16.1- or 20-inch barrels LWRCI is working on a 12.7-inch variant for LE. Each uses their short-stroke gas piston system with proven longevity and reliability.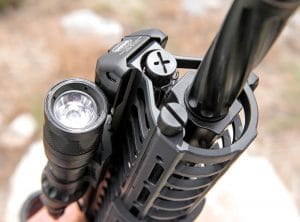 A new 20-position adjustable gas block keeps things running smooth. The Monoforge upper receiver uses an integrated rail that is stronger than standard designs. Using a 1:10" twist barrel with a heavy profile and Black Nitride finish provides accuracy across the standard bullet spectrum for 7.62 x 51mm, and spiral fluting keeps it light and stiff. The bolt carrier group is enhanced and built to superior strength, and coated for ease of cleaning and operation in adverse conditions. Controls are completely ambidextrous, with a forged lower that includes an LWRCI Advanced Trigger Guard, oversized for gloved use. Geiselle's SSA-E (Enhanced) two stage trigger provides reliable precision in the most adverse conditions. The charging handle is ambidextrous, and LWRCI Skirmish back-up iron sights are provided. The handguard uses their proprietary mounting system for rails and other accessories and allows easy access to the piston system for cleaning. My test rifle was equipped with a MAGPUL UBR stock and Surefire SOCOM muzzle brake, permitting the use of Surefire SOCOM Suppressors. Black is standard, along with Cerakote. My test rifle was Cerakoted in Tungsten, but you can also get FDE, OD Green and Patriot Brown. Each rifle comes with a single MAGPUL Gen 3 20-round magazine.
Testing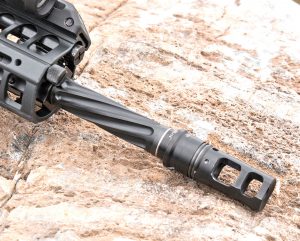 When this rifle arrived my first thought was that they sent the wrong one. Even in the box it just felt too light. It's not only light for a piston rifle, its light for an AR10. Listed at 9 pounds even, it feels lighter. It's almost a pound lighter than the civilian version of the rifle that won CSASS, and closer to two pounds lighter than the contract rifle. Next to my lightest AR10, its only half a pound heavier—very impressive for a piston rifle. The balance is excellent. Not wanting to defeat that advantage I kept it light, adding as little as possible for most testing. Group testing was accomplished using a Nightforce ATACR 4-16 with a T3 reticle but was removed for the rest of the evaluation. More like a precision patrol rifle in .308 than a "precision rifle". Sighting was accomplished using a Trijicon SRS RDS, my favorite for a working rifle given its wide field of view and crystal clear glass. Rails were added for a bi-pod when necessary along with a sling attachment and light. LWRCI's Rail Panels were added for a solid grip. Surefire's M313 V scout light was attached on the top rail. Other than a Blue Force Vickers sling, that was it—clean, simple, light, and usable as a dedicated patrol rifle.
Range Time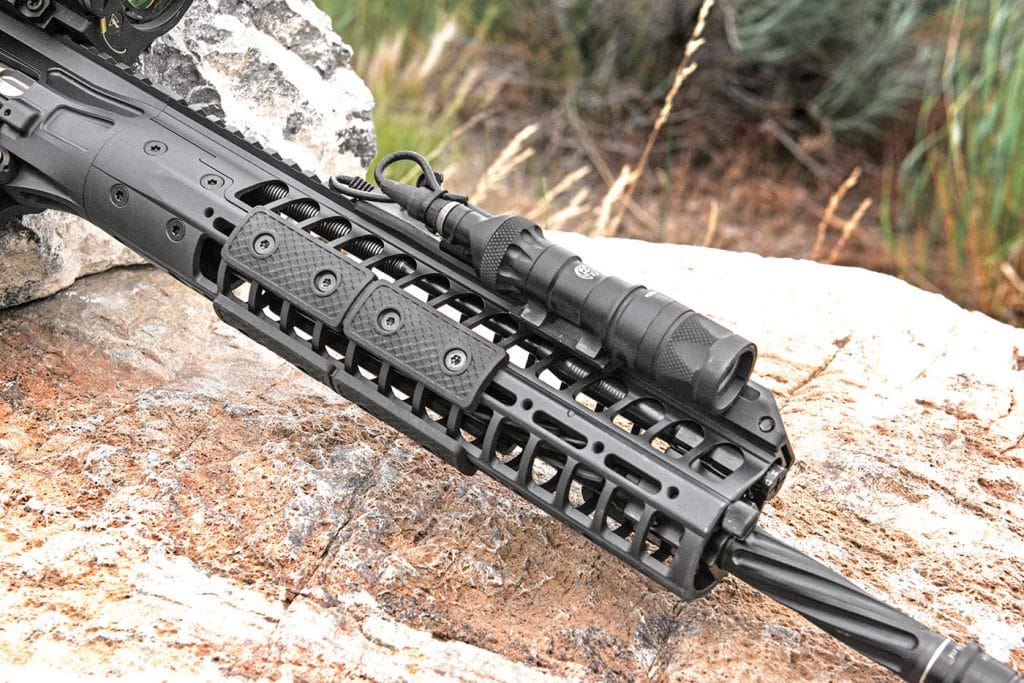 Given its designation as a "precision rifle" it needed to be accurate, and it was. As accurate as any AR10 I've tested in a long time, even some custom builds. Having a Geissele trigger is a huge help, as none are better for this task, especially if you are going to get it hot and dirty. The SSA Enhanced is crisp, predictable and as reliable as an AR trigger gets, allowing for solid precision. LWRCI barrels have been recognized as some of the finest cold-hammer-forged barrels you can get, and the one on this rifle was no exception.
Best accuracy came from some Nosler 168-grain BTHP, but the rifle put everything into somewhere between .50 and .75 inches. One of the softest shooting, and possibly the perfect round for this rifle came from Corbon. Using a 125-grain TMK it makes 3,100 FPS out of a 24-inch barrel. It's still leaving the muzzle of this 16-inch barrel at over 2,900 FPS, and is a laser at longer ranges. Especially for a self-defense or patrol rifle, there is nothing this bullet won't do without the recoil and over penetration issues of the others. Sierra's 125-grain TMK may not be "designed" as a hunting bullet, but it has been used to great effect since its introduction for just that. I have used this same round in three other rifles to date and Corbon's load is incredibly accurate.
Moving out to 400 yards using the Corbon it was pretty much a point and shoot event. Put the dot a bit higher on target at 400 yards and hitting the 4-inch wide target was a regular event. Moving to 500 yards with the same round and RDS, I was able to get six out of ten rounds on a 12-inch steel plate once dialed in for my holds. Using the Nightforce ATACR scope's T3 reticle and Surefire suppressor to engage targets from 100 to 700 yards, I was able to use the "12 inch drill" to great effect. Only one miss at 700 for wind; otherwise it was pretty simple: range, hold and press.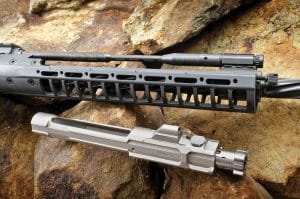 Since this rifle has a 20-position gas block it was possible to "tune" it to ammunition when unsuppressed. Turning it a notch or two did not make a huge difference, but I was able to tune for ejection pattern based on the load. It also kept it from being over gassed for less junk out of the piston and a softer and cooler running rifle. Moving to the suppressor it was mostly an all the way in proposition, or close, but it did make a substantial difference when it came to excess gas from the suppressor and a less harsh feel. Using the Surefire Mini Socom 7.62, it was on the edge of hearing safe, but it ran smooth without being harsh. Attaching the Surefire SPS 300 it was very quiet, but back pressure was more intense.
The Surefire brake without the can was as loud as one might expect, bright at low light with noticeable recoil mitigation. I would not want to be next to it in a fight, but for the shooter it's not so bad. Moving to a Surefire WARCOMP was much better. It remains one of the best solutions to this dilemma. Works great in a fight with just a bit more recoil and excellent flash mitigation given proper ammunition. If it were to stick around the WARCOMP would stay attached.
Other Considerations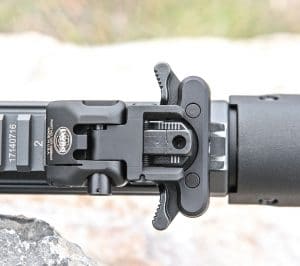 My only real criticism is the lack of a provided means to attach a sling. This is clearly a working rifle and needs a way to attach a sling right out of the box. Since the rail uses proprietary accessories, you will need to get them from LWRCI (or a dealer). My long term use of LWRCI rifles meant most accessories were in house, but you will need to spend some change to get your REPR MKII ready, like a rail or two and a sling adapter. Their rail covers are nice and bolt directly to the hand guard. Even if you dedicate this rifle to prone use you will need a rail for the Bi-pod. Make sure you factor that into the cost.
Unlike some of its competitors in this contract, the REPR MKII uses SR25 patterned magazines. Not a big deal to me as a rule, but it is very nice to use commercially available magazines. It comes with a PMAG and it ran all of mine without issue.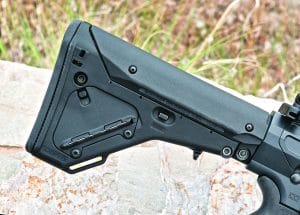 It also ran and held open with the Larue Tactical 7.62 magazine along with a my DPMS steel versions. Magazines are supposed to be disposable—fine if you're on the governments dime, I guess­—but tossing a magazine that costs you around a hundred bucks is painful, and rebuild kits cost more than a PMAG as a rule. No worries here, it runs with them all.
Designed to be used suppressed, it worked great, but my preference would be a Surefire WARCOMP alone. They won't smack you like the standard brakes do, suppress flash very well, and keep this already light rifle well suited to work in the real world. You can also fine tune the rifle to your ammunition for a very soft shooter. Suppressors work well, but don't hesitate to run this as a patrol or self-defense rifle without a suppressor.
Bottom Line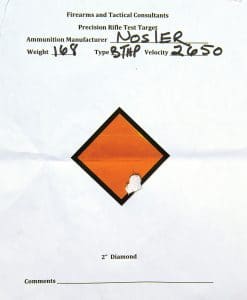 Fit and finish on this rifle are superb, right up there with custom rifles. It was much the same with the first DI-556 LWRCI I tested. The Cerakote is smooth, clean and well applied. Controls are well thought out, smooth, and functional. Lines are clean on the receivers and hand guard making for a very nice look, something you expect for a rifle with a $4,300 price tag. It really is built like a custom AR10 with the ability to run pretty much any ammunition using an adjustable short-stroke piston system. Add the superb accuracy and you are looking at an excellent rifle. If you are looking for a .308 AR you can take into just about anything with assurance it will get you back out, the REPR MKII needs to be very high on your list. See it at your gun shop, or contact LWRCI, Dept OT,  Tel.: (410) 901-1348; Web: www.lwrci.com
LWRC REPR MK II Compact Semi-Automatic Sniper System (C.S.A.S.S.)
Chambering: 7.62 x 51mm
Magazine: Magpul 20-round
Overall Length: 37.5 to 41 inches
Weight: 8.8 pounds
Stock: Magpul UBR 2 (in next run)
Sights: LWRC Backup Skirmish Sights
Muzzle Thread: 0.6 x 24
Barrel Length: 16.1 inches
Barrel Profile: Heavy
Rifling: 1:10 RH
Finish: Hard-coat black anodized
Performance
Load                                                              Velocity                        Accuracy      
Corbon 125-gr. TMK                                         2900                           .65 Inches
Federal 168-gr. Gold Medal Match                     2725                           .70 Inches
Black Hills 175-gr. Match                                  2640                           .75 Inches
Nosler Custom 168-gr. Match                            2650                           .55 Inches
Source Article from http://ontargetmagazine.com/2017/10/lwrci-repr-mkii-7-62-nato/