Optics for modern rifles have been an ever evolving animal as their surge in popularity over the past decade has seen innovation and adaption try to meet a hungry demand among military, law enforcement, and civilian shooting customers.
Faster, light weight, clearer, wide field of view, bullet drop, wide variable zoom range, holographic, battery life, non-battery powered… and even WiFi enabled… no seriously LUCID has just sent me their latest optic design, The P7.
The P7 is a fixed 4x "Prismatic Combat Optic" and its targeting a field that is, in all honesty, wide open to be conquered by a quality offering.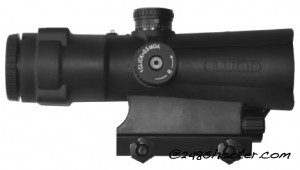 Low fixed magnification optics meant for modern tactical platforms are a rather shallow pool of offerings. The most well-known is likely the Trijicon ACOG which has served overseas in combat for over a decade with US and coalition troops. The next that comes to mind is the Leupold HAMR, an ACOG competitor in Leupold's Mark 4 line up. Finally Burris offers the AR-332… and that's… basically the field. Two very excellent optics that generally start beyond $1,000.00 in price point and the Burris if you don't want or cannot spend 4 figures on rifle glass.
Having spent time with all three of the above optics, especially the ACOGs, I've come to appreciate their strengths and limitations.
LUCID's P7 stands poised with potential to become an incredible entry into this corner of the optical pantheon.
Late on a Tuesday morning my phone rang up that FedEx had a package with my name on it so I made the detour on my work bound journey to acquire it.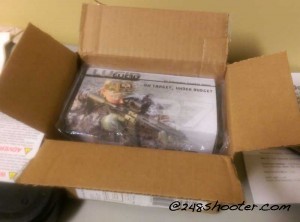 Shortly afterward I found myself at my local gun store, what better place to unbox a new optic!
…the fact that it also happens to be work is simply a bonus.
Inside the box was another box!
LUCID kept with their traditional layout by having the box double as a specifications sheet, directions, and warranty card all right in one.
Opening the box and out comes the optic in its foam sleeve. Also included is a microfiber cloth, a small page of additional directions and information, a small hex wrench to work on the turrets, and a card loudly proclaiming "STOP!"
This card, as an aside, made me raise a fist in victory.
It contains warranty directions stating in no uncertain terms that LUCID, not the retail sale location, fixes any issues with their products… LUCID. Not the gun store. LUCID! Those who made the scope and issue the warranty for repair!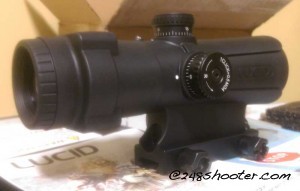 Lifetime warranty duration by the way.
Out of the box you can see LUCID built straight off of their HD7 red dot sights ergonomics.
The reticle is their P7 design. A fine center dot is encircled and edged at 12, 9, and 3 o'clock positions by sharp angled wedges.
Source Article from http://248shooter.com/index.php/lucid-p7-unboxing-mini-review/