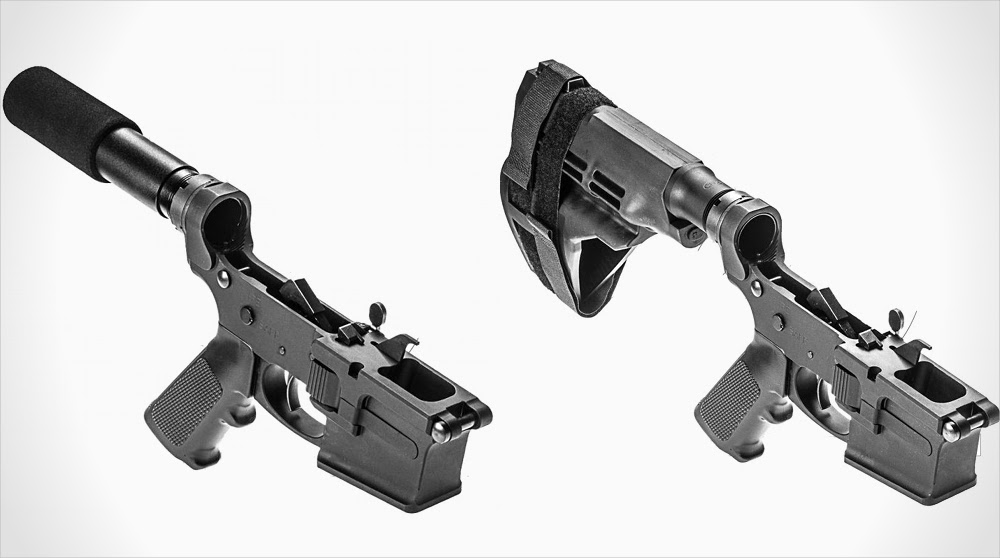 By Max Slowik
G9 complete lowers. (Photo: L.W.)
After a long wait, the highly-anticipated Lone Wolf G9 is now available. This AR-style pistol lower is designed to work with 9mm uppers and it accepts 9mm Glock magazines.
Being pistol receivers, they are equipped with standard AR pistol buffers or with optional KAK Industries extended buffers for SIG SB-15 pistol braces. The standard buffer tube is fit with a padded cheekpiece.
They also carry a G9 carbine lower for use with 16-inch and longer-barreled uppers or for use to manufacture short-barreled rifles or SBRs.
Lone Wolf is selling these lowers separately and they of course sell 9mm uppers as well, in addition to Glock magazines to feed these firearms.
Because of the universality of Glock magazines, the G9 lowers can also be used with .40 S&W, .357 SIG, .45 GAP and AR-57 uppers and magazines, not just 9mm, although Lone Wolf only carries 9mm and AR-57 uppers.
AR-57 uppers are chambered for 5.7x28mm and use FN P90 magazines. They feed from the top and eject downward through the magwell. Both 9mm and 5.7mm uppers run about $700 and the 9mm uppers are available in pistol and carbine lengths.
Lone Wolf G9 complete lowers start at $419 and go up to $556 for models featuring KAK Industries buffer tubes and installed SIG SB-15 braces. Currently Lone Wolf is out of stock of the models including SIG braces but the company is taking backorders. Otherwise buyers can purchase them without the brace and install one on their own.
The forged receivers are made from 7075-T6 aluminum and have a hard-anodized finish. They are available in black only and are designed to work with Glock magazines, not KHAN or SGM Tactical mags. Off-brand magazines may not be drop-free and Lone Wolf states that some magazines may need fitting.
That being said Glock-compatible AR-pattern receivers are a kind of Holy Grail in the shooting sports and Lone Wolf will have no problems finding enthusiastic buyers.
Lone Wolf's 9mm uppers include a modified blowback bolt to work with Glock magazines and come with a quad-railed carbine-length handguard and A2-style flash hider. They have 1-in-16-inch button-rifled twists and 4140 ordnance steel barrels and finished with a black oxide treatment.
Other pistol-caliber uppers will fit the G9 lowers but the bolts may need modification to work with Glock magazines. Fortunately, Lone Wolf offers that as a service for $44.95.
If you're interested in putting together a 9mm or other pistol-caliber carbine then put Lone Wolf on your short list. For more information head over to the Lone Wolf website.
The post Lone Wolf G9 Glock-compatible uppers and lowers now available appeared first on Guns.com.
Via:: Lone Wolf G9 Glock-compatible uppers and lowers now available