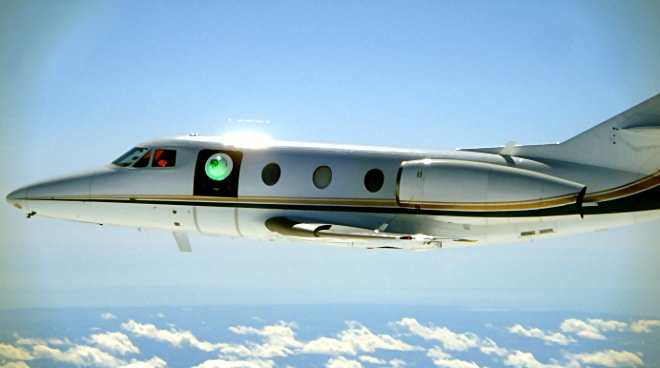 Lookheed Martin along with the Air Force Research Lab and the University of Notre Dame have proven the airworthiness of DARPA's laser turret platform for high-power fiber laser countermeasure systems.
The turrets were run through eight test flights over Michigan after receiving U.S. Air Force and FAA clearance. The test established that the Aero-adaptive Aero-optic Beam Control (ABC) turret could provide 360-degree coverage on all targets.
"These initial flight tests validate the performance of our ABC turret design, which is an enabler for integrating high energy lasers on military aircraft," said Doug Graham, vice president of advanced programs, Strategic and Missile Defense Systems, Lockheed Martin Space Systems.
The ABC turret is designed to enable powerful lasers to engage incoming missiles and even enemy aircraft in all directions, even directly behind through the exhaust. The turret uses advanced flow control and optical compensation systems to overcome the effects of turbulence from the turret as well as from the aircraft itself.
These turrets will be tested throughout next year in increasingly complex operations to develop the technology into a mature defensive and offensive weapon system. Agencies hope to eventually incorporate these laser systems into manned and unmanned aircraft regardless of role or mission.
Source Article from http://www.guns.com/2014/09/17/lockheed-martin-successfully-tests-new-air-based-laser-turret/?utm_source=rss&utm_medium=rss&utm_campaign=lockheed-martin-successfully-tests-new-air-based-laser-turret