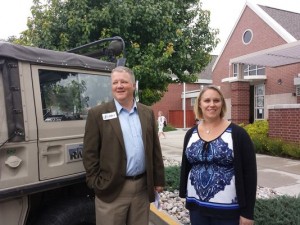 By Chris Eger
Rocky Mountain Gun Owners Executive Director Dudley Brown and Windsor resident Erika Sattler talk to media Thursday outside of the Windsor Severance Library. (Photo: The Windsor Beacon Library)
After a legal concealed carry holder was forced to leave a local public library and the ensuing threat of legal action, a Colorado library district is changing their "no firearms" policy.
The Aug. 20 incident at the Windsor Severance Library in Windsor, Colorado, saw patron Erika Sattler asked to leave the facility by staff after they found out the permit holder was armed. This led to local gun rights group, Rocky Mountain Gun Owners, to take up the mother's cause and make the Clearview Library District aware of Colorado law, which prohibited the district from regulating the carry of firearms.
The notification, backed up by the promise of litigation, led the District to change their "no firearms" policy and signage to comply with state law this week.
"We would never be contrary to the law. We changed the language on our side just to avoid a lawsuit, which would have been costly," Clearview Library District Executive Director, Ann Kling told the Coloradoan. It was Kling who asked Sattler to remove the weapon from the library or leave after another patron saw the gun when the permit holder's shirt rode up.
"Once a weapon is visible, it's no longer concealed, and we would be within our rights to ask them to please leave; but the board needs to decide on language of the policy," said Kling.
While the library district plans to overhaul their polices further at an upcoming meeting, RMGO states that the publicity from the Windsor case is having a ripple effect statewide.
"We've been contacted by hundreds of members and supporters across the state informing us of similar treatment. Every library and taxpayer-funded facility should take notice, as we will defend gun owners from unlawful treatment at any level and in every corner of Colorado," reads a post on the group's social media page.
"We encourage our members and supporters to continue to lawfully carry their firearms at libraries in the state, disregarding any unlawful policy prohibiting the right to carry concealed. We firmly believe library patrons, exercising their inalienable right to protect themselves, are not disruptive to the library environment," contends RMGO.
The post Library system gives blessing to concealed carry after lawsuit threat appeared first on Guns.com.
Via:: Library system gives blessing to concealed carry after lawsuit threat