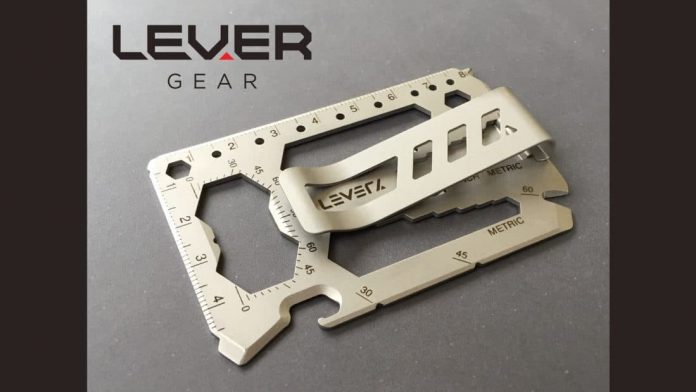 So, you want to be as prepared as McGyver but don't want to dress Tacticool enough to carry all the knives, guns, flashlights, multi-tools and other EDC gear, so what do you do? The trick is to downsize, to do that we have looked at some smaller multi tools in the past but even those add weight, and can be difficult to use with their size.
Instead of adding an item, you could alternatively replace an existing item in your EDC. We tried just that for the last 60 days using the LEVER Gear Toolcard. Designed and built in the United States this money clip styled multi-tool immediately grabbed our attention.
Specs:
Dimensions:
Without clip: 3.27" x 2.09" x 0.06"
With clip: 3.27" x 2.09" x 0.40"
Weight:
Without clip: 1 ounce
With clip: 1.3 ounces
Hardness:
HRC 50
Material:
420 Stainless Steel
Finish:
Black Nitride QPQ
The advertising labeled the Toolcard as 40 "functions" instead of the standard metric of tools. Here is what we identified on the tool.
Small Flathead screwdriver
1-12 cm circle template (compass)
Metric Ruler to 8cm
Phillips Screwdriver
Money Clip
Prybar
Nail Puller
Speed Square 30,45,60,90 degree
Cord Cutter
Large Flathead Screwdriver
Bottle Opener
Protractor
Box Opener
Can Opener
5mm-13mm Metric Wrenches
Open Ended Wrenches
1/4" Hex Bit Holder
Straight Edge
5/16 – 1/2" Wrenches
Inches Ruler
3/16" Wrench
9/16" wrench
15mm wrench
That's allot built into a single metal card not much thicker than a credit card built out of 420 stainless steel. So lets see how it actually holds up and if it can do all it says.
The Good, The Bad & The Ugly
My first concern when getting the Toolcard by LEVER Gear was that the card would not hold up. While I love my Trayvax wallet we reviewed some time ago it has not held up as well as I would have liked. Even during our initial testing the Trayvax bent. As of yet the Lever Gear Toolcard has not bent even when wrenching screwing and more. That's a win.
The small and large Flathead screwdrivers worked well. The ruler is very easy to read and since it is laser engraved and not painted, I have been unable to scratch the markings off. The Prybar is very small so you're not going to use this outside of very small things. I have found the prybar tool useful when trying to get into battery compartments on gear allowing me to save my knife edge. As for the nail puller think picture frame nails not 2×4 nails, but still useful.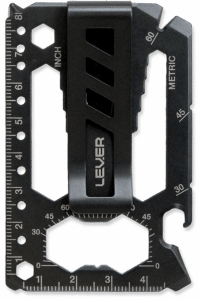 Here is where I show my man card weakness I am not a carpenter and frankly do not have the skillset my father has. I have never used a speed square and have no idea on how to use one so these notches went untested.
The cord cutter works though it is not overly sharp. It has no issue with braded thin rope but will never replace a blade. The bottle opener has come in super handy multiple times including a local party where the household opener "disappeared" mid party. Side note you can actually the bottle opener without taking your cards out of the Toolcard, if using it as a card holder/money clip.
The can opener is something you should never have to use. If you have ever used an old-school opener you know it is a PITA but in a pinch you will be super happy you have access to one. The wrenches were something I expected to fail by either striping the bolt heads or bending the Toolcard. I am glad to say I was wrong. Like all multi-tools I would prefer a wrench set to this card but it gets the job done and that's the point
The straight edge is straight, go figure, it worked. I have little need to draw circles but it is clear they put a lot of thought into how to space out the various points so you can get just about any measurement you would need within 12mm or 5 inches.
I have to call out the money clip someplace between good and bad. It is designed to hold 6 cards. That is a bit light for me. I am not calling it bad because for many that is probably enough. When the money clip is removed, you gain access to another wrench spot. For those of you leather lovers that enjoy the wallet you already have you can remove the clip and slide the Toolcard into your wallet. The fact that it is removable is my favorite part about it.
There are only 2 deficiencies we found starting with the box opener. The Toolcard is labeled as TSA compliant so the box opener is not sharp at all. It can work but with effort. It is the equivalent of opening a box with a car key. No doubt I have open many a box with a key, and the box opener will work on clear tape or paper tape but if it the stranded packing tape you're going to struggle. Use your knife here.
The Philips head screwdriver is 3/4ths of a Philips screwdriver having only 3 of the expected 4 teeth. Not only does it have only 3 teeth the tooth complimentary to the missing tooth is about ½ a typical tooth size. I can see why they did this, the design allows for it to work on really small screws but already being down a tooth leaves you with a Philips head that is likely to strip all but the smallest of screws. Unless it was the purest of necessities I would not use the Philips head bit.
The hex bit wrench is not a good or bad it more of a why is this here?  The idea of having the ability to use a hex bit is a fundamentally smart idea. In application though you have to wonder what situation would afford you access to a hex bit without a screwdriver or wrench driver also when the purpose of the Toolcard is to go light.  I am not going to carry a stack of hex bits around with me for EDC, so I just don't see the point. I would love for comments on this for how you might use this feature to your advantage but I'm not seeing it.
Real Use
I ordered the LEVER Gear Toolcard in Black Nitride (QPQ) as that is a preferred coating for my firearms so I know it's advantages. The coating has held up really well as I would expect from QPQ. I have flip flopped between running with and without the money clip but in either configuration I have enjoyed having the card with me.
While the card does its job without bending, breaking or failing, it is less ideal than its "real world" counterpart but for many the same can be said about any multitool. In a pinch however having a small form, lightweight item that can get the job done is worth having it around. At a $35 price point to get a super light and easy to carry tool this card is a must have. While it lacks the pliers and knife blades a multitasker or Leatherman Mutt offers the weight savings have been such a big advantage that I have stopped carrying traditional multitools.
Summary
This is not a traditional tool replacement, but it can be a life saver in many situations. Its light weight and convertible ability to go from wallet insert to money clip allow for this to be an easy addition to your EDC that is not a gimmick. I highly recommend this as a choice for gift giving as well as a self splurge purchase.
You can get yours from LEVER Gear online here: https://levergear.com/ it comes in 2 colors, silver and black for a retail price of $35.
Source Article from http://248shooter.com/index.php/lever-gear-multitool-wallet-review/