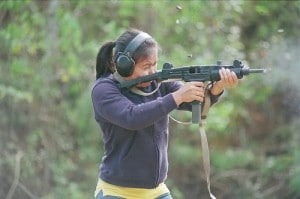 By Chris Eger
Last week's accident involved an Uzi-style submachine gun such as the one shown in this file image.
A week after an incident in which a 9-year old girl visiting a shooting range in Arizona accidentally shot her firearms instructor, a state representative is proposing to ban the practice.
Citing last week's mishap, which led to the death of Charles Vacca, 39, in the White Hills area near the Nevada line, the lawmaker is proposing a ban on children under 16 from shooting automatic weapons. At the time of the shooting, Vacca was standing beside the girl instructing her on how to use the submachine gun. Investigators deduced that the young girl failed to manage the recoil, the gun went over her head, and Vacca was shot.
"I'm disgusted that we even need such a law — that parents can't be trusted to not give a machine gun to a 9-year-old girl," Democratic Representative Victoria Steele told the Phoenix New Times.
Steele reportedly is basing her proposed legislation on a Connecticut law passed following the accidental death of an 8-year old boy who shot himself with an Uzi that he was unable to control when in automatic fire. While text of her measure is not available, it would ban the use of Title II automatic weapons by youth shooters even if used on a shooting range.
The recent accident in Arizona, in which the girl apparently complained that the gun was "too much for her," and has drawn considerable media coverage, has left the family of the unnamed youth reportedly devastated.
"Although certain people will seek to use this tragedy for their own partisan purposes and agenda, the family asks all compassionate Americans to pray for their children and the entire Vacca family," said the family's lawyer in a statement Wednesday.
The post Lawmaker pushes for ban on youth shooting machine guns appeared first on Guns.com.
Via:: Lawmaker pushes for ban on youth shooting machine guns