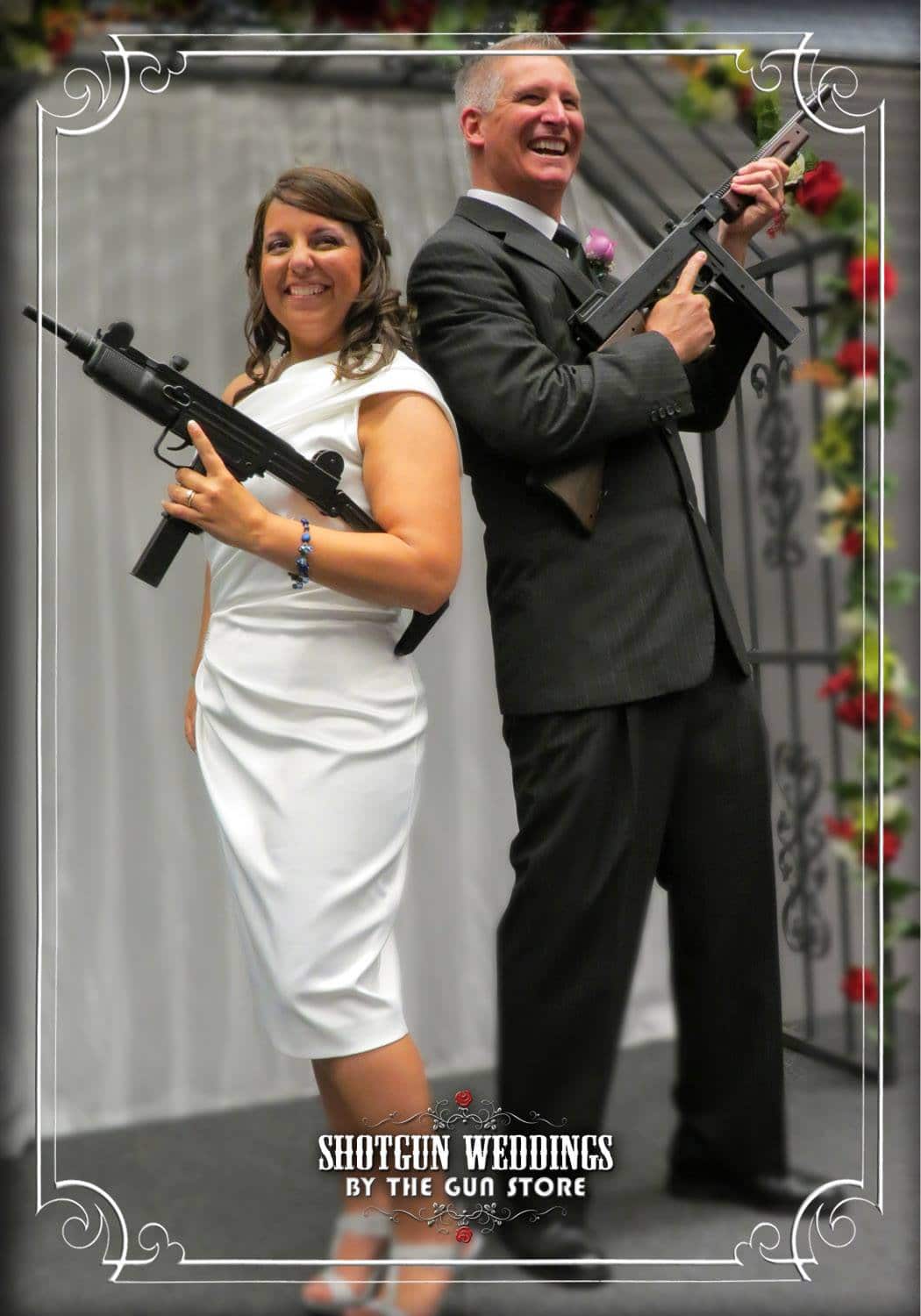 By Max Slowik
Not interested in a traditional wedding? Not interested in a modern wedding? Not interested in your time-tested drunken ramshackle Vegas wedding but still want to get hitched in Sin City?
Then head over to the Gun Store where machine gun weddings are kicking ass and taking his name.
With packages starting at just $450, the Gun Store's weddings are perfect for couple who know the important things, like having enough left over for more ammo.
Nikki & Chris pose with their submachine guns for their wedding photos at the Gun Store. (Photo: the Gun Store/Facebook)
The idea came to the Gun Store's marketing director Emily Miller, who told the Daily Mail "We started offering the weddings in March this year and so far the response has been amazing. People come to Vegas for unique weddings and we wanted to offer couples a new and exciting alternative.
"We're the only gun range in Vegas that offers weddings and as far as I know we're the only one in the world. I am actually ordained as a minister, so marry couples here at the store.
"The ceremony is still very romantic and intimate and it allows the couple to have their wedding exactly how they want it. I had one bride who chose to marry in her grandmother's antique wedding dress another couple who chose to marry in Man Utd shirts and we have others who want the whole western and mobster theme, so we really do cater for all tastes.
"It's really catching on and makes for some great unique wedding pictures too."
If you're in love with each other and guns and are ready to seal the deal with hot brass visit the Gun Store's website, Facebook Page and YouTube channel for more.
The post Las Vegas' the Gun Store redefines 'Shotgun wedding' (VIDEO) appeared first on Guns.com.
Via:: Las Vegas' the Gun Store redefines 'Shotgun wedding' (VIDEO)